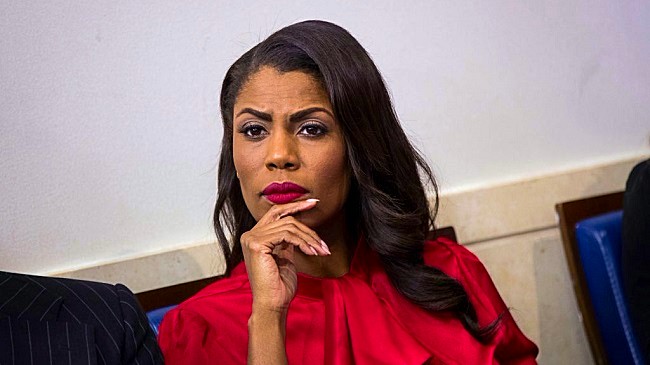 Anthony "The Mooch" Scaramucci may have seemed like the messiest member of President Trump's administration, but at least he was only permitted to wreak havoc for less than two weeks. Whereas former Apprentice villainess Omarosa Manigault, who was reportedly regarded as the "most despised person" in the White House, held on for an entire year. Indeed, Omarosa's dismissal (or her resignation, it's still not clear) formally went into effect on January 20.
However, no one needs to worry about Omarosa. The woman who brazenly took her own bridal photos at the White House is taking care of herself, and she's already lined up an immediate post-White House gig. She'll appear on the next edition of Celebrity Big Brother, and the Hollywood Reporter lauds her as the "biggest name" in the new roster. Indeed, she's certainly one of the most notorious names that have been revealed:
American Pie actress Shannon Elizabeth, Sugar Ray's Mark McGrath, The Cosby Show's Keshia Knight Pulliam, Real Housewife Brandi Glanville, former NBA star Metta World Peace, UFC light heavyweight champ Chuck Liddell, actors James Maslow and Marissa Winokur, TV personality Ross Matthews and Miss Colombia Ariadna Gutierrez will also be moving into the Big Brother house this week.
With any luck, Miss Colombia Ariadna Gutierrez will have more to say about the Steve Harvey debacle, and speaking of tea spilling, Omarosa is bound to do some of that as well. She's already rumored to have covertly taped some conversations at the White House, so god only knows what kind of unsavory dirt she's got, and she loves the drama. Suddenly, Celebrity Big Brother might be must-watch presidential TV.
(Via Hollywood Reporter)