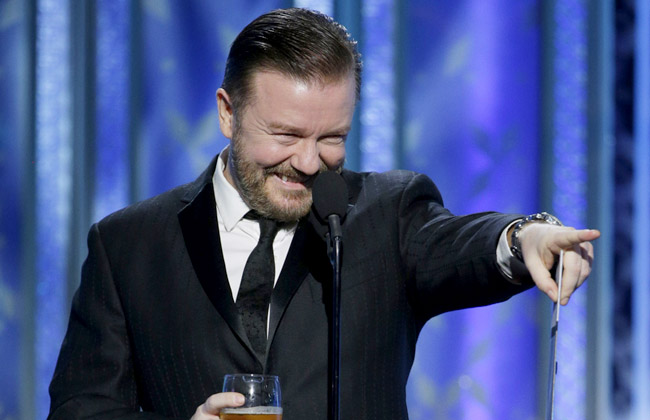 Ricky Gervais has had an incredibly successful and long career in the entertainment industry, and he's been pissing people off the entire time. Whether it's hosting an awards show, doing stand-up, or simply sending out a 140 character tweet, there's been no shortage of public run-ins with celebrities, as well as the non-famous.
In the spirit of Ricky Gervais' birthday — he's turning 54 — here's a brief timeline of his various feuds over the years. Let the fight begin! *ding, ding*

Ricky sets his sights on Hollywood's A-List.
It's to be expected that the host of an awards show might do some friendly ribbing of the audience, but Ricky Gervais doesn't exactly do friendly ribbing. He does ego-annihilating warheads that the producers of the Golden Globes likely weren't prepared for when he first hosted in 2010. Gervais set his sights on Hollywood's elite, eviscerating them each one-by-one and the industry as a whole with jokes like "[Melissa McCarthy] She made her mark in comedy this summer by defecating into a sink. Amazingly, that's still less demeaning than what most of you have done to make it in show business."
After his 2012 hosting stint, the Golden Globes hosting job was turned over to Tina Fey and Amy Poehler, but Gervais has expressed interest in taking another go at the gig.
"The Golden Globes, I think people thought that (my humor) was mean, but it was very considered — and they weren't a room full of wounded soldiers," he said. "They were privileged people who were getting honored. We're all in the same game."
Whether or not we get to see Gervais host the Golden Globes again likely depends on how quickly Hollywood forgets about who he pissed off. Robert Downey, Jr., whose past addiction woes Gervais targeted, said he felt Gervais' material was "hugely mean-spirited with mildly sinister undertones," and Jennifer Lopez jokingly threatened the comedian with bodily harm backstage.
"I'm backstage with Alec [Baldwin], we're about to walk out, and Ricky shows up. I say, 'Listen! I will kill you, you understand, I am from New York, my husband fights, we both fight, we will beat you up after the show… with a couple of bleep bleeps in there."

Ricky swaps blows with Susan Boyle.
Ricky Gervais likely isn't singing "I Dreamed a Dream" when driving in his car, and Susan Boyle is probably happy about that. Gervais knew he would ignite a feud with the British singer when he poked fun at her in a 2012 stand-up special and compared her to somebody with Down Syndrome.
"I don't think she'd be where she is today if it wasn't for the fact that she looked like such a f*cking mong."
Understandably, Boyle didn't appreciate the low blow, but instead of belting out an insult back to Gervais and calling him out on his weasel-faced appearance, Boyle took the high road and said it was Gervais who should be embarrassed, not her.
"I can take whatever Ricky says, because I'll tell you something. He's the one with the problem, not me," Boyle tells The Sun regarding Gervais' insult on a stand-up special that aired in Britain last October. "Ricky's a talented man, but he's wasted himself with those comments. I've had a lot of insults," she said. "Do you know what I do? I ignore them. I just get on with my life."

Simon Pegg declares Ricky to be a fat idiot… and a dick.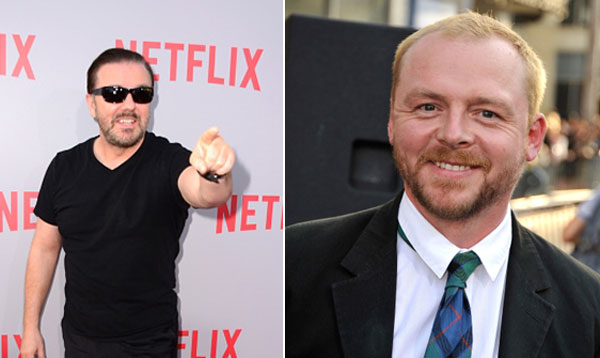 Simon Pegg is funny and British, and Ricky Gervais is funny and British, so they should naturally be like, the best friends ever, right? Eh, let's just say they're generally okay with one another, but won't hesitate to call the other one out.
When Simon Pegg was on Marc Maron's WTF podcast, Maron brought up Gervais and his show, Extras, and Pegg took the opportunity to point out that Ricky was full of himself (fair assumption) and a dick of a person in public (also pretty accurate).
"Publicly, [Ricky] has zero humility. He would never say anything nice about anyone," Pegg said. "He's incredibly competitive, and it's not enough that he be the best, everyone else has to die horribly. In person, he actually has some humility and is very sweet. He can be a nice guy. The public Ricky is a dick, sometimes. He never says anything nice about anyone. So, I hate public Ricky, but I like private Ricky."
The two actors also stirred up a bit of good spirited ribbing when Pegg branded Gervais a "fat idiot" during a British radio interview in 2008, to which Pegg said Ricky quipped back at him, "It's glandular, you c*nt."

Ricky Gervais annoys the sh*t out of Andy Kindler.
Andy Kindler might not be as recognizable as Simon Pegg or Susan Boyle, but he's just as annoyed by Ricky Gervais. Kindler is largely known in the comedy industry for being a staunch critic and connoisseur of all things stand-up, and he's been delivering the State of the Industry address at Montreal's Just For Laughs festival for two decades. During an interview, Kindler opened up about his disdain for Ricky Gervais and why he gets so annoyed by his tweets.
"He's never funny on his Twitter account, either… The atheist thing bothers me more than anything else. I noticed when he was on Piers Morgan, he separated himself from the staunch atheist views by saying he's okay with people who are spiritual."

Ricky takes aim at trophy hunters.
While all of the zingers that Gervais tosses at his fellow entertainers might be good-natured joking, Gervais doesn't find humor in the act of big game hunting. The comedian is a well-known supporter of animal rights and has been a staunch critic of trophy hunters. Earlier this year, he stirred up controversy for lashing out at the practice on social media, and instigating a Twitter battle royale with hunter Rebecca Francis after she posted a photo of her with a dead giraffe.
The hunter attempted to defend her actions by saying that the giraffe was old, and the meat was given to a nearby village, but when Ricky shredded that argument, Francis accused him of being sexist. That didn't exactly slow him down, either:
Gervais came under fire from hunting advocates and tweeted that it wasn't the practice of hunting for food that he had a problem with, but people who hunt to "hang an endangered species on the f*cking wall." Gervais ended his Twitter rant with a photo of a still alive giraffe, and praised his Twitter followers for helping to ensure the initial tweet was seen by 27 million people.