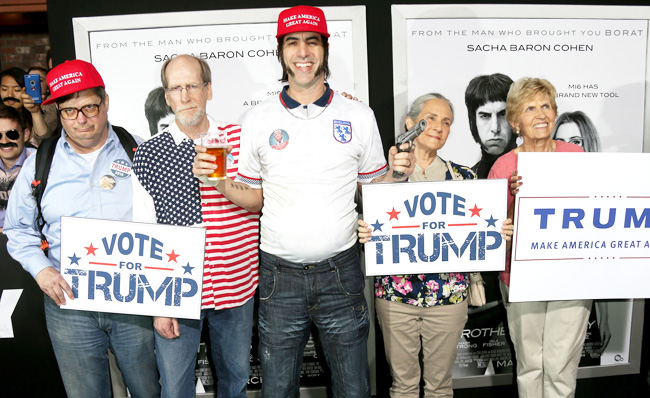 Sacha Baron Cohen is no stranger to fooling with Donald Trump over the years, so it shouldn't be too much of a surprise that his next project might take full aim at the president and his past exploits. The rivalry between the two spans at least 15 years if you count the initial Ali G interview between the two. It has made Cohen the target of Trump's barbs on Twitter at times and led to Cohen bringing up Trump in interviews and even giving him AIDS in The Brothers Grimsby.
But the latest tease from Cohen acts as a message from Trump and uses clips of the president talking about the comedian, all leading to what seems to be a project about Trump University:
Of course, this could just end up being some sort of online gag, Jimmy Kimmel joke, or just a public shaming. It might not be a project, though I think most would hope that it is. The fire between both men would make for an entertaining distraction from reality at least, especially when Trump making claims like this:
Cohen disputed this claim during an appearance on The Late Late Show back in 2016, though he also shares a silly claim of his own:
"He claims that he did [walk out] he claims that he saw through the interview but actually he was there for about seven minutes…

"I was the first person actually to realize he's a d*ck."
There's no way that Cohen was the first to realize this back in 2003. There's a lot of history that preceded and a lot of people who ended up having poor relationships with the current president. The USFL alone is full of stories.
If anything, you can see for yourself that Trump might not be telling the truth courtesy of the interview itself.
(Via Deadline / Daily Beast)