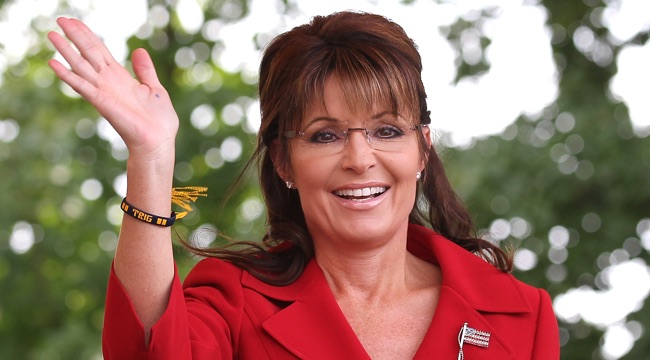 Former Alaskan Governor, alleged brawler, and one-time vice presidential candidate Sarah Palin is touring to support her new devotional, Sweet Freedom. Naturally, the subject keeps turning to the current presidential race and whether Palin would be game to step into the political ring again.
The short answer is, yes, Palin is down for the challenge. Naturally, this loaded question leads one to believe the Palin camp anticipates Donald Trump nabbing the GOP nomination and requiring a running mate. Trump has made no secret of his "love" for "special" Sarah Palin, and she considers him her "hero." He appreciates her fanbase but doesn't take into consideration that she previously starred on a losing ticket.
Still, this is a match made … somewhere. Pain agrees with Trump on a number of subjects, including the desire for everyone to "speak American." She also interviewed Trump with an array of softball questions because she's sympathetic to all of his causes. Palin recently sat down with Fox News' Brian Kilmeade to express her thoughts on another bid for office:

"I would [consider running] because we know that we're equipped with passions, with interests, we're given those by our creator. And they're put in us not to frustrate us or tease us, or to just sit on those interests or those gifts of talent — but they're to put us on a road toward fulfillment, toward productivity, ultimately helping other people. And I know that built within me is certainly passion for this country."
Palin then shuffled over to GMA's Robin Roberts with a similar summation of her intents: "Living my life, putting it in God's hands, you just never know what door may be opened. And if that door was opened, I'm built to run through it." Palin may be plugging a book, but it sounds like Trump-Palin 2016 is a done deal. Palin's presence on the Trump ticket would be entertaining, right? The man could use a distraction from his own messy speeches of late.