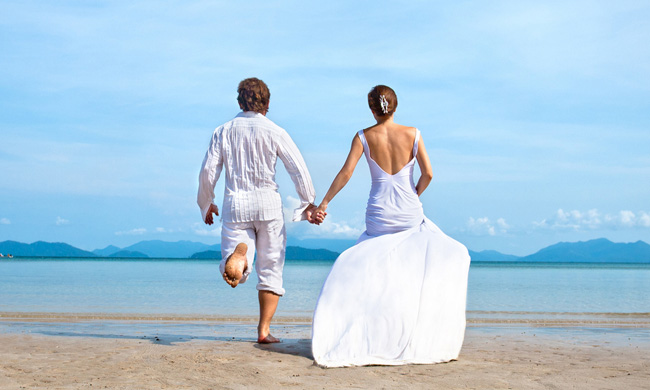 Los Angeles-based blogger Amanda Lauren thinks she's discovered what couples have been trying to figure out for decades, if not hundreds of years: the key to a happy marriage. The good news is that it's been under our noses the entire time. The bad news? Better put away those Oreos, ladies.
In an article for Your Tango that has gone viral since it was published last week, Lauren, 33, who is married to 35-year-old Murder in the First writer Ethan Kass, writes that "staying hot for her husband" is ESSENTIAL to a successful marriage. That's right, not "essential" — ESSENTIAL.
And she should know, because she just got married a few weeks ago!
Lauren cites older actresses such as Julianne Moore, Helen Mirren, and Jane Fonda — women who can all afford personal trainers and chefs — as evidence that women can stay attractive as they age. Additionally she quotes etiquette expert and author April Masini who says, "There's no question about it: men are visual — at all ages — and they want you to look attractive, and they want their friends to be jealous."
I see the look on my husband's face when I come out of the bathroom, ready for a night out, or the way he checks out my butt on the way to Pilates class. Having an attractive wife makes him happy. They say "Happy wife, happy life," but I'm happiest when my husband is happy.

If men can't help but be visual creatures, I need to oblige. And while I'm not sure if his friends are jealous so to say, they do acknowledge he has a hot wife.
Suffice to say, Lauren's words of wisdom have not gone over so well. Obviously, yes, we would all love to look just as great 10, 20, or 40 years down the road as we do on our wedding day, but sometimes motherhood, jobs, and whatever else becomes a priority (something she does at least acknowledge) and looking good for your spouse can take a backseat. Not to mention that marriage is hard work, and every couple experiences trials and tribulations that can't always be fixed with Pilates butt.
For what it's worth, Lauren posted an update a week after her article published, writing that whether or not you agree with her, everyone is entitled to their own opinions and this is hers. And that's great! Maybe this is what works for her and her husband, even if it might not be the best advice for everyone. Either way, I'd love to check back in with Lauren in 15 years and see if she still feels the same way.
(via Your Tango & Daily Mail)