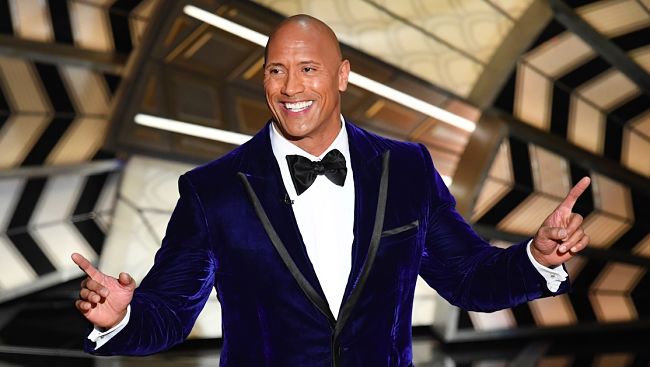 Dwayne "The Rock" Johnson won't be presenting at the Oscars in 2018 — he'll be receiving an award when he becomes the first man to win one Best Actor for three different roles: Luke Hobbs in The Fate of the Furious, Mitch Buchannon in Baywatch, and Not-Robin Williams in Jumanji. Congratulations!
But that's next year. This year, the wrestler-turned-Scorpion King-turned-actor had to settle for sitting in the audience, like a common John Cena, while Casey Affleck took home the gold. At least The Rock had a good seat, as seen in the instantly iconic photo of the shocked reactions to the Best Picture debacle, in which La La Land was mistakenly awarded the Oscar over Moonlight. In fact, he was so close, he considered jumping onto the stage.
As he wrote on Instagram:
You can literally see my wheels spinnin' on whether or not I should hit the stage and take down an Oscars producer who I thought went rogue and was trying to sabotage our final moment of the night as La La Land was accepting for Best Picture. Seconds before this I saw out of the corner of my eye, the producer saying loudly, "NO IT'S MOONLIGHT, the winner is MOONLIGHT!" as he walked up onto the stage. When he walked on stage, I remember sitting up and saying to @laurenhashianofficial, "What the f*cks he doing?". She grabbed my arm and said, "Oh my God, they made a mistake". The rest was history. In crazy moments like that, we need leaders to step up and take charge… I give La La Land producer, Jordan Horowitz much respect for stepping up to the mic and calling the Moonlight filmmakers and actors to the stage to accept their award. Thankfully, Jordan gave us the clarity we needed, because as much as I love and adore Meryl, I was willing to rumble over her to take down the producer going rogue. ? No business like show business. #Oscars #ThatLook #MattDamonWasReadyToGoBourne #IWasReadyToGoHobbs #LetsDoThis (Via)
The Rock Rumbling Over Meryl Streep To Take Down an Oscars Producer is already the frontrunner for Best Picture in 2019.
(Via Instagram)