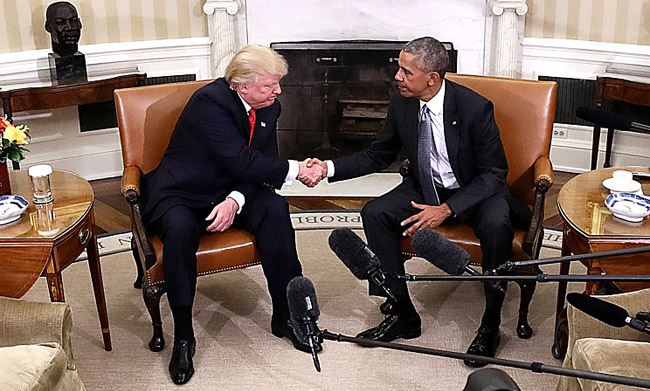 On Thursday Donald Trump, accompanied by his wife Melania, visited the White House to meet with President Obama and First Lady Michelle Obama, where the president and president elect played nice for some photos ops and supposedly discussed foreign and domestic policy. The whole scene played out like something straight out of The Twilight Zone, as we all are learning to come to grips with this brave new world under a forthcoming Trump regime, when the reality TV star will be inaugurated on January 17th, 2017, as the 45th President of the United States.
One particular moment that stood out was when photographers captured Obama shaking hands with Trump. One can imagine that this must have been difficult for the president, to shake the hand of the man who for years, zealously demanded to see a copy of his birth certificate, and then later, incredibly, tried to pin the whole thing on Hillary Clinton. The irony was not lost, as the photo quickly went viral with many pointing out that Trump couldn't even look the sitting president in the face as he shook his hand.
On Friday morning, the photo likewise popped up on Reddit's Photoshop Battle subreddit, where people had some fun editing the photo. We've gathered some of the best ones below.