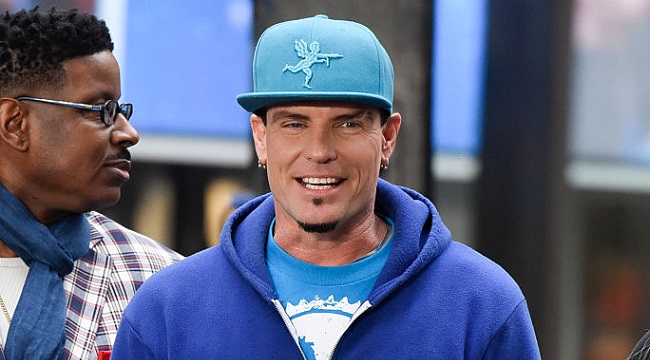 It sounds like the most 2018 thing to happen yet, but you'd better stop, collaborate and listen because it looks like it's true: Vanilla Ice was on the quarantined Emirates flight from Dubai at John F. Kennedy International Airport in New York on Wednesday. According to the rapper and reality TV star's official Twitter, he had been doing the "most flying I've ever done in my whole life" since the Labor Day weekend. Yet Ice's global adventure came to an end with a video from inside the plane itself and a few brief comments about what he had gleaned online.
"So I just landed in New York coming back from Dubai and now I'm stuck on the runway with like 1000 police, ambulances, fire trucks, this is crazy," he wrote in a tweet. After sharing a YouTube video from a non-news source, he then repeated the since-disproved initial report that over 100 people aboard the flight were sick. "Apparently there is over 100 people sick on the bottom floor, so happy I'm up top, it's a double-decker plane 380."

Despite the tardy nature of Ice's video post and subsequent tweets, which came at least one hour after Emirates announced that all passengers had already disembarked from the plane, CBS New York seemingly confirmed Ice had been a passenger. Even so, doubts about the timeline didn't stop most of Twitter from replying to Ice's tweets with an endless array of apocalypse and "Ice Ice Baby" jokes.
(Via NBC New York)