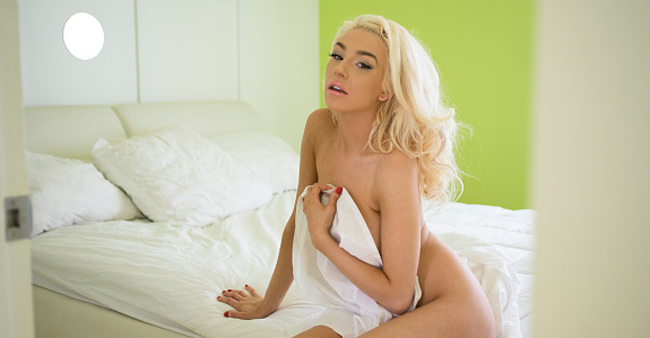 Thank the porn gods for Vivid Video, the company that has almost single-handedly kept the D-list celebrity sex tape economy alive over the past decade. Okay, so Kim Kardashian deserves a lot of credit as well – she's the one who managed to turn her sex tape into the jump-off point for mega-celebrity, and in that way inspired a generation of talentless dopes to give it a try, too.
But Vivid keeps buying and releasing these things, whether people particularly want them or not. And as expected, the adult film company has purchased the 'stolen' sex tape of Courtney Stodden, whose biggest claim to fame was marrying 51-year-old Doug Hutchison (best known for playing creepy mutant Tooms on The X-Files and Horace Goodspeed on Lost) when she was 16. Since then she has appeared on Celebrity Big Brother, Couples Therapy, and not much else.
So what's a fading celebrity to do? A foray into porn is the defibrillator of celebrity – it either revives the person or is the last thing that happens before they completely flatline forever. But Stodden and her manager mother are being smart about things – this sex tape is solo – no 54-year-old Doug Hutchison or surrogate male porn star. Just Courtney, her ridiculous double-D boobs, and a camera. Okay, probably some toys or something, too. We don't want to use our imaginations too much, because this whole story is kinda gross. Which means she's free to go back to the well of depravity a few more times if/when necessary.
Vivid Video's Steven Hirsch previously said the video contains some of "the most unique footage I've ever seen." Which says a lot, considering Vivid also put out the Chyna, Tila Tequila, Farrah Abraham, and Taylor Lianne Chandler sex tapes. That's just the tip of the celebrity sex tape mountain Vivid has created, piling the hopes and dreams of wannabe superstars up into an Everest of unrealized aspirations.