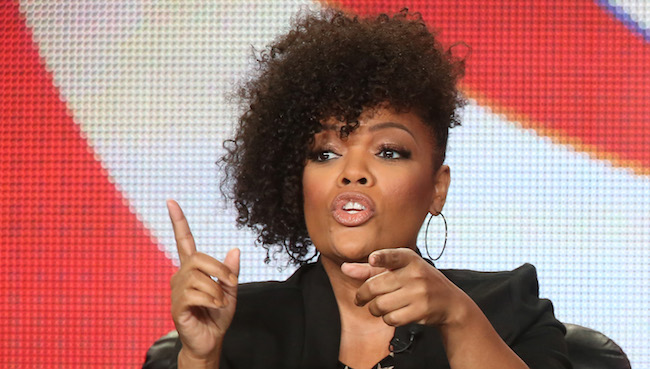 Michelle Obama should likely go down as one of the classiest, most graceful first ladies we've ever had. And being a black woman in this high profile role in today's society, she will unfortunately also likely hold the title for the most disrespected FLOTUS in history.
Mrs. Obama has been called every name in the David Duke Book of Racist Slurs and Insults and still remains unbothered by those moronic critics. After all, as she revealed Monday night at the DNC, the Obama family motto is: "When they go low, we go high." And she continues to do just that, never once responding to those bigoted citizens, politicians and publications who boldly voice their disdain for her with disgusting racist remarks. But Yvette Nicole Brown surely will respond on FLOTUS' behalf, and she did with some major firepower.
The Community and The Odd Couple actress was left stunned by an idiot who called the first lady a "ghetto monkey" on an Instagram picture of Obama from her DNC speech and fought back. Brown completely eviscerated the commenter with the kind of sophistication that even Michelle would improve of.
"What an ignorant, sad, little racist you are," Brown replied. "So very tragic. I sincerely pray that life brings to your doorstep everything that someone with your ankle-deep depth of character deserves." The actress didn't let the racist troll respond to her before serving her another delicious dose of "STFU." Continuing, "And as you prepare to reply to THIS 'monkey,' may you feel in your soul how pathetic and wasted every breath you take is and will be, as long as you stay blissfully unaware that the hateful little dungeon of disillusion and blame your parents built for you like a crib, is and will be your earthly prison." Mic. Drop.
But wait! There's more!
And know this: Still we rise!

And that "we" is America. Lest you think this is a "ghetto monkey" thing. Now, I'm gonna end this so you can go Google and reckon your way thru the read this monkey just left for you. May God bless you with what you truly deserve every single day of your wretched life.
And that's how that's done.
Brown admits on her Facebook that comments like "ghetto monkey" do leave her her soul feeling exhausted, but that her spirit is up for it all, writing, "My soul is so weary…but this Spirit?! Whoo! Bring it on!" As of now, the racist's Instagram still remains.