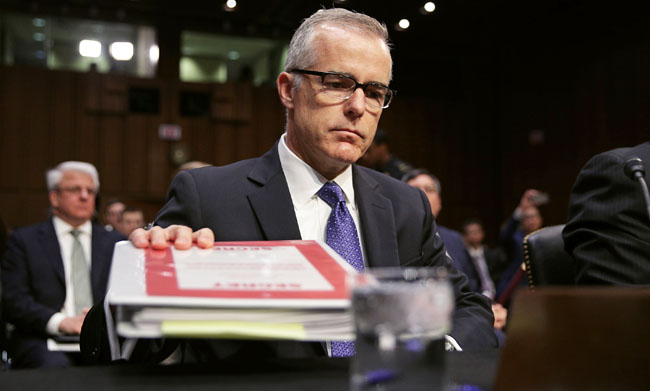 New details have already surfaced regarding the firing of FBI Deputy Director Andrew McCabe by Attorney General Jeff Sessions late Friday night, less than two days before his planned retirement. Apparently, much like his former boss James Comey, McCabe also kept receipts.
CNN reported breaking news on Saturday afternoon that McCabe also documented his conversations with President Trump in memos, according to a source of the network. Although at this time it is unclear exactly what McCabe's memos entails and what time span they cover.
Following the announcement of his termination, McCabe released a statement on Friday night alluding to conversations he had taken with Trump, in which the president seemed "fixated" on his wife's 2015 Virginia state Senate campaign. On at least four occasions McCabe recalled Trump taunting him that her bid was a "mistake" or a "problem," as well as calling her a "loser."
Trump also apparently would bring up Comey "out of the blue," insinuating that somehow he was politically motivated against the administration. McCabe shot down the suggestion as "absolutely not true."
McCabe's dismissal was particularly nasty, as it puts his benefits and pension in jeopardy which he had earned over the course of two decades of service with the FBI. It seems however, that this may be far from over.
Update: The Wall Street Journal is now reporting that McCabe has already turned his memos over to Special Counsel Robert Mueller.
Mr. McCabe wrote contemporaneous memos describing his dealings with Mr. Trump and the White House, as well as about what Mr. Comey told Mr. McCabe about his own interactions, a person close to Mr. McCabe said.

This person said that Mr. McCabe turned the memos over to Mr. Mueller.
CNN has also confirmed:
(Via CNN)