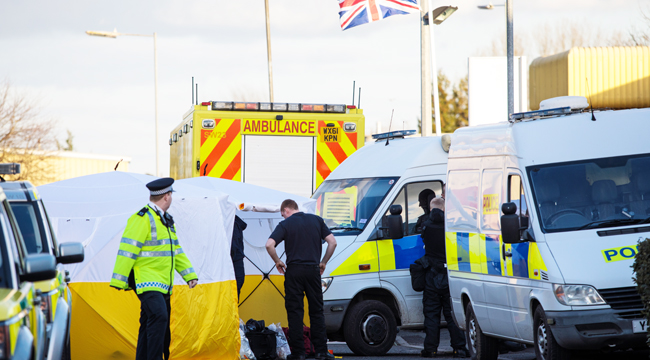 The poisoning of ex-Russian spy Sergei Skripal and his daughter, Yulia, has blossomed into a true diplomatic crisis. Earlier this week, British Prime Minister Theresa May told Parliament that authorities found it was was "highly likely" that Russia was responsible for the incident involving a nerve agent, and May hinted at possible sanctions to come. The investigation has now progressed to the point where Britain has accused Russia of attempting to murder Skripal.
CNN reports that the U.K. won't be patient after this development. They've not only concluded that Russia is responsible but have also announced the expulsion of 23 Russian diplomats, who need to pack their bags, now:
This will be the single biggest expulsion of Russian diplomats in over 30 years, Prime Minister Theresa May said Wednesday. They will have only one week to leave.

"For those who seek to do us harm, my message is simple. You are not welcome here," she said in a statement to the House of Commons following a meeting of Britain's National Security Council.
The conclusion that Russia is responsible was a probable progression after the British government determined that the nerve agent was developed by Russia, but the severity of action that's now being taken speaks volumes. On Tuesday when questioned about the matter, President Trump moved towards admitting that "it sounds to me like it would be Russia," although he kept his language vague on the matter. His statement also arrived a few hours after he fired Secretary of State Rex Tillerson, who broke from the White House on the matter by saying Russia was probably to blame for the poisonings.
Meanwhile, there's plenty of speculation over just how involved Vladimir Putin may have been (although Russia denies everything) in these poisonings. The Irish Times makes the argument that Putin wouldn't have done so because this would (and now will) jeopardize future spy swaps. However, an inquiry into the 2006 murder of former KGB spy Alexander Litvinenko determined that Putin "probably" ordered the agonizing death by polonium-210 in London.
(Via CNN & Irish Times)