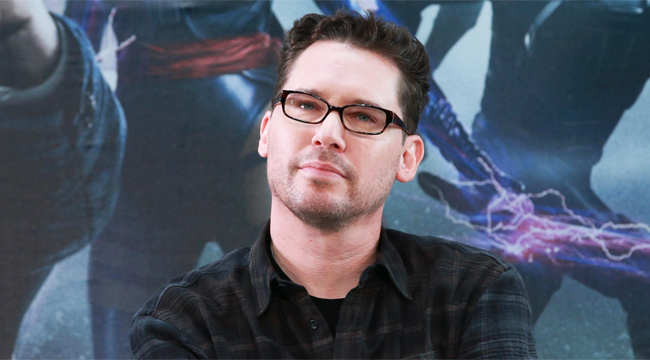 The day after Bohemian Rhapsody scored a Best Picture Oscar nomination, director Bryan Singer has become the focus of new sexual misconduct allegations from within an Atlantic investigative report. It's worth noting upfront here that these allegations are apparently the same batch from an unpublished Esquire report that Singer preemptively hit out at in October 2018. That is to say, the authors of the Atlantic piece are Alex French (an Esquire writer-at-large) and Maximillian Potter (the Esquire editor-at-large), and given that multiple new alleged Singer victims are detailed in this report, it's clear why Singer wanted to shut this down. He previously called the report a "rehash[ing]" of "false accusations and bogus lawsuits" that recontexualizes "quotes from 'sources' that will claim to have 'intimate' knowledge of my personal life."
For The Atlantic's report, the authors interviewed over 50 people, including four previously unidentified accusers, who allege that Singer engaged in sexual encounters with them in the late 1990s while they were teenagers and he was in his late 20s/early 30s. Actor Victor Valdovinos comes forward to allege that Singer fondled him on the set of Apt Pupil when he was 13 (and working as a shirtless extra in a locker room):
"Every time he had a chance — three times — he would go back there … He was always touching my chest." Finally, according to Valdovinos, Singer reached through the towel flaps and "grabbed my genitals and started masturbating it." The director also "rubbed his front part on me," Valdovinos alleges. "He did it all with this smile." Valdovinos says that Singer told him, "You're so good-looking … I really want to work with you … I have a nice Ferrari … I'm going to take care of you."

"I was frozen. Speechless," Valdovinos continues. "He came back to where I was in the locker room throughout the day to molest me."
The three other accusers lodge their stories under pseudonyms. Andy and Eric allege that Singer had sex with them when they were 15 and 17, respectively. Here are details from the accusations lodged by Ben, who says that he and Singer had oral sex when he was "either 17 or 18," and Ben describes Singer's alleged predatory maneuvers at parties:
Ben describes Singer as someone who liked to cross boundaries. "He would stick his hands down your pants without your consent," Ben recalls. "He was predatory in that he would ply people with alcohol and drugs and then have sex with them." But, at least in Ben's experience, "it wasn't a hold-you-down-and-rape-you situation."

"I was a fat kid, and socially awkward," Ben continues. "But then I was getting all this attention. It led me to believe that was the way it's supposed to be — that the way to get attention is to be sexual." At the time, he thought the parties and the sex were fun. But then he realized he was being used. "I just felt like an idiot. It's like when the victim blames himself for what happened."
The investigative report is extensive, and you can read the full version here. Andrew B. Brettler, who is Singer's attorney, is quoted within the piece. Brettler states that his client "categorically denies" having sex with underage males, and he points out that Singer's never been arrested.
In December 2017, Singer was fired for "unreliability and unprofessionalism" (and replaced by Rocketman helmer Dexter Fletcher) a few weeks before Bohemian Rhapsody wrapped but still received a directing credit. He previously thanked the HFPA when the film won the Golden Globe for Best Drama, which stirred up controversy due the already surfaced sexual misconduct allegations against him. Those include accusations lodged by Cesar Sanchez-Guzman, who has claimed that Singer allegedly raped him in 2003 when Sanchez-Guzman was 17 years old. Singer was also one of multiple Hollywood figures who became the subject of sexual assault allegations from Michael Egan, who later admitted the untrue nature of those allegations before dropping them.
On Tuesday, Rami Malek (who received a Best Lead Actor nomination for playing Freddie Mercury in Bohemian Rhapsody) fielded reporters' questions on Singer. In doing so, Malek did not address rumors that he and Singer feuded but stated that he wasn't aware of the allegations previously made against the director. "As far as I knew, I was considered before Bryan was even attached," Malek told the LA Times "So I had my head down preparing for this for about a year ahead of time, and I never really looked up."
This past weekend, producer Graham King was more forthcoming than 20th Century Fox has previously been while speaking about Singer's firing. While speaking at an industry breakfast, Graham called the situation "unfortunate" and clarified that Singer "wanted to 'hiatus the film'" due to a sick family member. King stated, "My job is to protect the film at any cost and that's what I was there to do," and he fired Singer for not showing up to the set.
No matter how one feels about Bohemian Rhapsody's Oscar qualifications, it's clear that the allegations against Singer will cast a further shadow upon the movie throughout awards season.
UPDATE #1 – 11:50 am EST: Singer has issued a response to the Atlantic report. As quoted by Deadline, Singer calls the report a "homophobic" piece of "vendetta journalism" meant to capitalize upon Bohemian Rhapsody's success:
"The last time I posted about this subject, Esquire magazine was preparing to publish an article written by a homophobic journalist who has a bizarre obsession with me dating back to 1997. After careful fact-checking and, in consideration of the lack of credible sources, Esquire chose not to publish this piece of vendetta journalism.

"That didn't stop this writer from selling it to The Atlantic. It's sad that The Atlantic would stoop to this low standard of journalistic integrity. Again, I am forced to reiterate that this story rehashes claims from bogus lawsuits filed by a disreputable cast of individuals willing to lie for money or attention. And it is no surprise that, with Bohemian Rhapsody being an award-winning hit, this homophobic smear piece has been conveniently timed to take advantage of its success."
UPDATE #2 – 2:50 pm EST: The Atlantic's Twitter PR account has now posted a statement from the investigative report's authors, Potter and French, who say that Hearst executives killed the piece in Esquire for unknown reasons. The duo expresses gratitude to the Atlantic for fact-checking, vetting, and publishing their Singer report:
We have been asked why a story reported and written by two Esquire writers is being published in The Atlantic. This story began with our editors at Esquire. After months of reporting, the story went through Esquire's editorial process, which included fact-checking and vetting by a Hearst attorney, and the story was approved for publication. The story was then killed by Hearst executives. We do not know why. We feel fortunate that The Atlantic decided to work with us, and we are grateful that the piece has gone through The Atlantic's thoughtful editorial process, which included another rigorous fact-check and robust legal vetting. We are most grateful that the alleged victims now have a chance to be heard and we hope the substance of their allegations remain the focus.
(Via The Atlantic, LA Times & The Independent)