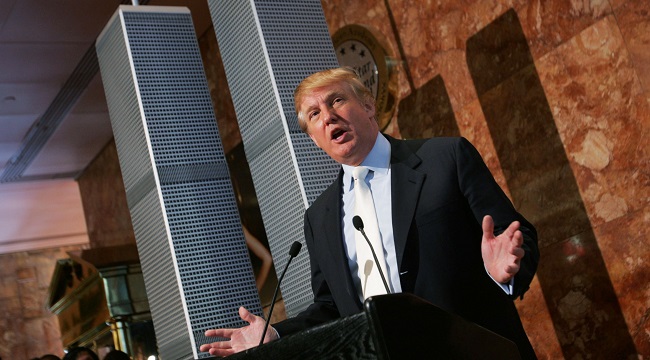 Donald Trump's name has always been associated with money. Not so much because the New York real-estate mogul is awash in an endless sea of cash, per se, but due to the fact that the pursuit of money is what his personal branding has always been about. Hell, he even turned it into a successful reality-TV show on NBC, which is now led by fellow celebrity-turned-politician Arnold Schwarzenegger. This is especially the case now that Trump has become the presumed Republican presidential nominee, but for reasons more critical than not. That's because Trump hasn't released his tax returns to the public yet, and it seems he has no intention of doing so before the November elections. This has many Republicans worried, and even more Democrats feeling triumphant.
Between reports that Trump hasn't given much to charity, but that his presidential campaign has banked some serious change (despite boasts about self-funding his efforts), the Donald's biggest talking point has always been his money. According to a recently resurfaced story by the New York Daily News, however, the Republican candidate's many interviews and speeches have neglected to include the time he made $150,000 off a federal program designed to help small businesses recover after 9/11. Seeing as how Trump isn't the biggest fan of the word "small," it's easy to joke about why he may have forgotten to mention this particular bit of trivia.
Per the NYDN's original 2006 story, Trump was one of several "tycoons and huge corporations that received federal 9/11 recovery grants earmarked by Congress for small businesses." Smaller holdings of massive companies like "Dell Inc., Morgan Stanley, The AXA Group and the Bank of China" were among those who received grants intended for small businesses without massive corporate structures to use as financial cushions in times of loss or need.
One couldn't tell from ESDC records, for example, that "40 Wall Street LLC" is owned by Trump… But the ESDC's rules transformed Trump into a small-business man. His company collected a $150,000 grant for losses at 40 Wall St. The grant application describes the corporation through which Trump owns that building as having 28 employees and $26.
As the NYDN investigation determined, the company's application got it past the ESDC's (Empire State Development Corp.) distinction between small and big businesses. The "28 employees" line cleared the maximum of 500, but the $26? 40 Wall Street LLC earned $8 million annually at the time, and the small business cutoff was $6 million.
"It's really indefensible that this money went to big guys like Trump," New York Rep. Jerry Nadler (D-Manhattan) told the NYDN. Nadler, who helped fund the initiative with his work in Congress, added: "It's unfortunate because it meant a lot of the small businesses didn't get that money." Not only did a lot of small businesses in and around Manhattan not get the money, but many were utterly destroyed by the September 11 terrorist attacks. Not just on the day itself, but by the immediate economic fallout that the ESDC was set up to combat.
In addition to refusing to release his tax returns, Trump has also been called out by critics and watchdogs for two other recent financial dealings — his efforts with veterans, and the heavily litigated Trump University. Not to mention the website his people established to collect donations for wounded veterans reportedly funneling the money directly to the Donald J. Trump Foundation instead. To make matters worse, The Daily Beast recently pointed out that the potential Republican nominee held companies in places like Saudi Arabia, a country he blamed 9/11 on and tried to boycott.
(Via New York Daily News and The Daily Beast)