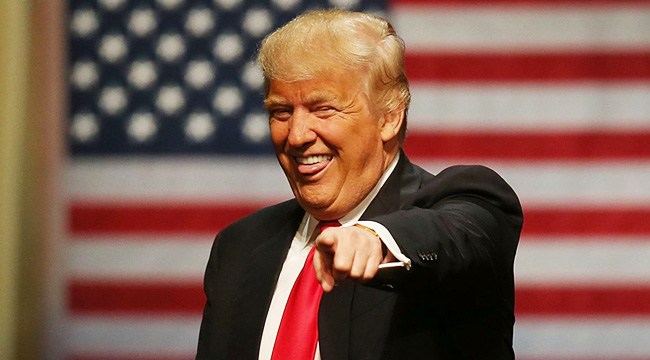 There are so many layers to this particular Donald Trump story, it's hard to keep track of fact and fiction because — to be blunt — it seems like Trump may not recognize what's real at this point. Or perhaps he's just that good at lying. Let's rehash and dig even further into the fakery of the real estate mogul, who's an expert spokesperson for himself.
About a month ago, BuzzFeed unearthed a story about how Trump told some big lies in 1991. The real estate mogul apparently phoned news outlets and pretended to be a fake spokesperson named John Miller to report how Trump was dating Italian supermodel Carla Bruni. He spread this rumor even as he was romancing Marla Maples (who he married in 1993). Bruni, of course, denied everything and branded Trump "a lunatic." That same year, People's Sue Carswell played the recording of "John Miller" for Maples, who confirmed that the voice indeed belonged to Trump. All of this made little sense. Why would Trump, who could afford the best PR people, bother to impersonate rather than employ anyone?
Last Friday morning, Donald Trump did not waver at all while speaking on Today. He insisted that he knew nothing about this "scam." He said the false spokesperson sounded nothing like himself, and this must surely be one of countless Trump impersonators trying to make a buck off his name. To complicate matters, Trump used not only the John Miller alias, but also favored "John Barron" while bragging about his dating life and random personal details that a PR person simply wouldn't know or discuss.

The details grew pretty insane with an apparent Trump obsession forming for the name Barron. He even bestowed the name on his son (with third wife Melania). Hilariously, the Washington Post called Trump on Friday. They asked if he ever employed a John Miller, and the call did not end well:
The phone went silent, then dead. When the reporters called back and reached Trump's secretary, she said, "I heard you got disconnected. He can't take the call now. I don't know what happened."
Believe it or not, this story gets even weirder. Here's the next tidbit from now-former People journalist Carswell, who revisited the Trump shenanigans of yesteryear. She says that Trump confessed to his spokesperson fakery, successfully kissed butt, and has (most likely) leaked his own audio tapes:
Trump called me back and apologized, saying, "I'm sorry that was a joke gone awry." Maples, who had since reconciled with Trump, made him apologize for disrespecting the magazine and for posing as his own spokesperson. People ran a story revealing the apology, and Trump actually invited me and a friend to join him and Maples for a night out on the town.
Carswell also reveals how, although People printed Trump's apology, she never shared the John Miller audio tape. Only she and Trump had copies, and she's fairly certain her tape is sitting in her home closet. She speculates that Trump released his copy for "his own warped reasons." In the below video, Carswell further theorized (with CNN) about why Trump leaked his own incriminating story. She thinks he'd prefer that people hear about John Miller than think about those tax returns that Trump refuses to release. How is this happening to a presumptive Republican nominee? As comic John Agee put it on Twitter, "Trump's [dumb] butler was like five crazy Trump stories ago and it was yesterday."

(Via Washington Post and People)