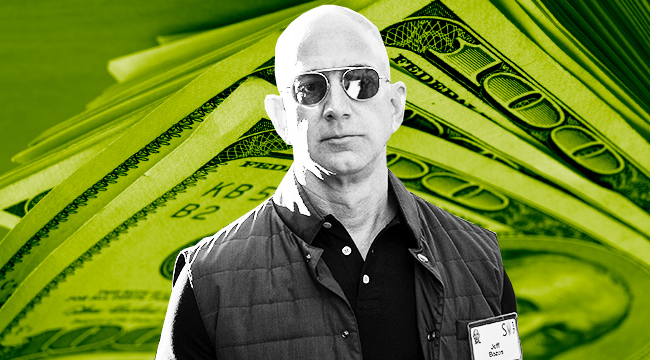 Amazon CEO Jeff Bezos is ridiculously wealthy. We knew this already, but it's still entertaining to watch Bezos and (the also ridiculously wealthy) Bill Gates continue to jockey for the title of richest person on the planet. Well, Forbes has updated its rankings after a significant overnight development, and Bezos has slid ahead of Gates once more.
Bezos' net worth now stands at an incredible $92 billion while Gates trails behind with $90 billion. Relatively speaking, the difference is insignificant because both of them could literally bathe in money and buy new cars every day without making a dent in their empires. Yet how this spot-exchanging happened is certainly notable. Bezos' net worth shot up $9 billion between Thursday night and Friday morning, thanks to Amazon stock being up by over 11% during Friday trading. Here's further analysis from Variety:
On July 27, Bezos had become the world's richest person for a few hours morning, but Amazon shares declined in afternoon trading, putting Bezos back at No. 2 behind Gates.

For Q3, Amazon posted sales of $43.7 billion, up 34% year-over-year, with net income of $256 million (52 cents per share). That was a robust beat of Wall Street analyst forecasts of $41.6 billion in revenue and earnings per share of 7 cents.
Well, this most superior fortune may not last long. After all, Bezos net worth crashed by $3 billion in one hour about a year ago, so there's no telling how rich Bezos will be, say, next week. Still, these are mind-boggling amounts to consider, especially since many Americans aren't even sure they'll be able to afford health insurance in the near future.
For its part, Amazon's innovation and far-reaching impacts show no sign of crashing in the long run. The online retailer hopes to soon have access to your home and is making noises about conquering the wholesale pharmacy realm. Currently, over 200 cities are also vying for the honor of holding Amazon's second quarters, so expect further development on that note soon.