Louis C.K. used to be known for holding secret gigs to test material, but his return to stand-up following a nine-month hiatus truly comes as a surprise. He appeared Sunday night at a Manhattan club, a reemergence that arrives after last fall's New York Times report that gathered allegations from five women who accused Louis C.K. of varying degrees of sexual misconduct. This included making inappropriate remarks and removing his clothes and masturbating in front of them. He later admitted in a statement that "these stories are true" and said he regretted taking advantage of his position of power.
The comedian's appearance was confirmed to the New York Times by Noam Dworman, the owner of Greenwich Village's the Cellar club, who said that this was the "typical" set one would expect from Louis C.K. while he was testing new content. Dworman was not on hand for the performance but later watched video footage, and he stated that the audience reacted "warmly" to the comedian's appearance and began an "ovation" before the first joke was told:
Dressed in a black V-neck T-shirt and gray pants, he did a 15-minute set that touched on what Mr. Dworman called "typical Louis C.K. stuff" — racism, waitresses' tips, parades. "It sounded just like he was trying to work out some new material, almost like any time of the last 10 years he would come in at the beginning of a new act."

Mo Amer, another comic who was on the bill Sunday, said that for the crowd, "it was like a wow moment." He, too, said he had no idea that Louis C.K. would return that night but that his material was "like, classic Louis, really really good."
Following last fall's revelations, Louis C.K.'s distributor halted the release of his impending film, I Love You, Daddy. FX followed suit by cutting all ties with him — but not with the shows produced by him. It doesn't appear that he addressed any portion of the scandal while onstage, given the descriptions of the set, and he's apparently feeling out a return to the spotlight.
On Twitter, fellow comedian Michael Ian Black spoke out in favor of the reemergence. "Will take heat for this, but people have to be allowed to serve their time and move on with their lives," Black tweeted. "I don't know if it's been long enough, or his career will recover, or if people will have him back, but I'm happy to see him try."
However, comedian Paul F. Tompkins feels otherwise and specifically called out Louis C.K. for declining to "mention his most recent, famous news in his surprise set." According to Tompkins, the omission "tells you all you need to know about his desire for 'redemption,' right?"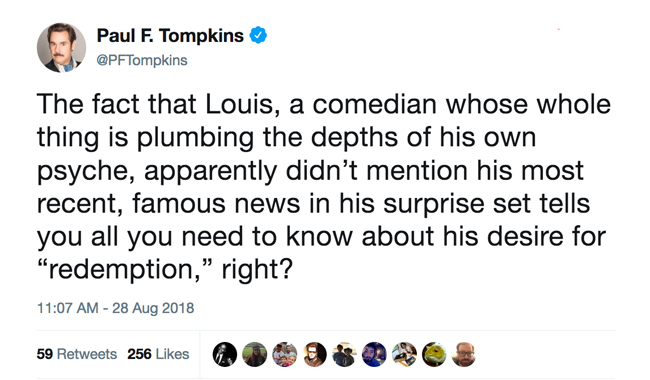 (Via New York Times & Washington Post)