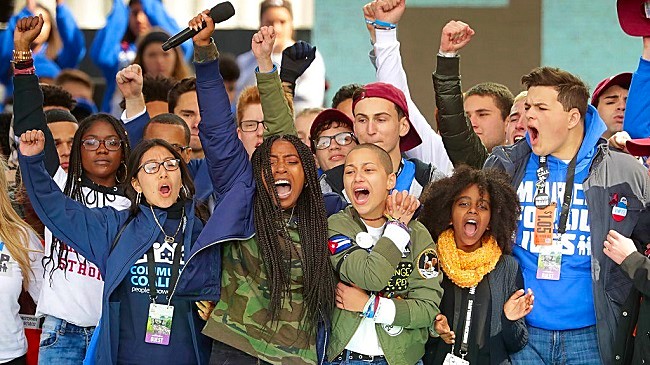 Sen. Ted Cruz (R-Texas) wasn't the only politician, past or present, to toss a few hundred words Time magazine's way for its annual list of the "100 Most Influential People" in the world. Former president Barack Obama also contributed a short essay for this year's list. However, instead of pulling a Cruz and waxing poetically about the man who insulted his wife and beat him in the Republican primary, Obama devoted all 398 of his words to the students turned activists who survived the mass shooting at Stoneman Douglas High School in Parkland, Florida in February.
The entry title and accompanying picture specifically identify Emma Gonzalez, David Hogg, Jaclyn Corin, Cameron Kasky, and Alex Wind. This makes sense, as they are five of the most prominent among the Stoneman Douglas students who went on to establish the massive "March for Our Lives" demonstrations. Yet, per Obama's own words, his entry is mostly for all the Parkland survivors. "They have the power so often inherent in youth: to see the world anew; to reject the old constraints, outdated conventions and cowardice too often dressed up as wisdom," he writes. "The power to insist that America can be better":
Seared by memories of seeing their friends murdered at a place they believed to be safe, these young leaders don't intimidate easily. They see the NRA and its allies — whether mealymouthed politicians or mendacious commentators peddling conspiracy theories — as mere shills for those who make money selling weapons of war to whoever can pay. They're as comfortable speaking truth to power as they are dismissive of platitudes and punditry. And they live to mobilize their peers.
"By bearing witness to carnage, by asking tough questions and demanding real answers," Obama continues, "the Parkland students are shaking us out of our complacency." It's quite a moving and thoughtful tribute to everything the Parkland students went through on February 14th, and when compared to the responses to Cruz's love letter to President Trump, far less embarrassing.
(Via Time)