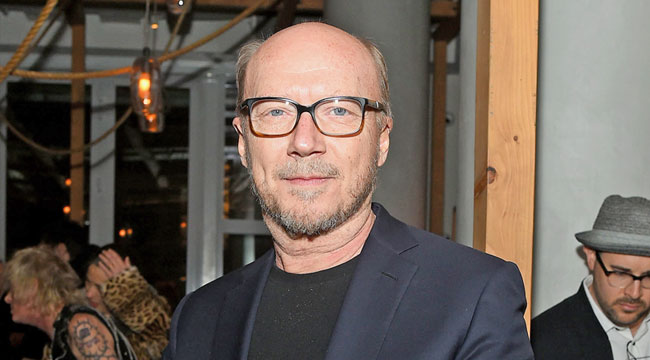 In mid-December — amid the tidal wave of sexual assault allegations against Harvey Weinstein and other men in power — Paul Haggis appeared in civil court to deny allegations that he raped and sexually assaulted publicist Haleigh Breest. He argued that her $9 million damages claim for emotional distress was "outrageous" and an extortion attempt. The Associated Press and Hollywood Reporter now report that three more women have come forward with sexual misconduct allegations against the Crash director, and of the total, two women have accused him of rape.
The allegations, which are very graphic, range from sexually explicit and harassing text messages to physical advances and sexual assault. Breest also further details her rape claim, which she says occurred in 2013 when Haggis invited her to his apartment for a drink:
Quickly, Haggis became "sexually aggressive," she said in her lawsuit, and began kissing her. She was "petrified and felt paralyzed," the suit said, when Haggis asked her, "You're scared of me, aren't you?"

Haggis then forced her into a bedroom and onto a bed and tried to tear off her tights, she said. She called out "no," but he wouldn't stop, she said. He forced her to perform oral sex on him, he fondled her, asked if she liked anal sex, then raped her, according to the lawsuit. When she woke up hours later, feeling sore, scared and humiliated, she saw Haggis sleeping in another bedroom, and left.
The accusations arrive with a possible Scientology-related note, which arrives in contrast to Danny Masterson's slow-moving sexual assault cases (from a law enforcement standpoint), although he was eventually fired from his Netflix show. Masterson, of course, is still a participating Scientologist, but Haggis is an ex-member-turned vocal critic of the organization. The Hollywood Reporter notes that all of Haggis' accusers deny any affiliation with Scientology.
Speaking to the Hollywood Reporter Haggis' representative denies all of the accusations. In December, he also denied raping Breest while claiming that a back injury would have prevented him from carrying out the actions described within the rape accusation. It's worth mentioning that director James Toback recently made a similar argument (that he had a heart condition) while defending himself against sexual harassment claims by over 30 women.
Also of note — in October, Haggis condemned Harvey Weinstein's alleged sexual misconduct while calling Hollywood a "fairly sexist" city. He further slammed "those who may have colluded and protected him," who he said are "as guilty as he is and in some cases more so" than Weinstein.
(Via Hollywood Reporter, Deadline & Washington Post)