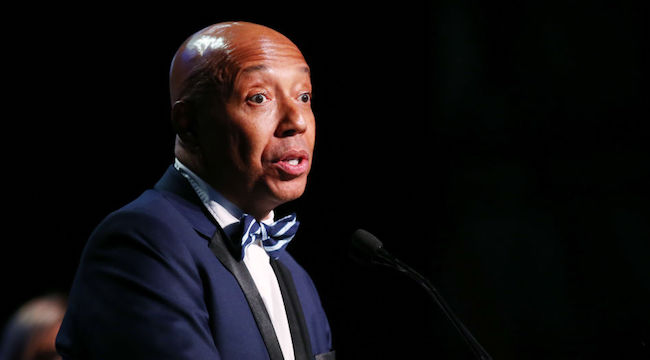 Last month, Def Jam founder Russell Simmons first faced sexual misconduct allegations when he and director Brett Ratner were accused of assaulting Keri Claussen Khalighi. The next week, Simmons stepped down from his business dealings when another woman, Jenny Lumet, also came forward claiming that Simmons assaulted her. Now, in an investigative piece in The New York Times, more women have come forward with accusations against Simmons, including three new women that say he raped them.
In a detailed reported article in the Times, the stories of the women are delivered in harrowing detail. One, Drew Dixon, was an executive at Def Jam in the '90s, and describes a long history of harassment that sent her into depression. She claims Simmons would verbally harass her, show her his erect penis, and, eventually, he raped her.
"I remember realizing I was cornered," Dixon said after rejecting Simmons advances, "and I just blacked out." The last thing she remembers is Simmons pinning her down and kissing her. The story is corroborated by a friend at the time whom she confided in after it happened.

Another woman, Tina Baker, was a singer when she says Simmons raped her. Simmons had shown interest in her career and she invited him to her place to discuss it.
From the Times article:
"This time, though, 'it all got really ugly, pretty fast,' Ms. Baker said. As soon as they entered, Mr. Simmons started pouring drinks and trying to kiss her, leading to a scuffle, she said. She recalled 'him on top of me, pushing me down and him saying, 'Don't fight me,'' Ms. Baker said. She was pinned on the bed. 'I did nothing, I shut my eyes and waited for it to end.'"
A third woman, Toni Sallie, was a music journalist in the '80s when she says she met Simmons on assignment. He invited her to a party at her house, but when she showed up, it was just him there. "He pushed me on the bed and jumped on top of me, and physically attacked me," she said. "We were fighting. I said no."
The article also includes another story of harassment from more recently in 2014 by Christina Moore. In a statement to the Times, Simmons denied all the accusations.
"In recent weeks, some former business, creative and romantic partners have aired grievances as claims I categorically reject. In some of these instances, financial motives and direct contradictory witness testimony has been supplied to the media, which has been completely left out of stories. In the last few days, one woman attempted to extort me for $500,000 only to recant her ridiculous claim. The current allegations sent to me by The New York Times range from the patently untrue to the frivolous and hurtful. The presumption of innocent until proven guilty must not be replaced by "Guilty by Accusation."