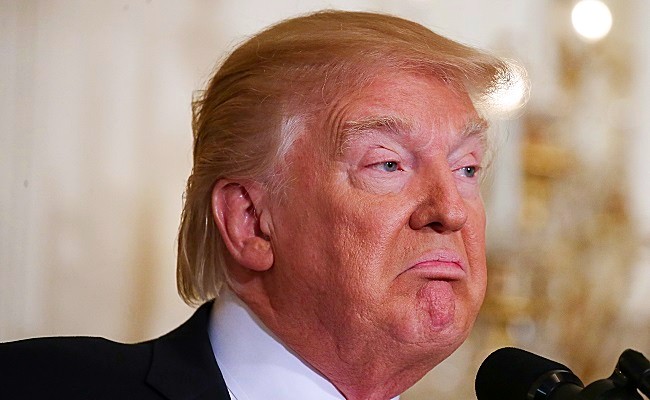 It seems sending a cease and desist letter to Steve Bannon regarding his comments in Michael Wolff's salacious new book, Fire and Fury: Inside the Trump White House, isn't enough for the president. Hence why, according to ABC News, Trump's personal lawyer, Charles Harder, is now demanding Wolff and his publisher "cease and desist from any further publication, release or dissemination" of said book immediately. What's more, the Washington Post is reporting that Harder's letter threatens the author and his publisher with "possible charges including libel in connection with the forthcoming book."
"We are investigating numerous false and/or baseless statements that you have made about Mr. Trump," writes Trump's lawyer. Elsewhere in the "lengthy letter," Harder also claims "they are looking into possible defamation of Trump and his family and invasion of privacy":
"Actual malice (reckless disregard for the truth) can be proven by the fact that the Book admits in the Introduction that it contains untrue statements. Moreover, the Book appears to cite to no sources for many of its most damaging statements about Mr. Trump. Also, many of your so-called 'sources' have stated publicly that they never spoke to Mr. Wolff and/or never made the statements that are being attributed to them. Other alleged 'sources' of statements about Mr. Trump are believed to have no personal knowledge of the facts upon which they are making statements or are known to be unreliable and/or strongly biased against Mr. Trump."
Neither Wolff nor Henry Holt and Co. responded to ABC News and the Post's separate requests for comment, which is a good thing from a legal standpoint. After all, Trump's legal team is threatening to pursue libel charges (and others) against them, should Fire and Fury move forward with its January 9th publication date, so giving the plaintiffs additional evidence is probably the best course of action. And considering Trump's prior claims on the campaign trail about opening up U.S. libel laws, it wouldn't be all that surprising if he used Wolff's book as a lightening rod for the issue.
(Via ABC News and Washington Post)