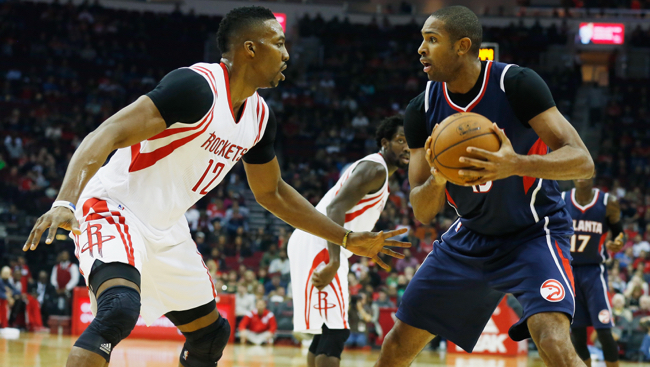 The NBA Free Agency season is upon us, and the Fourth of July Weekend wasn't very relaxing for basketball scribes. That's because the moratorium period has seen a bevy of agreements already, and the biggest move so far, at least in terms of ripple effects elsewhere in free agency, has to be Al Horford's decision to sign with the Celtics. The 30-year-old had supposedly narrowed his choices to the Celtics and surprise contenders, Washington, who seemed to come out of left field for the All-Star at the last minute. But the real story seems to be why he didn't re-sign with the only team he's known since being drafted by Atlanta in with the No. 3 overall pick in 2007.
According to Ken Berger of CBS Sports, Dwight Howard's three-year deal in Atlanta was certainly a role, and not just because they sometimes line up in the same position.
Factor No. 1, according to league sources: Horford was none too pleased with how reluctant the Hawks were to come forward with a full five-year max. Factor No. 2: Atlanta's signing of Dwight Howard. Could there be a more contradicting force in the NBA to Horford than Howard, in terms of substance vs. style?

"He didn't want to play with Dwight," a person familiar with the situation told CBS Sports.
Dwight is a knucklehead and many of his peers recognize the immaturity. Horford is a non-nonsense type of player who values consistency and a drama-free environment. That's almost indistinguishable from Dwight's happy-go-lucky, flatulence-heavy frat routine that's grown so tiresome for Magic, Laker, and Rocket fans and players.
Except, as rumors heated up and decision time seemed to approach, Horford relaxed on his demands for the max, five-year stipulation from the only team he's ever known. As the incumbent team with his Bird Rights, the Hawks were the only team who could conceivably sign him to a fifth year, but that doesn't appear to be the sole reason Horford left the Hawks. His agent eased up on the demand for that fifth year as the Hawks were scrambling to unload Paul Millsap to free up the room to re-sign Horford.
The empty Philips Arena home arena in Atlanta, particularly during their 60-win 2014-15 season, definitely played a role, at least according to Horford's father. With a tip of the hat to Zach Klein, Al's father, Tito Horford, spoke to Adam Himmelsbach of the Boston Globe and explained how the overt differences between the crowds in Atlanta and the crowd's in Boston also played a role in Horford's free agency decision.
Horford's father, Tito, said in a telephone interview Saturday night that his son had narrowed his choices down to the Hawks and the Celtics. As the family discussed the options, the conversation often returned to the uncommon passion of Boston's fans.

In Atlanta, support at home games was sometimes tepid, despite the fact that the Hawks had gone 108-56 over the last two years.

"There wasn't as much motivation for him when he saw all the empty seats when they were winning," Tito Horford said. "He said to me, 'Dad, when we were playing Boston, they were down 15 points and they were cheering their team like they were winning the game. They're so into the game.' This is special for us, especially for him.
The Hawks were 20th and 23rd in average home attendance percentage in 2015 and 2016, respectively. Except, the Celtics were 15th and 17th the last two seasons, and attendance figures are notoriously overinflated. But the visible emotion and energy in the arenas was obviously different enough that Horford's father didn't mind mentioning it to a reporter.
Whether it was Dwight, a tepid crowd or something else, Al Horford is now in Boston, and the Celtics just got an incredibly valuable piece of swag to help entice Kevin Durant during his Tom Brady-inspired Boston pitch on Saturday. Allegedly, the news came down about Horford right smack in the middle of Boston's pitch to the crowning achievement in this year's free agency class. Whether that has any bearing on Durant's decision, we can only speculate, but it's excellent timing for Danny Ainge and his suddenly sexy pick to come out of the East.