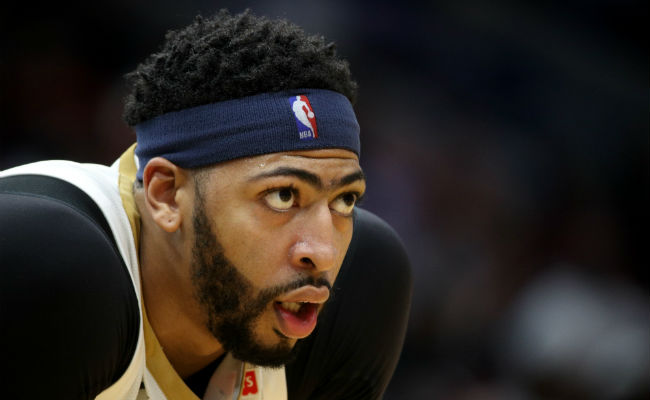 Anthony Davis wants to make it work with the New Orleans Pelicans, but he knows all about the rumors. Even after the team traded to acquire DeMarcus Cousins and help the Pels make a playoff push this season, there's still considerable pressure on Davis in New Orleans to make a big leap forward with the franchise.
Davis and Cousins have gotten better together this season, and the Pels are currently in line to make a playoff push. The All-Star forward was featured in a long profile by ESPN's Adrian Wojnarowski and recalled the trade rumors that have dogged him the last season or so, namely that the Boston Celtics are very interested in acquiring his services.
Perhaps the most telling part of the piece is where Davis openly wonders if the Pelicans are committed to keeping him in New Orleans, or if any NBA team can be trusted to do right by their stars.

Davis admits he went to the Pelicans' front office to confront them about a potential trade with the Celtics, but after what he's seen in the NBA in recent years it's hard to ever trust a team will do right by its players.
Before the Cousins trade a year ago, though, Davis kept hearing talk of the Celtics trying to trade for him. He walked into GM Dell Demps' office and asked about it.

"He told me that [Boston] was calling, but nothing was going to happen," Davis said. "At the same time, though, you see how organizations treat players. Isaiah Thomas. DeMarcus [Cousins] told me that the [Kings] told him that he wasn't going to get traded, but they traded him. Isaiah took his team to the Eastern Conference finals, and they traded him.

"It makes you wonder: Does this organization really have my back? I've been loyal to this organization. I love it here. I love this team. I think we're moving in the right direction. DeMarcus, Rondo, some other players that are helping us, but people get judged on winning. And I want to win.
Wojnarowski points out that the Pelicans have no intent on getting rid of Davis at this point, but he remains "coveted" by a number of teams, including a Celtics squad that's remained "vigilant" in a quest to get him on the roster.
Davis certainly does want to win, and he makes it clear in the piece he's more worried about winning and making the postseason than making people like him. But if the Pelicans do decide to move him, it will be hard for Davis to swallow, even if he can win elsewhere.