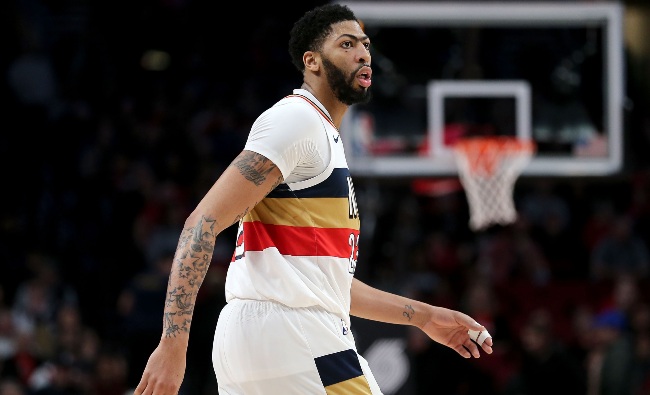 With the trade deadline looming in less than two weeks, NBA observers are on the edge of their seat with regard to potential transactions. At some point between now and Feb. 7 sparks will fly, but in the recent past, the biggest subplot with regard to player movement in the league has centered on Anthony Davis and the potential of a move that would send him out of New Orleans. With that in mind, Adrian Wojnarowski of ESPN reported on Monday morning that Davis "has no intention of signing a contract extension" that would keep him with the Pelicans and, in addition, he has requested a trade from the organization.

This reporting was later confirmed by Shams Charania of The Athletic and Davis's agent, Rich Paul, shared additional thoughts with ESPN regarding the next step for Davis.
At this juncture, virtually every team in the NBA would have interest in Davis, but teams like the Lakers and Celtics have all kinds of motivation to enter the sweepstakes as early as possible. Boston, in particular, is not helped by this early declaration in that they cannot acquire Davis with Kyrie Irving still on the roster (due to the Rose Rule) but, for the Pelicans, this does provide the opportunity to take formal offers in advance of the deadline.
Of course, it is worth pointing out that the Pelicans do not have to deal Davis in the next 11 days and Marc Stein of the New York Times shared that New Orleans hasn't "said much" since Davis made his intentions known.
Wojnarowski noted that "the Lakers have been determined to acquire Davis in a deal" and, while that comes as no surprise, that is particularly noteworthy in the midst of a season in which LeBron James battles injury and Los Angeles is in peril with regard to even making the playoffs. If the Pelicans feel a sense of desperation, though, the Lakers could take advantage in a way that the organization has on a number of occasions in its history with star players seeking greener pastures.
Anthony Davis may continue to operate as a member of the New Orleans Pelicans beyond Feb. 7, but declining a five-year, $240 million contract extension all but ends the possibility that one of the best players in the league re-signs with his current team. As a result, a free-for-all is already underway and this is now the dominant story line in the NBA world until Davis lands elsewhere.