The 2015-16 NBA Season starts in less than two weeks, preseason hoops are in full swing, and playoff prognostications have begun in earnest. Since season previews can get bogged down by team-specific minutiae, and we cover every basketball team, we're providing our readers reasons why you should care about all 30 teams in the Association.
---
---
The Hawks have been all but forgotten after Cleveland — missing Kevin Love and with a partially dinged up Kyrie Irving — throttled them in the Eastern Conference Finals. It's partly league amnesia and the inability for any basketball prognosticators to avoid calling last season's 60 wins a flash in the pan, and partly the loss of DeMarre Carroll that seems to shroud predictions about the Hawks in a cloud of ambiguity. Is this really the same team? Is there any way they can repeat last year's full-court blitz on an unsuspecting East?
They won 60 freakin' games last year, a franchise record, and now people think the Heat, the Wizards and the Bulls should be ranked above them in a conference short on real competition for Cleveland. We're not so sure, ourselves; although, we've absent-mindedly forgotten to include them as a top-tier team in previous previews. That just shows how critically overlooked they still are!
It's through no fault of their own they routinely get overlooked, but none of their top four players does anything spectacularly well. While Mike Scott has some funny emoji tattoos, this is a tame group that seems to take pride in their no-frills dominance. The motion offense that so ignited them to start last season hasn't disappeared and you can be sure coach Mike Budenholzer, who learned at the feet of Gregg Popovich, doesn't have a few added wrinkles and misdirections this season.
But how to account for the loss of DeMarre Carroll and a bench so woeful they were basically the Blazers of the East — except, you know, in the Eastern Conference. There's a reason so many Hawks looked so exhausted in the postseason. There's only so long you can play at the level they reached in the regular season before the subs need to pick up the slack. Will they ever reach that rarefied offensive air again? Will their second unit give them enough of a breather to again go far in the playoffs?
Lets try and answer some of those questions at least.
Loss of DeMarre Carroll, and whether their second team remains sh*tty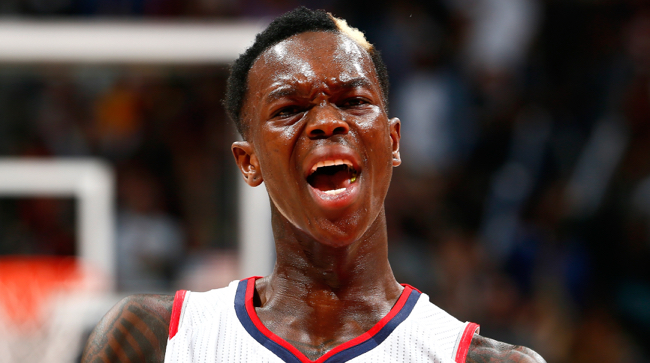 The 2014-15 Atlanta Hawks represented everything beautiful about the world's best game. This season's team, though, could serve as the referendum on what made last year's group such an anomaly.
Only one unit in basketball, the Los Angeles Clippers' starters, played more minutes last season than the 915 of Mike Budenholzer's starting quintet. Jeff Teague, Kyle Korver, DeMarre Carroll, Paul Millsap, and Al Horford made for a devastating group, one whose cohesion and general commitment to scheme leveraged their stellar individual gifts into a whole greater than the sum of its parts. Atlanta's starting lineup assisted on a wild 72.5 percent of made baskets in 2014-15, a number nearly five points higher than the team's league-leading overall mark.
Together, the Hawks' starters were brilliant. It was when one of them left the floor that things went south for Atlanta, which is especially problematic considering that Carroll left for the Toronto Raptors in free agency.
Of the Hawks' dominant quintet, it's easy to believe that Carroll is the most replaceable. He was the only one not to be named an All-Star last season, and lacks the name recognition and overwhelming singular skill of his former teammates. But Carroll was perhaps Atlanta's most valuable defender in 2014-15, a crucial and consistent threat opposite Kyle Korver from beyond the arc, and added a dose of unique dynamism offensively with his canny cutting ability.
The 28-year-old will be very difficult to replace this season, basically, and not just because the Hawks' only offseason move with eyes of doing so was a vexing draft-night trade for Tim Hardaway, Jr. Atlanta's new fifth starter, Kent Bazemore, is a feisty defender and explosive athlete. But he's a streaky three-point shooter at best until proven otherwise, and – despite an unnaturally long wingspan – lacks the size to capably defend bigger wings. And though Thabo Sefolosha is still an option for Budenholzer in those situations, it remains to be seen how his surgically repaired leg will react to the grind of 82 games.
That's where another option comes in, and it's one made all the more appealing by the Hawks' acquisition of former San Antonio Spurs big man Tiago Splitter.
Budenholzer tinkered with lineups featuring Horford and Splitter in the frontcourt with Millsap on the wing during his team's exhibition slate. Atlanta rarely went bigger last season, but that could be because most of its best players were situated on the perimeter. Mike Scott fell into the abyss after a hot start to the season, and Pero Antic wasn't the long-range shooter his attempts or reputation suggested.
With a defender and clever playmaker like Splitter in tow, though, it absolutely makes sense for the Hawks to commit more time to playing Millsap as a small forward – at least during the regular season. Budenholzer is a Gregg Popovich disciple, and no coach uses the league's dog days for experimentation better than the San Antonio Spurs'. Could the reigning Coach of the Year do the same when it comes to a bigger lineup? Certainly, though it remains to be seen just how effective those units could be.
Millsap, for his immense strides as a shooter and playmaker off the dribble, simply isn't a wing. Defenses would make him prove it from three-point range before treating him as a shooting threat, and he has little to no experience navigating pick-and-rolls – with the ball in his hands or while guarding it. But he's nimble and long, and the addition of Splitter could provide the Hawks the rim-protection they missed all of last season.
Bottom line: If Atlanta had retained Carroll and entered 2015-16 fully healthy, there was no reason to believe it wouldn't again contend for the East's top playoff seed. But without him, a dash of the unknown has been added to the Hawks' season – and unless making Millsap a part-time small forward proves surprisingly workable, it could knock them down a notch in the conference pecking order.
Can they reach the apogee of passing and movement they achieved when they beat Golden State in February last season?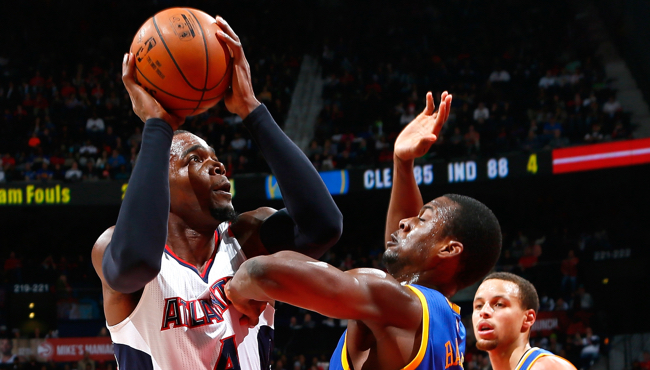 It feels like ages, but it was less than a year ago when the Atlanta Hawks had a legitimate claim to "best team in the NBA." It wasn't timed right, and this past summer saw a key piece, DeMarre Carroll, leave for Toronto in free agency, so perhaps that window of time was just that, a flitting few months where everything clicked, but — ultimately — a level of efficiency that was unsustainable.
Except, for more than half the season, and crescendoing with their 19-game winning streak (the sixth highest of all time), they were nearly firing on the same offensive level as the Spurs reached during the 2014 Finals. Then the All-Star break happened in mid-February and they returned to earth, a scorched husk of the team that sent four players and a coach to New York for the All-Star game.
If the NBA Playoffs had started at the beginning of 2015, there's reason to doubt that the Hawks might've been partying with the Larry O'Brien instead of the Warriors. But as the city of Cleveland thawed, the reality of the East crept up in the form of LeBron's fifth successive trip to the finals.
But we can even remember the night this Hawks team reached their offensive apogee, and it's that memory we'll be watching for again this season. The discordant parts had fused into one collective group at their peak, and Dr. Jack Ramsay would have been proud.
The Hawks steamrolled the league's No. 1 defense, the Warriors, for a 124-116 win and unquestioned status as the top team in the NBA.
And it's not like the Hawks caught Golden State on an off night. No, Klay was remarkable, scoring 29 (11/20) and adding five rebounds and four dimes. Steph had 26 on just so-so shooting, but added nine dimes. And Draymond finished with 12 points and 20 boards, including 10 offensive. But Dray and Harrison Barnes combined to go 0-of-5 from three, and without those shots falling a Hawks team playing at their peak was simply too dominant for the pre-champ champs to overcome.
In a lot of ways, it was the personnel, cobbled together by the now-departed Danny Ferry, who fit Budenholzer's motion offense so well. They had, and continue to have, the perfect point guard in Jeff Teague, a guy who can get into the lane, run the break and stretch the defense. Then there was deadly catch-shoot maestro, Kyle Korver (perhaps the greatest in the Association not named Curry). At the four was Paul Millsap, a player who's worked hard to make his three-point shot enough of a weapon to keep his man honest. (One of the biggest reasons the Hawks struggled to make the Conference Finals stems from Millsap's janky-looking set shot on account of a late-season shoulder injury.) Al Horford completes the look with an ability to step out and hit corner three-pointers but with enough toughness and court awareness to defend the pick-and-roll and challenge people at the rim with his verticality.
The only man missing from that list was DeMarre Carroll, the only one not to make the All-Star team, either. But Carroll got paid to go north to Toronto, and while the Hawks will miss his perimeter defense, Kent Bazemore is no slouch in that department. Bazemore is a downgrade right now from Carroll, but it's not crazy to think the Hawks will fit him into a motion offense that's a system to be lauded over its requisite component parts.
Mike Budenholzer controls pretty much everything now with the termination of Danny Ferry. But there's new ownership and they did enough this summer to remain perched near the top of the East even in the wake of the Cleveland behemoth, and they did all this at a fraction of the cost the Cavs are paying to return their big-name triumvirate and keep the necessary supplemental parts.
The Hawks can still return to the special place they reached in early February of this year, and that's reason enough to care about their 2015-16 season.