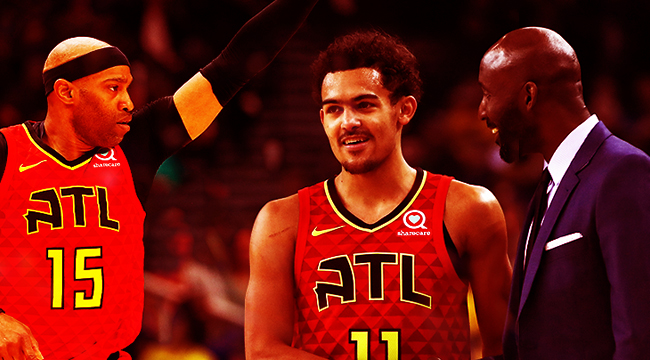 ATLANTA — For the second time this decade, the Hawks are in the midst of a gigantic regime change.
Danny Ferry was once the new GM with a plan on how to bring his experiences from San Antonio to Atlanta, with a hand-picked coach from the Gregg Popovich tree in Mike Budenholzer. They promised a singular voice between front office and coaching staff that would yield a winner, and for a brief moment, they appeared to be on that track. They wanted to build upon the foundation that was already in place and elevate the franchise from being a perennial mid-seed out East to a legit contender.
Before they could really start building, however, the franchise was sent into scramble mode. In September 2014, owner Bruce Levenson self-reported a racist email that led him and the rest of ownership to sell the team. A week later, Ferry took an indefinite leave of absence from which he'd never return after a recording of him reading a racist scouting report on Luol Deng was made public. The Hawks would make Wes Wilcox the new GM, while Budenholzer took over as president of basketball operations.The singular voice would be split, with the two not seeing eye-to-eye on how to proceed with the future of the franchise.
The new ownership group, led by majority owner Tony Ressler as well as minority owners like Grant Hill, came in and recognized a need for sweeping changes. Unlike the Ferry-Budenholzer combo, which set out to build on the foundation already in place, the decision was made to tear down and start over. Ownership recognized a disconnect between how players view the city of Atlanta, which is a popular offseason home for some, and the organization, which has never been a destination for top players in free agency.
"Historically, the perception of the franchise has not been great and it hasn't been consistent with what the perception of the city is," Hill told Dime during All-Star Weekend at a luncheon with fellow Turner broadcaster Kenny Smith. "Atlanta's a city that NBA players like, they enjoy. There's lots of activities, there's a real sort of culture there, a spirit, and quality of life. And you can really go down the list of why Atlanta's great, but everyone likes to go to Atlanta and be in Atlanta, but they don't necessarily want to play for the Hawks."
It came down to infrastructure.

"We had to improve our facilities," Hill continued, "change our arena, and then we had to fix our model with our basketball operations staff."
Atlanta hired Travis Schlenk from Golden State as general manager and tasked him with bringing the lessons he learned from the Warriors in their rise to becoming a dynasty to the Hawks. His first year was about taking stock of the team he inherited and determining what players would be part of Atlanta's future and which ones wouldn't.
Schlenk had a vision for what the team would look like on the court and in the locker room, and set out to rid the team of players that didn't fit that vision. In total, 15 different players appeared in 20 or more games for the Hawks, all of whom played 12 minutes per game. Six of those players remain on this year's roster, one which is led by someone new; Budenholzer left to join a contender, leaving Schlenk to find a coach that would helm a team where player development would be the focus.
He turned to Lloyd Pierce, an assistant in Philadelphia throughout The Process under Brett Brown who was widely regarded as one of the league's top development coaches. Schlenk sought out Pierce for that reason, but also because he'd seen some of the leanest years in NBA history in Philadelphia and knew how to keep spirits high, even when team success wasn't happening.
"We were looking for someone that had a track record of working with young players and making them better, and obviously Lloyd checked that box," Schlenk told Dime. "We were looking for someone who kind of understands what we're going to be going through and have the right mindset, experiences to be able to keep it upbeat environment, up in locker room, and Lloyd checks that, and he's exceeded our expectations on that front."
Pierce knew why he was one of Atlanta's top candidates and spent his interview laying out how he felt they could create that culture the Hawks so desperately wanted. He didn't talk much about his coaching philosophy in terms of X's and O's. Instead, he spoke about the need for connectivity throughout the franchise to create a culture they could be proud of as they grow, and ultimately attract the players needed to take the next step to being a contender.
"The conversation was about establishing a style of play that incorporates analytics, front office, and coaching staff," Pierce said. "They've gotta get the players that fit the style we want to play. We've got to figure out what that looks like from a numbers standpoint and how do we incorporate corner threes and how do we get to the free throw line more, which is where analytics comes in. As a coaching staff, when we go through development, we've got to put guys in a position where, this is what we're focusing on. We've got to educate them on what we're focusing on and we've got to work on it. So, the collaboration, that innovative collaboration, that we speak of involves a number of people, but what you're doing is connecting the entire organization, from front office to analytics to coaching to training staff."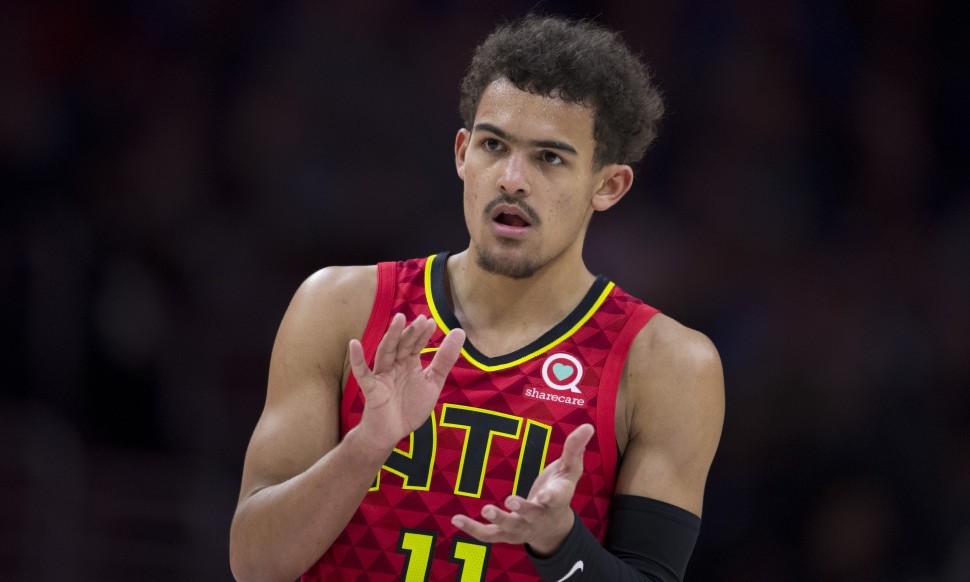 Fresh off back-to-back 36-point outings, Young strolls onto the court for warmups ahead of what will be a career night. The Hawks will lose to the Bulls 168-161 in a four overtime thriller at newly renovated State Farm Arena on March 2, but Young will do what he's done for the better part of three months: give the Atlanta faithful something to be very excited about, even in a loss.
The rookie point guard will hang 49 points on the Bulls along with 16 assists and eight rebounds. He will hit what should have been a game-winning three late in regulation, only to have it wiped away after Otto Porter is fouled on a game-tying three with under a second to play. With John Collins, Atlanta's sophomore big man, out with flu-like symptoms, the spotlight is all on the prize of the 2018 offseason.
Young was taken with the fifth overall pick out of Oklahoma. To acquire him, the Hawks traded down from the No. 3, eschewing the chance to take Luka Doncic and pocketing Young and a top-5 protected first round pick in the 2019 draft. The hope was that Young would be part of a young core to build around moving forward, but it wasn't the smoothest of starts for the young guard.
Like many rookies, Young struggled out of the gates, hitting just 19.8 percent of his three-point attempts in November, far from the expectation for a player that was known for letting it fly in college. Young's struggles were compounded by Doncic's quick ascent to star status in Dallas, and Hawks fans were left wondering if the franchise had made a terrible mistake.

Inside the Hawks facility, Pierce saw opportunity. Pierce was tasked with bringing along the Sixers' collection of young players, hopeful to turn them into stars. This has lead to an informed approach to player development. Despite what fans want, players don't develop linearly. They go through ups and downs, with growing pains along the way, some of which impact them forever. Those downs, however, are the times when Pierce jumps at the chance to impact a player's game, tinkering with things he's wanted to change for some time.
"A coach has its biggest impact during times of failure," Pierce says. "I'm not going to grab Trae after leading the country in scoring and assists last year and grab him in June and say, 'we need to change your shot.' That's the worst thing you can do to a player. But when he shoots 20 percent in November, we're not going to change your shot, but we need to do some work. And guess what? He's looking at 20 percent, you're showing him 20 percent, he can't say no. So part of the process is, it isn't linear, and it isn't going to go in one direction. When it does go down, you've got to take advantage of that moment and get the guy back into a place where he's going to work his way out of it and pick up some different habits and clean up some habits and perfect what he's doing."
In Philadelphia, Pierce learned the importance of establishing a culture of transparency and work ethic in the building when going through a rebuild. It's his answer to Hill's question about how you create a positive culture in the midst of losing seasons. As he says, "there were no bad days" in the Sixers gym, because everyone was always working to get better, and fully understood what was at stake. The margin for error was non-existent for winning in games, but also in practice for guys scrapping to extend their career beyond whatever deal they'd signed with Philly.
This experience is why Pierce can be positive about the future and bluntly honest when talking with his players. As part of the development plan for the Hawks young players, the staff tries to map out where the player is and where they're trying to go, and are sure to communicate that with them as they go through the season. It's the same conversations with guys entering on 10-days as it is with Young and Collins.
Atlanta's young dynamic duo play 30 minutes a night on average, and Pierce says the goal is to have them at 35 minutes in a few years. To get those extra five minutes per game, they have to earn them, and he's quick to explain to both why they haven't in film sessions and meetings, telling Young he wants to see improve defensively, on the glass, and in his physical conditioning.
"So it's, what's the end game?" Pierce says. "Where are we now, and What's five more minutes look like? 'Cause right now I'm showing you effort plays that you're not making. How do I throw you five more minutes when you show us poor effort? We say, right now 30 minutes is a struggle here, here, here. In order to get here, better commitment, better effort, better this, better that, and we'll be at that point."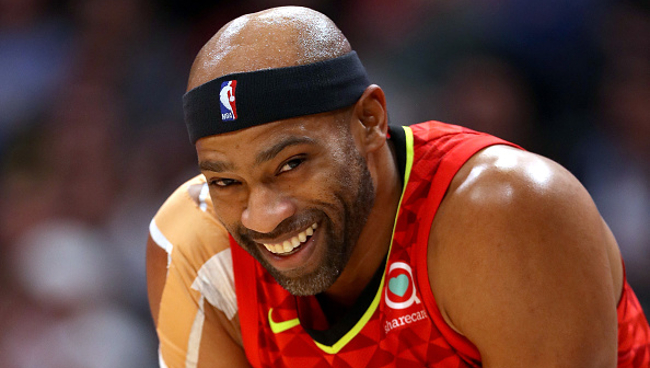 If Young was the prize of the 2018 offseason, Pierce thinks Vince Carter wasn't far behind. One of the hardest parts of building a culture in the midst of a rebuild is having veterans on the team that care enough to help lead by example and show young players how to be professionals and establish those habits and routines. Carter, at 42, has transformed himself from superstar to the ideal role-playing veteran leader, bouncing from team to team and leaving each situation better than he found it like a Boy Scout does a campground.
"We have one [veteran] that creates a different atmosphere, a respect, purity, he's authentic and that's Vince," Pierce says. "He doesn't have to be, but when your leader in the locker room is pure, commands respect and has all the accolades, it's hard to be an outcast."
For Carter, morphing into this role was simply the way to keep playing into, as he put it, his "elder years." Carter looks at it as his responsibility to show young players "the right way to be a professional" and offer guidance to a budding star like Young about handling all the things that come with being the face of a franchise so early in his career.
"For Trae, he's one of the faces of this franchise along with John Collins, so there's more responsibility," Carter told Dime. "Having to answer questions whether you play a good game or a bad game, or we win or we lose. There's a lot of things that come with wanting to be, 'The Man' of a franchise. I've been there for a lot of years, so I've seen a lot. So I'm just trying to share my wisdom, both in conversation and on the court, because I feel like in the world today you have to do a little more than just have a conversation. I like to lead by example and by showing the young guys the way."

Carter credits his fellow veterans in Kent Bazemore and Jeremy Lin for being strong influences in the locker room as well. Lin was brought in to usher Young through the first part of his rookie season, before being bought out so he could join a contender in the Raptors. Schlenk wanted Lin there in part because he knows how to handle sudden expectations on a point guard better than anyone thanks to Linsanity, and could offer advice from a point guard's perspective to Young that no one else on the roster could.
Bazemore is the lone holdover of non-rookie deal players from the last Hawks team to make the postseason because he fits the character mold Schlenk wants. He's the highest-paid player on the team, but has been willing to adapt to whatever role he's been asked to play, including a move to the bench early in the season to allow rookie Kevin Huerter more playing time.
"Baze took that and he could have as a veteran guy created a fuss about it, but he took it and he started playing the best basketball of his career in that position," Schlenk said. "He fits perfectly as a veteran of what you're looking for in your locker room to be a great mentor to young guys on and off the court, and that's one of the big reasons why we value him here."
Bazemore was born in the league as a bench mob leader, making his name early as the chief celebrator after three-pointers in Golden State before developing into a quality wing. That journey makes him appreciate the grind, which is what he hopes to pass along to his younger teammates.
"I just try to lead by example as best I can," Bazemore says. "The way I choose to do it is show guys how to take care of their bodies and embrace the grind of not feeling your best and still getting your lifts in each week, proper stretching and nutrition. Everyone has their own approach to basketball, but some of those are tough to change and you've got to do what works for you. So I just try to show them how to do things to help them have a nice long career."

The Hawks, at 24-45, are headed for a second-straight visit to the lottery, likely landing a pick in the middle of the top-10 (and possibly a second in that range depending on where Dallas lands). Despite a win-loss record on pace to only finish slightly higher than a year ago, the Hawks feel ahead of pace, which has ownership already thinking about the next step.
"We're going to lose more games than we win, and we've probably exceeded our expectations," Hill says. "Even though we've got a losing record, there's a feeling we're going in the right direction. We have a spirit around us and guys are playing winning basketball. So it accelerates the thought process of what to do next."
John Collins feels it too, as the second year big man is averaging 19.8 points and 9.8 rebounds per game. Collins hopes to be part of that young core that changes the narrative around the Hawks, and feels like they're "light years ahead" of where they're supposed to be at this time.
"How we approach the game is different from other teams I feel like who are sort of in similar situations [as rebuilding]," Collins said. "And I feel like our situation is we're light years ahead of where we're supposed to be and where people think we are regardless of our record. I feel like when you watch us play and you see how we play offensively, defensively, the way we move a ball, the way we run the floor. It paints a pretty bright future. I can't wait to be a part of it."

The Collins-Huerter-Young core shows plenty of promise, but the Hawks know they need more. They'll add a lottery pick or two in June, but as Hill noted, there's ample cap space at Atlanta's disposal this summer.
There have been rumblings that the Hawks will at least try to land a meeting with one of the top free agents this summer, but the more likely plan is to continue a slow build and maintain flexibility for the future. Unsurprisingly, Pierce is preaching the process, insisting the key is for the Hawks not to skip steps going into next year. He knows the danger in assuming Young and Collins take another leap, saying they have to make sure they put the work in this summer. He also knows the Hawks can't press this summer and try to take a shortcut in bringing in a star if the right player isn't out there.
"We feel like we're in a position now where we feel like people are going to look at the Atlanta Hawks and say, 'They're onto something,'" Pierce says. "Young guys that are really good. Young culture that they've established that everyone loves, and that's what we're talking about. The arena, ownership, GM, coach are all aligned. They came in at the same time, they're on the same page, year after year after year. They turned it around, they added these three young guys to it, they're headed in the right direction. But we can't skip that step either. I don't know what the next step is, if there's a perfect free agent or the perfect locker room guy that can come in and help us, that's great. But if there isn't, we can't force it."
Schlenk, Pierce, and Hill all know that the biggest key in attracting top free agents is the product on the floor. Culture and facilities matter, and the Hawks believe they're well on their way in those areas, but if you're not winning, you don't land top free agents without gigantic overpays.
"When you look at free agents go, unless they're just getting a ton of money from somewhere, it's where they think they can be successful, and that's what we saw in Golden State," Schlenk says. "We weren't a destination. Andre Iguodala decided he wanted to come play for us, that was really the first big free agent that we had, and that happened after that team got to the second round of the playoffs, we actually knocked his team, the Nuggets, out of the playoffs during the first round, and he saw stuff and he saw play and he saw Harrison [Barnes] and Draymond [Green] and all those guys and he said, 'These guys have a chance to be good, I want to go and play with those guys.'"
This summer, the Hawks would love that kind of validation in free agency from a quality veteran, but as Pierce said, they won't force it. Schlenk noted that, like the past two summers, they'll likely hang back and go after veterans that slip through the cracks and try to bring guys in on team-friendly deals, citing Dewayne Dedmon and Alex Len as examples. That doesn't necessarily mean offering small amounts money, but more likely indicates that the Hawks are more likely to seek out a similar deal to what Philly did with J.J. Redick and find a quality veteran willing to take a short-term, big money contract.
Schlenk is very aware of the pitfalls that have trapped other franchises in similar positions to the Hawks. Whether through free agent contracts or overpaying to keep their own players, there are plenty of teams that have capped out their potential by capping themselves out with big contracts.

"I think what's really important is a lot of times mistakes are made when teams go, 'We have this cap space, we need to use it,'" Schlenk said. "You can't spend it on the wrong guy. Right? I say all the time, if you make a mistake in a draft, it doesn't kill your franchise. Obviously you don't want to make mistakes, but you're talking about a two-year guaranteed contract with a small dollar amount. You make mistakes and free agents, and now you're talking, to today's world, a four-year contract at $25, $30 million. Those can be [killers]."
So for those wondering what's next for Atlanta, barring an unforeseen elite free agent deciding the Hawks are their top destination, expect more of the same this summer. Both Schlenk and Pierce are preaching patience. It's why, unlike Hill and Collins, neither of them were willing to explicitly say the team is ahead of schedule, instead just noting they're very happy with where they are and insisting they stay the course.
In the draft, they'll consider movement in either direction, based on who they like and where their picks are. Schlenk said last year it wasn't Young or bust. Rather, Young led a pack of a few players they liked in that area. Everything is invariably on the table in 2019, although Schlenk jokes he'll target the 19th pick again after landing Collins and Huerter in that slot the last two years.
Atlanta isn't expecting a meteoric rise from this year to next year, but instead see an opportunity to build on what's been a successful first season of a new era of Hawks basketball. They won't skip steps to get there, and hope their patience is rewarded in pushing the Hawks ceiling higher than ever.