Kobe Bryant's signature Nike sneakers don't seem to carry the same kind of cultural weight as the Air Jordan does outside of your average sneakerhead. If you gift any of your friends a random pair of Air Jordans for Christmas, there is a chance they'll recognize them as a pair of Jordans, but hand an unsuspecting friend a Kobe Protro IV, and they'll probably just think you got them a new pair of running shoes.
Don't get us wrong, a Kobe branded sneaker will still sell out instantly (or would sell out, as Nike's contract with Kobe Bryant's estate has expired), there just isn't an endless line of celebrities or streetwear brands clamoring to redesign a Kobe VI the way there is a regular rotation of new colorways for the Jordan I, III, IV, V, and beyond week after week.
That's because Kobe's signature silhouettes resonate with a different audience entirely: people who, like Kobe himself, live, love, and breathe for the game. The people who strive to live with that Mamba mentality.
I'm not just talking about the people who play at the park every weekend, I'm talking about professional ballplayers. Year after year, Kobe's sneakers are routinely the most worn sneakers in the NBA. That has less to do with the way they look and more to do with the way they're constructed.
Unlike the Air Jordans, which were really only worn by Jordan himself and a handful of players, Kobe's sneakers took things like stability, movement, weight, cushioning, and energy return into mind as key aspects of each design. Every Kobe signature sneaker with Nike attempted to be an improvement on the last in terms of function, and for all its efforts, Kobe's signature Nikes may go down in history as some of the best basketball sneakers of all time, which is fitting, as they are attached to one of the greatest to ever step on the hardwood.
Let's run through a few of the most essential Nike Kobe colorways and designs.
Nike Zoom Kobe 1 '81 Points, 2007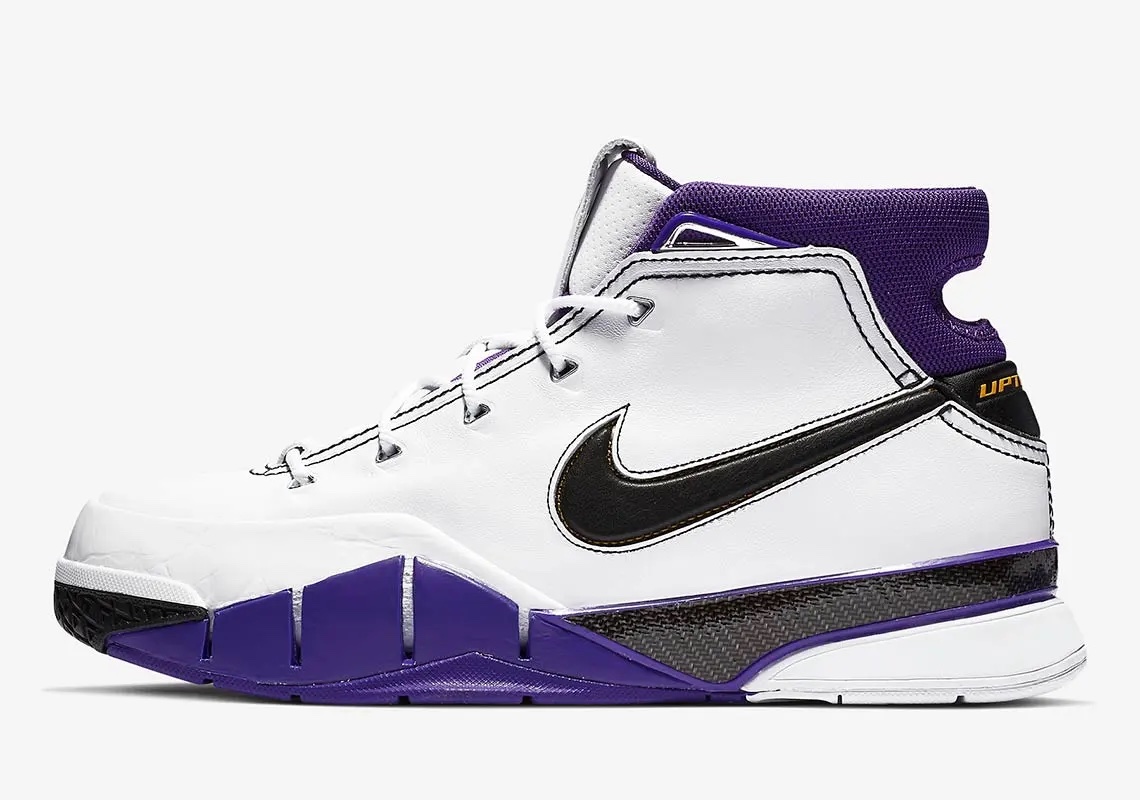 In a 2006 game against the Toronto Raptors, Kobe rocked his first Nike branded sneaker, the Zoom Kobe 1, and scored a jaw-dropping 81 points in a single game. That feat would forever be immortalized in sneaker history when the following year Nike dropped a Player Exclusive white, black, and purple colorway that matched the design worn by Kobe that night.
A full retail release wouldn't happen until 2019, but thankfully, players and fans can finally own a pair that commemorates one of Kobe's career-defining moments.
With its heavy leather construction, the Kobe 1 is a bit of an anomaly in the Kobe signature line as each subsequent pair would shed layers for a more lightweight and responsive fit.
Nike Hyperdunk Marty McFly, 2008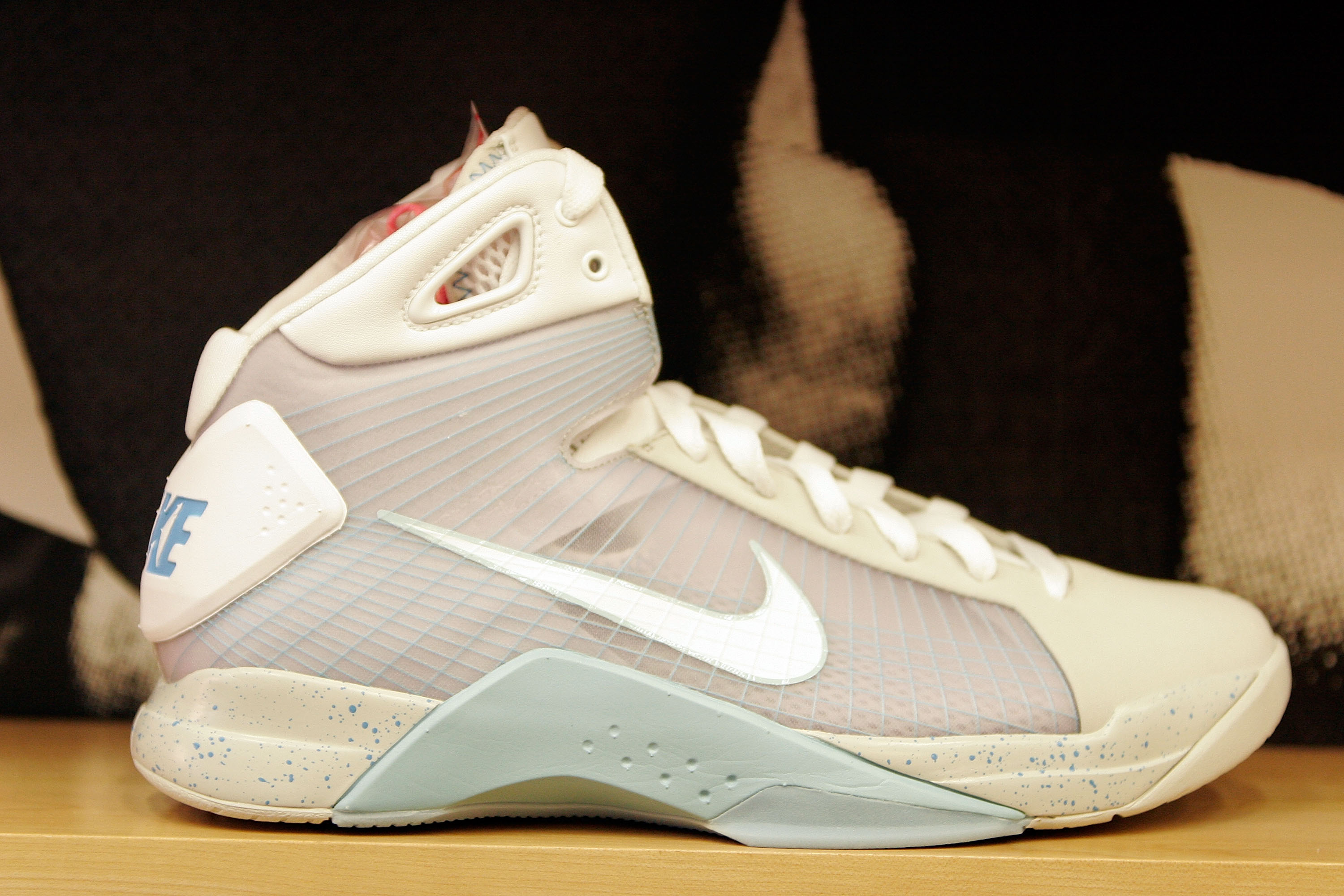 The Nike Hyperdunk wasn't technically a Kobe signature sneaker, but if you followed his game, you no doubt recognize this one. No other player embodies the Hyperdunk quite like Kobe, who rocked the sneaker in several games and while representing Team USA at the 2008 Beijing Olympics.
In a famous ad for the sneaker, Kobe jumped over a speeding Aston Martin, afterward exclaiming "do not try this at home." Word. When it was time for a retail release, Kobe showed up at LA retailer UNDEFEATED in a Delorean with a special blue and white colorway inspired by Marty McFly's futuristic Nike MAG from Back To The Future II.
It's still the sneaker's greatest colorway.
Nike Zoom Kobe 4 Chaos Joker, 2009
As legendary a basketball player Kobe is, his interests extended far beyond the hardwood. For proof of that, look no further than how many of his sneaker colorways paid tribute to tv and movie characters.
2009's Chaos Joker colorway is one such example. Named in tribute to Heath Ledger's Oscar-winning turn as the Joker in Christopher Nolan's The Dark Knight, this sneaker combined metallic shades of silver with Nike's Abyss and Nightshade colors over a Flywire base and a Lunar Foam midsole.
It manages to look nothing like the Joker, which is quite frankly, a good thing.
Nike Zoom Kobe 5 Bruce Lee, 2010
One of Kobe's biggest influences was another master of their respective field, Bruce Lee. In 2010, Kobe and Nike paid tribute to the master of martial arts with this colorway inspired by Lee's jumpsuit in Enter the Dragon.
Featuring a lightweight build crafted with Nike's new-at-the-time Flywire technology, the Kobe 5 Bruce Lee featured a foam midsole, Zoom Air cushioning, and a silver-lined Swoosh over a loud yellow and black colorway.
Nike Zoom Kobe 6 — Grinch, 2010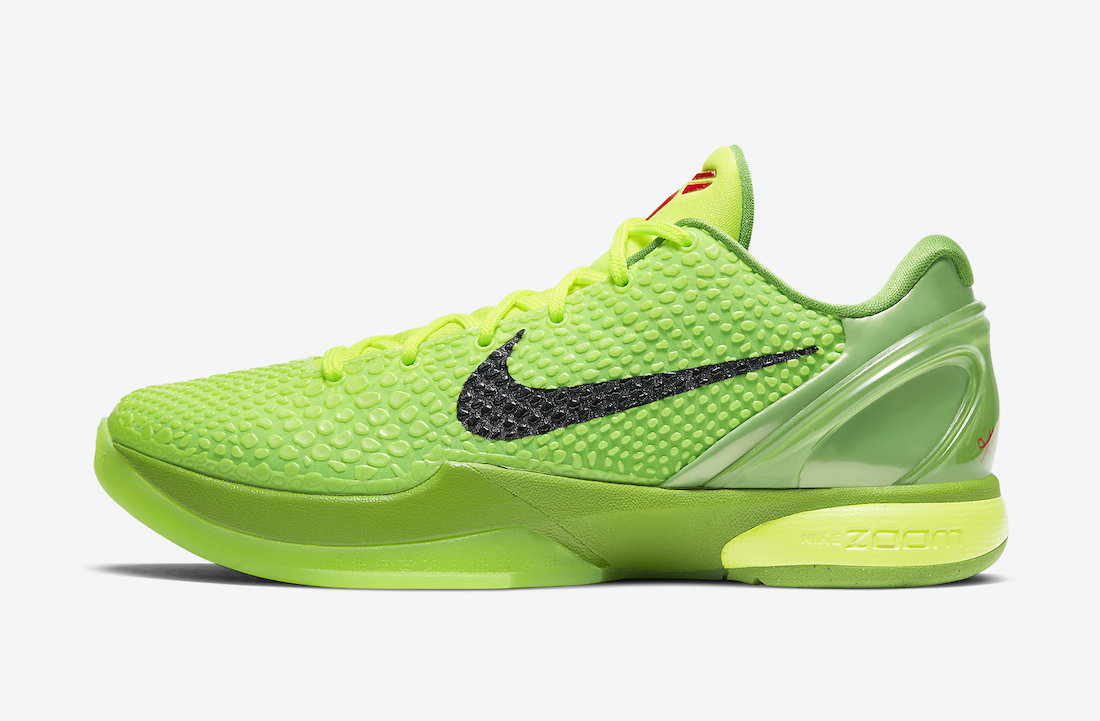 Quite possibly the most iconic signature sneaker in the whole Kobe lineage, 2010's Grinch is still highly coveted amongst sneakerheads, and for the first time, the decade-old colorway was re-released in 2020, predictably selling out in minutes. It wasn't easy an easy pair to cop, but the people who were able to score a fresh pair of Grinches last year realized one of their wildest sneakerhead dreams, and that's a beautiful thing.
Featuring a bright Volt Green colorway with a translucent outsole, crimson red accents, and a synthetic upper, the Grinch wasn't the official name given to the shoe by Nike. They called this colorway Green Mamba, in reference to the polyurethane scales that mimicked snakeskin on the shoe's base and Bryant's Mamba persona.
But given the sneaker's holiday release date, and its resemblance to the iconic Dr. Seuss character, the fans saw fit to rename it, and the shoe is more recognizable for it.
Nike Kobe 8 System — What The Kobe, 2013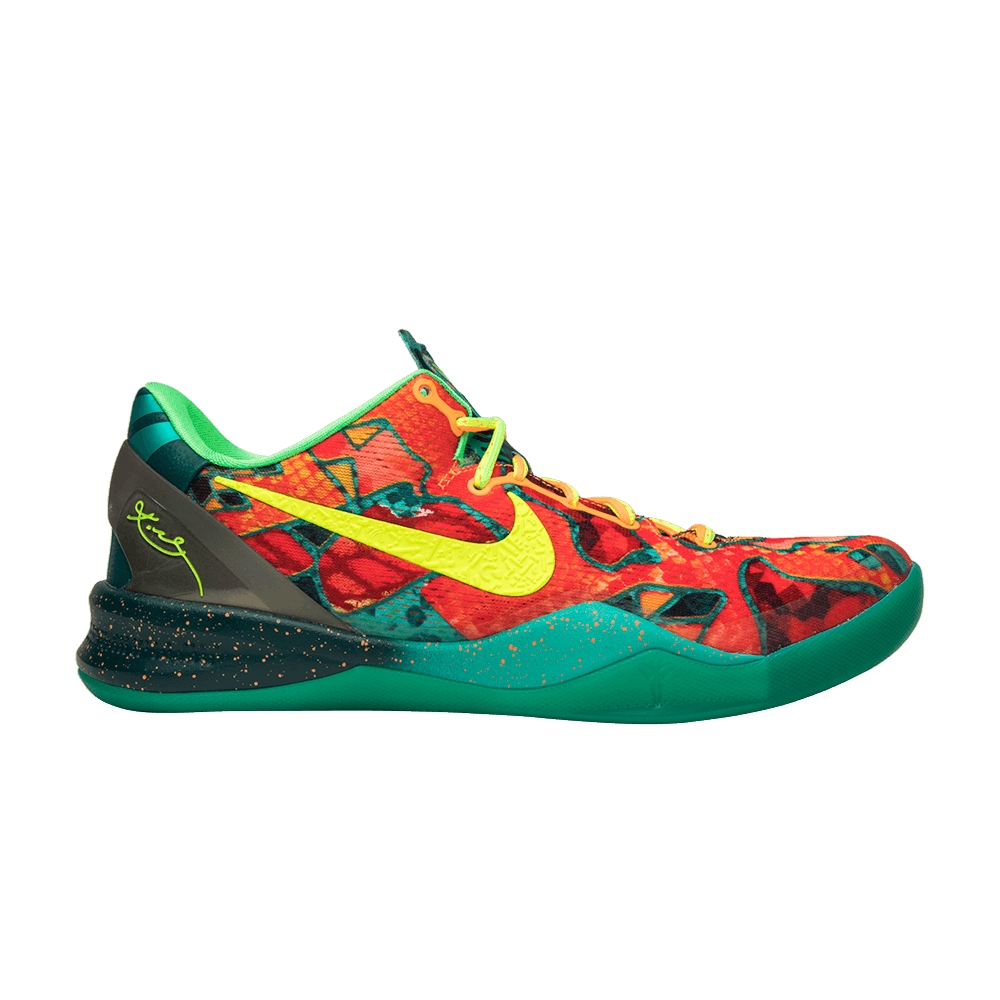 What the Kobe indeed. Sure, this design is kind of ridiculous, but what would Kyrie Irving's kicks look like without Kobe paving the way for athletes to get overly creative in what they put on a signature sneaker? This sneaker was meant as a special holiday 2013 release and its wild electric toned upper is actually a combination of more than 30 previous Kobe 8 releases, so it's meant as a bit of a celebration of the Kobe 8 System silhouette. The psychedelic upper featured an Electric Orange base used on the right sneaker, and a base of Deep Night on the left, with Volt and Electric Orange Swooshes.
The sneaker continued the trend of applying a snakeskin textured upper to the silhouette and was at the time of its release, the lightest sneaker in the signature Kobe line.
Nike Kobe 9 Elite Low, Moonwalker, 2014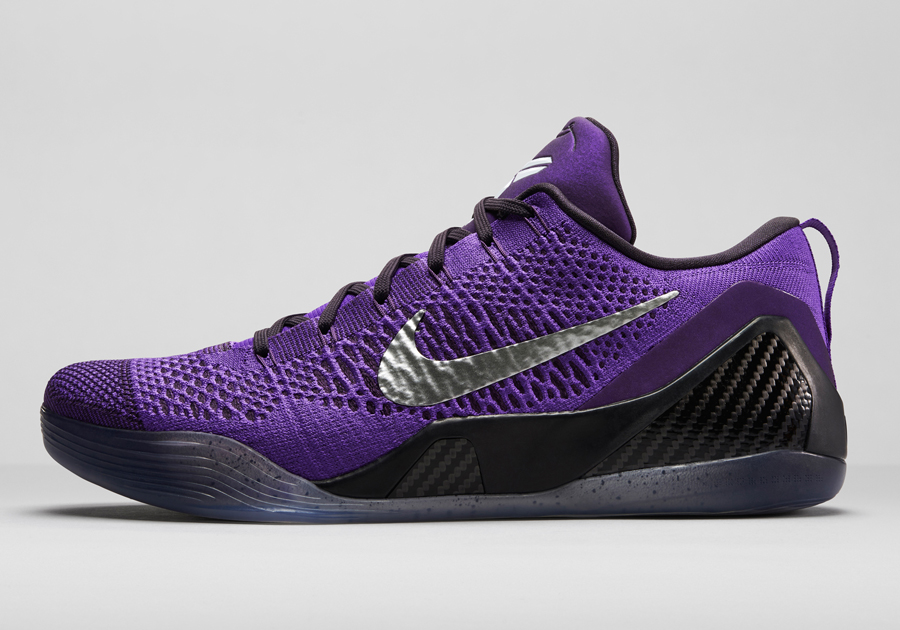 Kobe liked to pay tribute to other figures operating at the top of their game: Bruce Lee, the Joker (I guess), and in 2014, Michael Jackson. In truth, there is no rhyme or reason for these celebrity-tribute colorways, I'm telling you, Kobe was just wired differently.
This iteration of the low-top Kobe 9 featured a Flyknit upper in a Hyper Grape colorway with a metallic silver Swoosh, a translucent outsole, and lunar graphics on the footbed in reference to Jackson's career-defining moonwalk.
Nike Kobe 10 Elite Premium HTM Race Car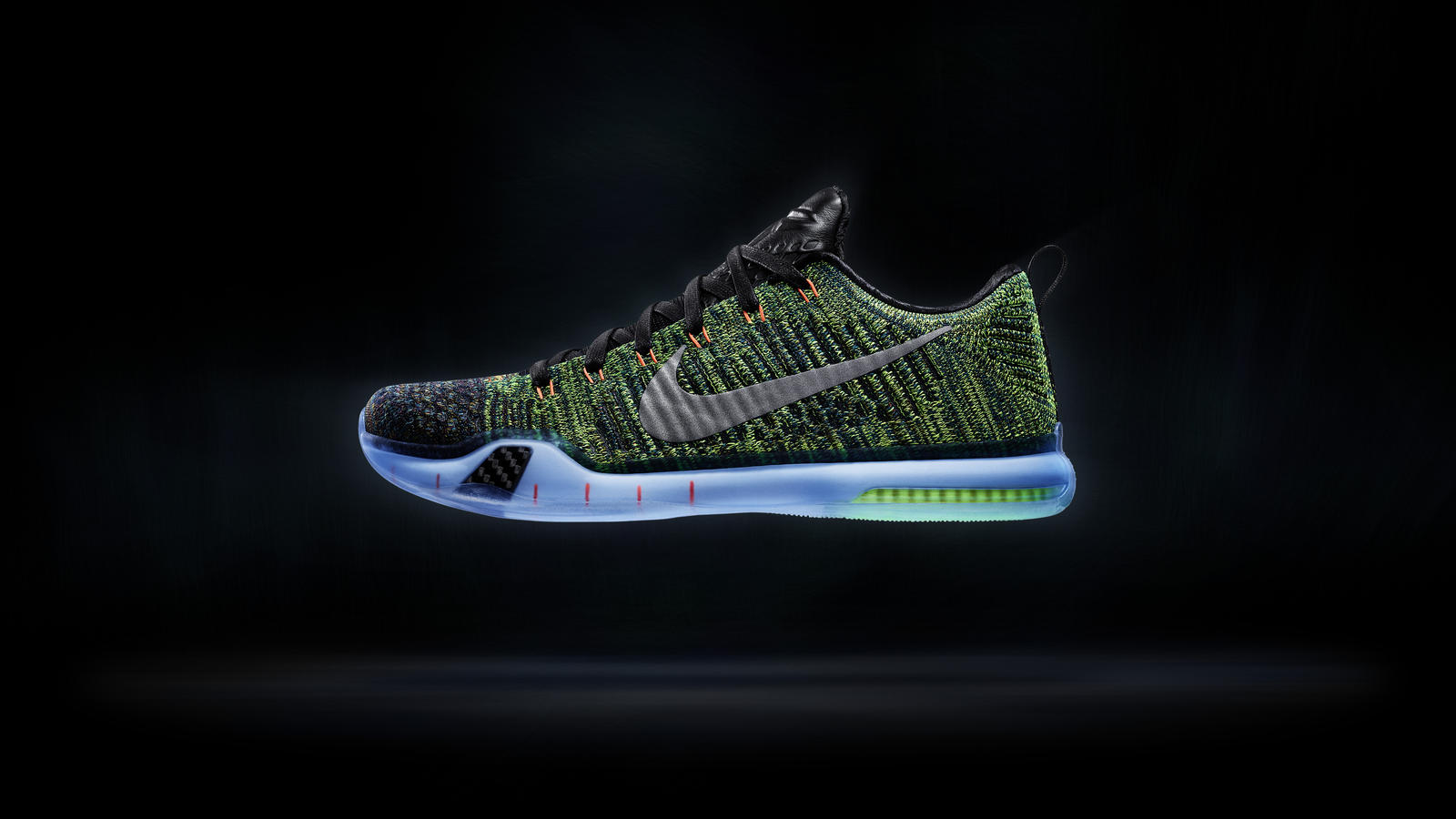 Designed by a legendary collective of Nike footwear designers including Hiroshi Fujiwara, Tinker Hatfield, and Mark Parker — a trio dubbed simply "HTM" — the Kobe 10 Elite Premium HTM Race Car features reflective accents over a translucent Swoosh that sits atop a flexible and supportive Flyknit upper dipped in an asymmetric black, green, and red colorway.
Rounding out the design is a translucent icy outsole. It's without a doubt one of the finest colorways of Kobe designer Eric Avar's underrated late-period silhouette.
Nike Zoom Kobe 4 Protro — Del Sol, 2019
A late classic in the Kobe line, the Zoom Kobe Protro Del Sol's colorway was chosen to mimic the same exact pair Kobe rocked as the Lakers paraded through the streets of L.A. celebrating their 2009 championship win.
Even if Kobe didn't score his fourth championship ring wearing this pair of sneakers, it would still likely go down as one of the best colorways the Kobe 4 would ever see thanks to its mix of white, black, and gold.
Nike Zoom Kobe 5 Protro Alternate Bruce Lee, 2020
Dropped as a holiday release last year, the Kobe 5 Protro Alternate Bruce Lee was released alongside a new iteration of the original Bruce Lee 5. The Alternate features the same construction and design as the OG, but with a black and white color scheme.
It's a controversial take, but I prefer the Alternate over the original. It might not hold the cultural weight of the legendary colorway it was inspired by, but overall, it's a better design.