DETROIT — Tommy Griffin would come home after a day of teaching and coaching at his Oklahoma school, then go to work. When one job ended, the next began. Griffin operated a trophy shop in the back of the house where he, wife Gail, and their two sons, Blake and Taylor, lived. A day might start at 6 a.m. and end at 2 a.m. the next. Griffin's sons often helped, starting as early as five, to get that extra time with their dad and learn what it meant to work, to see what it takes to put a dream together.
As teachers, Tommy and Gail (who homeschooled their sons) saw how critical that time together was, and wanted to give their kids every chance to succeed after seeing how thin the line sometimes was between making it and not, regardless of talent.
"They were doing that to get us through what we needed to do," Blake Griffin said from the locker room at the University of Detroit Mercy in early March. "I always just think back, if it wasn't for one or two things here, if it wasn't for all those things coming together, I wouldn't be where I am today."
Griffin, the do-everything forward for the Detroit Pistons, could have been content as a bouncy, high-flying, dunking force of nature. He could've been known as the guy who dunked over a car, ushered in the era of Lob City, and made All-Star teams. That, understandably, could've been enough, and he'd be remembered for that.
But that's not the five-year-old who helped in the trophy shop, or the 30-year-old who has added a three-pointer, improved his passing, become a master at drawing charges, and became the first player in Pistons history to average at least 24 points, seven rebounds, and five assists in a season. That's not the producer who rebooted White Men Can't Jump, or does stand-up and roasts, or started an Audible podcast on health and wellness debuting in 2020.
This version of Blake Griffin stems from Gail getting up early to make the boys fresh juice with barley grain, or Tommy driving the kids he coached who didn't have rides home before sitting down in the trophy shop.
"They grinded for years and years and years," Taylor Griffin says. "It's stuff like that that I think Blake and I both attribute to some of our health success and growth physically, and then also just the work ethic that they kind of laid the foundation for us early on."
***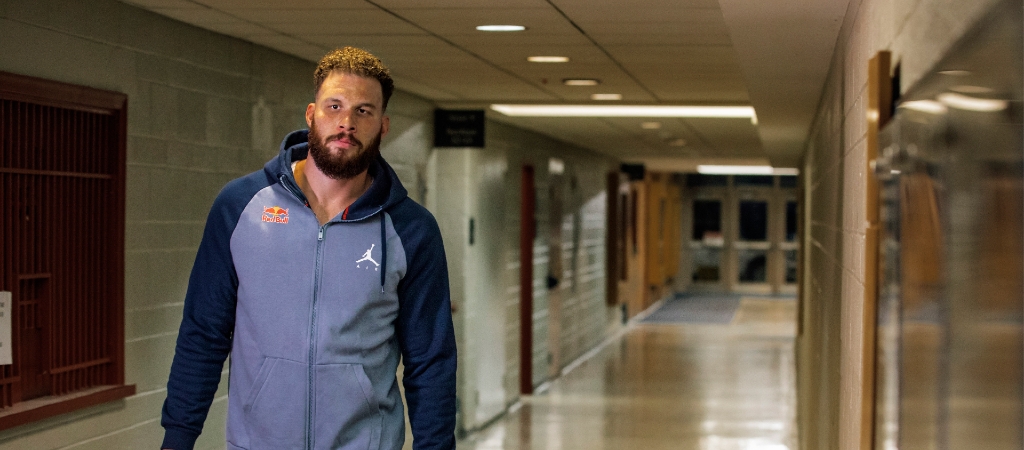 Griffin is naturally charismatic, and openly embraces the awkwardness that comes from pauses or an uncomfortable situation. He's at ease around cameras, and always looking for notes. At a Red Bull shoot in Detroit Mercy's gym, he asks if he's in frame, does another take or two if his timing is off, and cracks jokes with the social media editor firing questions at him.
If anything, he seems like he was born for the screen, but it wasn't always that way. When he first started doing commercials, he was a bit too self-conscious, stuck in his own head. He wanted to do a good job, and for someone as critical of themselves as Griffin, it was a matter of breaking away and trusting that he knew what he was doing the same way he knew how to finish through traffic on the court.
Acting is just another interest, the same way the production company scratches an itch, as does the podcast, or his foundation, or comedy. That last pursuit is where Griffin shines brightest off the floor; it's clear he's taken notes on timing, and leans into the deadpan — he's more Paul Rudd than Will Ferrell, more The Office than Workaholics. Jokes don't always land, but even when they don't, he can throw in a facial expression or an extra beat to generate chuckles, anyway.
When being quizzed on Pistons "Bad Boys" trivia later in the day, even in an embarrassing situation or getting questions wrong, he is comfortable enough to play off that, sacrificing shame for laughs.
It seems like we're privy to the evolution of Griffin, and there's a sense of motion to everything he does on and off the court.
"I feel like I'm always, whatever period of life I'm always in, I always feel like I'm in the most interesting one to me," Griffin says. "I do think that, doing so many different things, adapting to so many different things, has helped me transition from different stages in my life relatively easily. It's not like, oh, man, you've changed. Of course, everybody changes. If you haven't changed, there's something wrong. As long as you keep those fundamental values, I guess, but yeah. I'm glad I'm not the same person I was ten years ago, five years ago, two years ago. I feel like I'm constantly trying to move forward."
Moving forward included going all-in on the Pistons after he was traded from Los Angeles at the end of January in 2018, only a few months after signing a $171-million long-term extension with the team. The Clippers moved forward, using the assets from that deal, and additional cap room to get themselves Kawhi Leonard and Paul George. Griffin is still finding his way, elevating his game to another level even if the team around him (and his own health) sometimes can't keep up.
When he first came into the league, as he puts it, "my game was my game," but every year since, he's tried to add something. He revamped his shot in 2012 with shooting coach Bob Tate, which gave him the confidence to start expanding his range. He's added more versatility to his ball-handling, and has become useful from the point forward spot. Coach Dwane Casey trusts him with the ball, and has praised his ability to become a stretch 4, as well as get better in the pick-and-roll and in one-on-one situations.
Another thing that might help Griffin moving forward is ushering in the load management era. Anything that can limit wear and tear on a player as explosive as Griffin will help. Just as it's not advisable to drive an import sports car too hard, too frequently, or risk a costly repair, getting Griffin breaks over the course of the season could be the key to maximizing his efficiency and keeping him on the floor into the playoffs. That cautiousness bled into the 2019-20 season, as Griffin was held out until early November. He was cleared for all basketball activities on Nov. 7, and is set to make his season debut soon for a team that's playing the long game in the Eastern Conference.
"I think that the way the NBA is moving now," Griffin said at Pistons' media day, "I think we put so much more emphasis and resources and money into our training staffs and the science behind the sport, and I'm a believer in science."
***
That interest in science, and in wellness, has Griffin fascinated with how to take care of himself mentally, and is presumably a big part of why he wanted to start the Audible podcast. By doing this, he can keep learning. The inertia sustains him and keeps him in motion. That way there's no getting stuck in ruts, or dwelling on the past, or letting his mind wander too much.
"That's a thing that I feel like I struggle with," Griffin says, "because I always, I sit and think a lot. I always feel like I can entertain myself just by thinking by myself for an hour. You know what I mean? Because your brain's just going all these different places. It's also tricky, because you also can start dwelling on things that aren't going to help you move forward. But I also do think reflection is important. Being able to entertain a thought without accepting it is always a cool challenge."
As part of that challenge, Griffin tracks the habits of highly successful people, and isn't afraid to ask questions or shadow those he wants to learn from.
One such individual is director Michael D. Ratner, who runs OBB Pictures, and has directed Cold as Balls, as well as the ESPN 30 for 30 Gonzo @ The Derby. He's also who Griffin chose to partner with on the podcast. Blake and Taylor sublease space in the same office as OBB with their company Mortal Media (along with retired NFL center Ryan Kalil, who co-founded the company). Griffin has been a frequent collaborator in Ratner's shows, and Blake quickly took to Ratner's direct style and ability to not just say he'd be doing something, but follow through on it.
Over the summers, Griffin started going to pitch meetings, sitting in the back during production meetings, or even being a fly on the wall during the Monday morning rundowns. Ratner gives Blake a veteran presence to learn from and an incredible resource to lean on when he needs it, but every athlete also needs a trusted confidant to run things while they're handling the demands of their day job. That's where Taylor comes in, overseeing the day to day side of the business and continuing to push Blake in order to help him bring his creative passions to life off the court.
"It's the fact that he has somebody that he can trust, that he's known his whole life, overseeing his operation, getting his back, and that he doesn't have to think twice about it," Ratner says. "I think it's incredibly special. I mean, it's also not one of those relationships where it's like, ah it's his brother, I got to deal with him. You see that all the time. In sports, in music. Taylor's an unbelievably thoughtful, and smart businessman. And, just like Blake he's hungry to learn. And, to oversee what really should be, what I believe will be a media conglomerate. It's special, I mean who would you rather do that with than blood?"
With Taylor in the office, and Blake focused on basketball, a lot of their communication on the business side is through conference calls and Slack. It's forced Taylor, and especially Blake, to be more efficient with his time. Like a jump shot, effective communication isn't something that's innate. He always has to keep working at it, be willing to reevaluate or take tips or pieces of it from those who do it well.
If anything, it's helped Blake become a better leader on the floor as he keeps finding ways to mature as a player.
"It happened fast, but he kind of transitioned from a young rookie superstar like crazy athlete into a veteran player like pretty quickly," Taylor says. "Like, it almost kinda flew by. And really, I guess the last two years, he and Ryan started Mortal Media three years ago, three and a half years ago. So that kind of already kind of throws you into a position of leadership just because even if you don't have a huge number of employees, but just making decisions, those executive decisions and like thoughtfully considering all the options and doing this and that.
"I think all that translates to basketball and making decisions for your team, or even just like team-building exercises," Taylor continues. "The importance of knowing like getting guys together in the offseason. That's something he started doing two years ago. It's like in the offseason he would try to get all the guys out to L.A., or schedule a trip to San Diego, or get as many guys together in the offseason because he knows that once you get into the heart of the season, maybe the team's going through a couple of injuries, it's going through a losing streak or whatever, that's the kind of stuff that's going to keep guys together is that time spent off the court."
The hardest thing for Griffin now is finding the right projects, and then the time to work on those projects. That all goes back to the days in the trophy shop, where the day didn't end when school or practice or homework was over. To put it all together, there's always one more thing to do. It takes patience, especially on the production side of things, and the knowledge that even if something doesn't work out right then, it doesn't mean the process wasn't worth it.
"It really put it in perspective for me," Blake says, "just because something doesn't get made now, or this idea doesn't work like this, it's not a failure. You keep it in your back pocket, and you keep adding to it, adding to it, adding to it, and then when it's ready, it's ready. If it ever is ready. I'm not getting discouraged by a project not coming to fruition the first time. It just takes the right combination of everything."
A deep playoff run also takes the right combination of everything, and that's always on Griffin's mind, especially heading into the season. The Pistons shook things up a bit heading into this season, and they're hoping a healthy Griffin, along with former coach of the year Casey, can take advantage of what looks to be a wide open Eastern Conference.
Griffin still has plenty of productive years left, and he'll keep adding and adding – whether that's in Detroit or elsewhere – until the potential for a championship is there. And when his playing days are through, that's only the end of one chapter for Griffin. He won't be outworked, on or off the court. He's a snowball rolling downhill, picking up skills and interests as he goes.
"He's a once-in-a-generation talent," Ratner says. "Not as a player, but as a person. As a human. I've worked with a lot of people over the years, and I can kind of see who has 'it.' Whether it's comedy, business, documentary, drama, or who to work with in business, he gets it. I'm appreciative I've gotten to know him. His goal should be to strive for not being remembered as a basketball player when it's all said and done. He's ambitious enough and talented enough to do that."
Uproxx was hosted by Red Bull as part of the reporting on this piece. However, Red Bull did not review or approve this story in any way. You can find out more about our policy on press trips/hostings here.