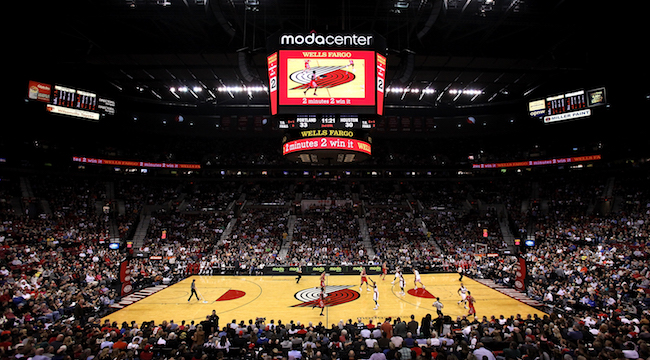 The Portland Trail Blazers had a wildly-interesting 2016-2017 season. At the All-Star break in mid-February, the Blazers sat with an unsightly 23-33 record, and frankly, the team appeared rudderless on the defensive end. From there, though, Portland was vastly improved, finishing with an 18-8 flourish (after adding Jusuf Nurkic to the mix) that was good enough to earn a place in the postseason.
A four-game sweep at the hands of the Golden State Warriors wasn't necessarily ideal, but on the bright side, Portland is currently the only NBA team that holds three picks within the first round of the 2017 NBA Draft. That should help to offset the rising cost of what, at least in some ways, is an ill-fitting roster, and it also helps that general manager Neil Olshey is a highly respected name in the business that has earned trust when it comes to operating the franchise from a personnel standpoint.
To that end, Olshey engaged in an interesting interview during the NBA Draft Combine on Friday, and it could help to shed some light on Portland's immediate plans with their picks at No. 15, No. 20 and No. 26 overall. Jason Quick of CSN NW breaks down the transcript of the interview, where at one point Olshey was asked whether Blazers fans should expect to see three rookies on the roster when the 2017-2018 season begins.
"Look, we've been rebuilding the organization based on Damian Lillard's timeline and we've been lucky enough to be a playoff team in both of those years. So, look, it's whatever the best decision long term for the franchise is: If that's three rookies, it's three rookies. If that's an aggregation of picks to go get an impact player, then that's what it will be. We have a very aggressive owner, we are very lucky to have one that doesn't shy away from a high payroll; he loves young talent and in a market like Portland, where we have been most successful, has been drafts and player development."
Elsewhere within the confines of the interview, Olshey indicated that combine evaluations provide the Blazers with "a chance to see (the invitees) play more our style of basketball," and he indicated that the players participating in 5-on-5 at the combine provide a larger sample. Beyond that, the now-veteran GM addressed the elephant in the room that Portland could look to either package the picks in an effort to add ready-made talent.
"I think we have the luxury of doing either. We had the youngest team in the league last year. We had the youngest team in the playoffs for the second year in a row. We are all on a timeline with young stars like Damian Lillard and CJ McCollum, who haven't even entered their prime yet. So we can be more patient. I think we have a longer runway, so it's not a matter of the urgency. All of our players are under long-term contracts, or we control their rights. So we are building long term. The end game is to hopefully win a championship in Portland. If we can accelerate that process because we've got the three picks in a very deep draft, where these picks are coveted and we can get a player on a timeline from a team that is maybe going in another direction, we will absolutely push our chips in and do that. But if it's about finding more stars to join our young guys with Lillard, McCollum and Nurkic, and they are out here (at the Combine), then that's what we will do."
It should be noted that, in addition to potentially looking to add talent, Portland could easily utilize the draft capital to move off an unfortunate deal (cough, Evan Turner, cough) that is on the current books. The Blazers face a potentially onerous luxury tax bill moving forward if they elect to keep the entire roster intact while adding even modest rookie salaries, and Olshey has one of the more intriguing jobs in the league ahead of him as a result.
Olshey's comments, at least at times, reflect those that you would probably expect from a GM this time of year, but he has a reputation for candor in the media, and the fact that he spoke relatively freely is somewhat rare. It seems rather far-fetched that the Blazers would simply draft three players in the first round, do little else, and add them to the roster. Still, the combination of possibilities add a great deal of interest to the proceedings in Portland.