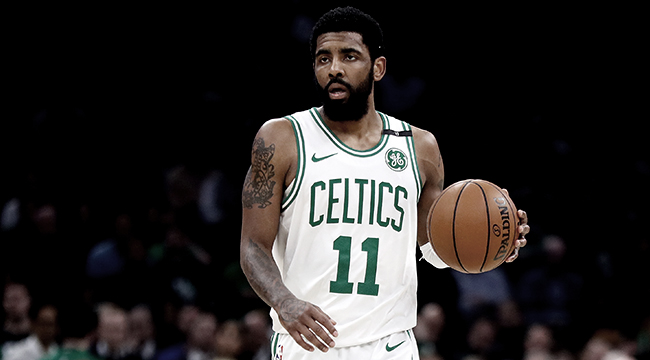 It was hard not to feel optimistic about the Boston Celtics at the conclusion of their 2017-18 campaign, even if it ended at the hands of LeBron James and the Cleveland Cavaliers in the Eastern Conference Finals. The Celtics had pushed a LeBron-led team to the brink without Kyrie Irving and Gordon Hayward, both of whom were slated to return by training camp in the fall.
Jayson Tatum was a revelation as a rookie, lighting it up from three-point range and providing a much-needed added dimension to the offense. Jaylen Brown took over as a primary scorer with Irving out and thrived in that role. Terry Rozier had stepped into the point guard void and played tremendous basketball in the playoffs. Al Horford and Marcus Smart were, well, Al Horford and Marcus Smart.
Add Kyrie and Hayward to that mix and, coupled with the fortunate departure of LeBron from the East, the Celtics were suddenly the favorites to reach the Finals, with some thinking 60 wins was a more than reasonable expectation. Kyrie spoke about re-signing at preseason fan events and all was right in Boston, as the team appeared to have played everything just right to have a squad capable of lording over the East in the present and future with their mixture of veterans and young talent.
Fast forward seven months and the Celtics enter the 2019 offseason facing a worst case scenario that is beyond anything anyone imagined back in September. Their young players failed to take positive steps forward and, in some cases, appeared to regress; Hayward was a shell of himself as he occupies an enormous portion of their cap sheet; and Irving appears on his way out of town after a miserable performance against the Bucks.

The summer has come early in Boston and what was supposed to be fairly simple is now incredibly complicated. Re-signing Kyrie now seems up in the air, although certainly not impossible. Before that, the team will have to figure out if they can get this group to coexist on and off the floor. It's possible they will be determined to make it work, but if they can't and keeping Irving is a priority, perhaps Boston will dive into trade talks with the Pelicans for Anthony Davis.
We don't know how much trade rumors affected this team, but, like the Lakers, they were unavoidable for the young core. Davis' camp has tried to make it clear he won't re-sign in Boston, but the only chance they'd have at keeping him long term would be with Irving. If Irving walks, then it likely makes the decision for Danny Ainge, as he shouldn't part ways with any of his young core under those circumstances.
If Irving tells them he wants to come back, but only if they add another star like Davis, Ainge would be in a tough spot. Pelicans executive David Griffin outlined what he would want, generally, in a Davis deal while he was a TV analyst, and a package of one of Tatum or Brown, draft picks, and a player like Marcus Smart, would appear to fit the bill.
That'd be a lot, but the pressure is squarely on Ainge this summer to make this right. For years, he's operated from a place of earned leverage. Boston's stockpile of assets was better than any in the league and the Celtics were in no hurry to accelerate the timeline. They passed on players like Jimmy Butler and Paul George, refusing to part with a strong enough package for either by all accounts, and steadily built themselves up until the Irving trade presented itself, too great an opportunity to pass up.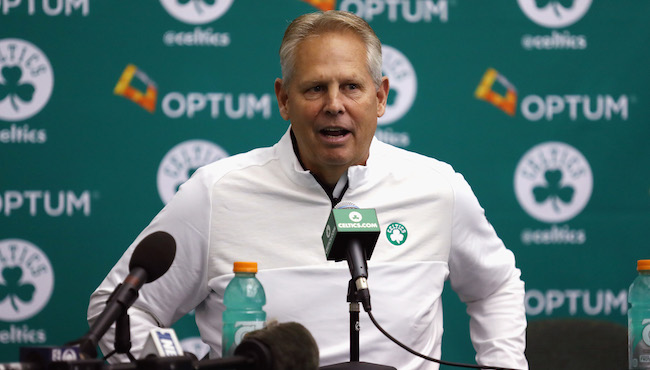 With Irving and Hayward, the chips had been pushed in and that patience had, seemingly, been rewarded. They had the stars without selling the farm. They had promising young talent to supplement the veterans, and they had the draft capital to make more deals further down the line to bolster the roster and extend the title window.
But as suddenly as it opened, the window is on the verge of being shut. Having all those assets is still a positive in Boston. They can seek out trades or simply begin building with Brown and Tatum as a foundation, but the promise of a long run at the top of the East no longer seems inevitable. In fact, it seems highly unlikely, unless Ainge pulls off his greatest feat yet in keeping Irving and adding Davis.
Trader Danny is as revered a front office figure as there is in the league, but for someone who has worked to painstakingly build a near-foolproof plan with outs in all different directions, it was the one thing he couldn't account for that may be the team's downfall. Injuries and chemistry are the great unknowns in basketball. One can derail a championship contender as quickly as the other.
When Ainge shipped Isaiah Thomas out to bring in Irving, it looked like theft. There was no doubt, particularly given Thomas' hip injury, the Celtics had upgraded their roster without giving up all that much. However, it's clear Irving and this roster have never fully clicked, which isn't fully the fault of Kyrie. As Marcus Smart noted in his exit interview on Thursday, it wasn't a lack of leadership for Irving or a grating leadership approach that doomed the Celtics. That, as Smart put it, is "bullsh*t." What isn't bullsh*t, though, is that the team and its transplanted star never meshed quite right. Smart told reporters the Celtics wanted to understand Irving, "but never really understood him because we're not in his shoes."

The reason last year's Celtics outperformed this year's version wasn't because the 2017-18 squad was better without Irving, it's because they were able to play without expectation, the same way they did a year before in their conference finals run with Thomas. That freedom in the underdog role was comfortable. Playing the favorite wasn't, and for a variety of reasons, Irving's mere presence wasn't enough to teach them the way or drag them to the promised land, as seemed to become his plan as the regular season went along.
Tatum struggled this season with his efficiency, falling in love with isolating far too often and getting fewer spot-up looks. A year ago, over 26 percent of his shot attempts were spot-ups, posting an effective field goal percentage of 67.7 percent. This year, spot-ups accounted for just 20.8 percent of his attempts, as he replaced those with significantly more pull-ups, which yielded a 39.9 eFG% on 41.4 percent of his shots. One would have thought with Irving as point guard Tatum would have had more spot-up chances, given the presence of such a strong on-ball creator on the floor, but that never materialized. Opposing defenses gameplanned to keep Tatum from catch-and-shoot situations and force him to put the ball on the floor, and the result was a far less effective player in his sophomore season.
Brown likewise got off to a sluggish start, but closed the season strong and in the Bucks series was their most consistent player. He seemed to take time to adjust to having to play without the ball as much, seeing his attempts per game drop from 14.8 to 9.7, but ultimately found his groove, particularly attacking the basket. In a disaster of a second round, he was arguably the brightest spot when considering the Celtics future.
And so, a summer that wasn't supposed to arrive until June, possibly on the heels of a championship, is here now and begging a lot of questions few in Boston expected to be asked. Ainge will be forced to find answers, but the main one is out of his hands and dependent on the unpredictable decision of Kyrie Irving.