Through 10 games this season, the New Orleans Pelicans look the part of a team that added nine new players to the roster, eight of whom have three years or fewer of NBA experience.
On paper, the Pelicans had the look of a promising young team, but with top overall pick Zion Williamson out and an awful lot of chemistry to build, they've stumbled out of the gates to a 2-8 record. Much of their slow start can be attributed to defensive woes, where they rank 28th in the league in efficiency as the group. Despite the individual pieces with pedigree on that end, they simply hasn't gelled yet. Offensively, they've been fine as a team, but not good enough to overcome their issues in stopping other teams from scoring. However, within those struggles, there's been one clear bright spot in Brandon Ingram.
The fourth-year man out of Duke was among the three players acquired in the Anthony Davis trade and is off to a sensational start to his Pelicans career. Ingram is averaging 25.9 points, 7.3 rebounds, and 3.9 assists in his nine games played to start the season — all of which would be career highs — and is doing so on a tremendously efficient 53.7/46.9/72.0 shooting split.
Much like Andrew Wiggins and Jabari Parker, a pair of young players finally finding success in new systems and under new coaches, Ingram appears to be finally be confident and comfortable. Ingram arrived in Los Angeles sandwiched between D'Angelo Russell and Lonzo Ball as the second of three-straight No. 2 overall picks, with immense pressure on all three to form the core that dragged the franchise out of its worst run in recent memory. (Russell, of course, was traded before he could play alongside Ball.) Then LeBron James arrived, and the conversation shifted from eventually turning it around to turning it around immediately, placing further pressure on the youngsters that remained on the team.
By the trade deadline, the wheels were coming off the Lakers, but Ingram, amidst all the noise, managed to put up a career-best season, signaling that he might be starting to come into his own. However, his season ended early when doctors discovered a blood clot in his shoulder, which was luckily treatable. As he told Michael Lee of The Athletic, that health scare only served as further motivation on the court.
"I was like, 'F*ck, I was on a roll.' I've got it going and this happens," Ingram said of his initial reaction to the diagnosis. "I'm a believer in faith and I just kept going. You got to go through something. There is always something on the other side. When I was out of playing basketball, I was miserable. I was like, 'When I get back on the court, I'm going to take full advantage of it. It can be taken away, at any time.'"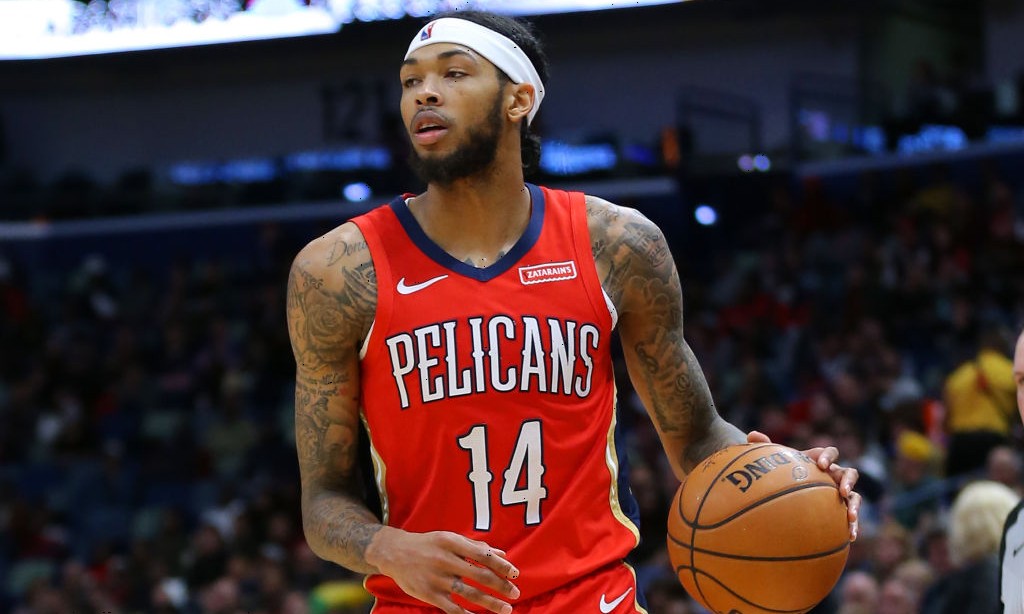 He got that chance to return to the floor in New Orleans and has been true to his word, taking advantage of the opportunity in front of him. With Williamson out, the Pelicans have leaned on Ingram to be the primary scorer and he's obliged, embracing Alvin Gentry's up-tempo style and improving his shot selection.
Ingram has taken a career-low 11.1 percent of his shot attempts from 16 feet to the three-point line this season, choosing instead to get 30 percent of his looks (a career-high mark) from the three-point line. It doesn't hurt that he's making 46.9 percent of those shots, a number which may not be sustainable but still indicates an improved stroke from the outside. He's moved his midrange looks closer and found a sweet spot in the 10-16 foot range, where he's hitting an absurd 60 percent of his shots — again, not exactly a sustainable number, but it shows he's finding his personal hot spots more often than not rather than just settling for a shot wherever on the floor.
The confidence on display from Ingram is readily apparent, and while the opportunity he's being given is new, that belief in his abilities is not.
"I think he's always been a confident player," Pelicans coach Alvin Gentry says following a team practice. "We just put him in a situation where I think he has more opportunities to take the basketball and be a scorer or be a facilitator. I don't think his confidence has ever been anything but sky high anyway."
While the internal confidence has long been there — as is typically the case for NBA players — the confidence in him from the entire group around Ingram may be one of the key differences between his start in New Orleans and his time in L.A. Where he was once a young player trying to find his role in the league, the Pelicans have defined that role from the start and even the veterans on the team make it very clear how much they trust him to be an offensive leader.
"He's been a savior really," guard Jrue Holiday says. "When we go through those lulls offensively, I feel like he's there to always get a bucket. He's the guy when you throw it in, you know it's going to be two or three points. I think he's done a great job of facilitating as well and getting guys open shots."
Ingram may be in a new setting, but there are a lot of things that make the Pelicans a comfortable place. He has his two running mates from the Lakers — Ball and Josh Hart — who he's grown alongside in the league, but he also has plenty of Duke brethren, including Jahlil Okafor, who hosted Ingram on his recruiting visit to Durham. Okafor sees that Ingram has found that comfort and "can be himself" with the Pelicans, noting that they understand he's not a vocal guy and exists in a near permanent "chill mode" off the floor. But on it, he has a killer instinct and knows how to get buckets in bunches, and the Pelicans are happy to turn the ball to him and ask him to do that.
There are plenty of things the Pelicans still have to figure out. The defense will have to improve if they're to have any chance of righting the ship and making a run toward playoff contention, which means learning how to be solid on that end while pushing the pace offensively. The return of Zion Williamson looms over everything in New Orleans, with the hope that his presence as a rim protector can help mask some of their team defensive issues that are glaringly apparent to start the year.
In Year 1 of a post-Anthony Davis world, the expectations in New Orleans for a young team learning to play together might've been a bit too high in the stacked Western Conference. Still, the goal of the trade was always finding players that can be quality contributors to an eventual contender. For a player so many had questions about, Ingram appears to be solidifying himself as more than just a quality contributor and will look to continue his hot start to establish himself as a legitimate weapon for the Pelicans to be excited about in the future as he enters restricted free agency this summer. The opportunity is there for the taking.
DIME's Martin Rickman contributed to the reporting of this piece.