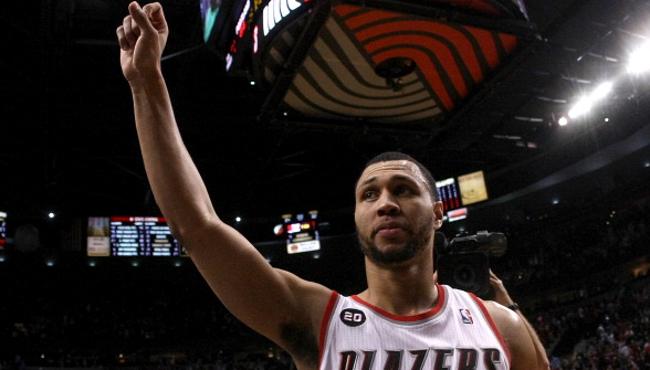 Greg Oden's brief and injury-ravaged career is one of the most depressing sports stories of the last decade. It's a particularly sore spot for Portlanders given the rise of Kevin Durant, who the Blazers infamously passed over to draft Oden. But Brandon Roy's career is arguably more tragic.
After winning Rookie of the Year in 2007, Roy went on to become a three-time All-Star and was widely considered the second-best shooting guard in the NBA behind only Kobe Bryant before debilitating knee problems forced him to retire after just five seasons in the NBA.
Nearly six years later, it's still too painful for most Blazers fans to talk about, and at just 32, it's impossible to imagine what it's like for Roy. But the Seattle native has found second life in basketball as a coach at Nathan Hale High School in his hometown, and it was announced on Monday that he and his star player, Michael Porter Jr., had been named the Naismith High School Coach and Player of the Year.
Here's more from NaismithTrophy.com:
Roy, a former NBA player, was hired in June 2016, taking over a program that won three games the previous season, and led the Raiders to a perfect season (29-0).

"Michael was the leader of a talented team which worked hard and never lost sight of their end goal – a perfect season and winning a state title," said Eric Oberman, executive director of the Atlanta Tipoff Club. "Coach Roy was the steady guidance who motivated this team to improve every single game and ultimately they both were rewarded by winning Naismith awards."
It's just the third time in history that a player and his coach have shared the award. UCLA star Lonzo Ball and his coach at Chino Hills, Steve Balk, were the most recent player-coach pairing to take home the trophies. A ceremony honoring Roy and Porter Jr. will take place at Nathan Hale High School sometime in April.