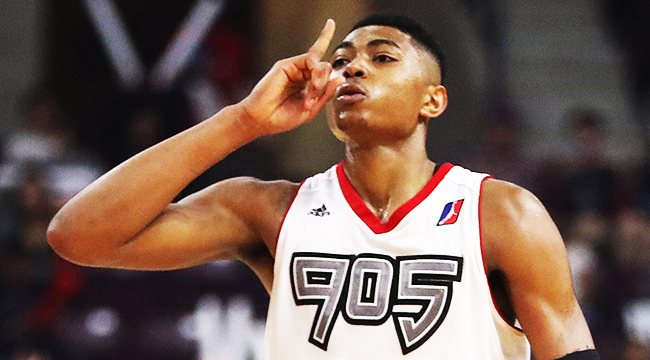 It was, at the same time, remarkably accurate and an unprecedented way for the basketball world to be introduced to a teenager.
"He's two years away from being two years away," Fran Fraschilla famously said on the night of the 2014 NBA Draft, right after the Toronto Raptors made an unexpected reach to select a player so raw there was little known of him outside of his enormous wingspan and some grainy highlight footage: Bruno Caboclo.
It made for a great soundbite, and it actually wasn't far from the truth. In Caboclo, the Raptors were taking a monstrous home run swing with somewhat low odds of coming through. The native of Brazil was hardly even a basketball player yet, unfamiliar with the NBA game outside of Kobe Bryant and inexperienced at any remotely high level of competitive five-on-five play. But he was 6'9 with a 7'7 wingspan that could grow in kind and enough raw tools to make it worth embarking on a grand experiment.
That experiment ended for the Raptors in February, but at a greater philosophical and player development level, it continues on. Last week, it was reported that the Houston Rockets will sign Caboclo to an Exhibit 10 contract, a deal that gives him a chance to make the roster out of camp or, in the more likely scenario, earn a $50,000 bonus to supplement a G League salary if he agrees to become an Affiliate Player with the Rio Grande Valley Vipers after training camp.
"I'm very excited, I think it's a new chapter," Caboclo told Uproxx on the phone from Houston this week, listing off the veteran Rockets from whom he's eager to learn. "I'm a lot more mature right now, and I think I'm gonna learn a lot on this team. Me and my agent, we saw every option, and we thought that Houston was gonna be the best option for me. It's more betting on my talent and if I don't sign here, I'm not gonna be stuck in one team. So I'll just play G League and I can do some numbers there and I can go back to the NBA."
That's if he can't make the roster, though, something he fully intends to do.
"It's just like a Plan B," he says with a laugh.


Doing so would be a bit of a surprise. The Rockets currently have only 11 players under guaranteed contracts — Michael Carter-Williams' deal is mostly guaranteed, Zhou Qi is still developing on a non-guaranteed deal, and a handful of other players with contract details not immediately clear are fighting for what may be just one remaining roster spot. There's always the possibility, too, that the Rockets add another veteran and/or hold the roster at 14 to save on tax.
Whatever they do, Caboclo's path to a roster spot will require one heck of a training camp, and the way his fourth NBA season ended — and his four years went, in general — may disguise the likelihood that Caboclo could still turn into an NBA player outside of the Fraschilla timeline.
To refresh, Toronto traded Caboclo to the Sacramento Kings in a strictly tax-oriented move for Malachi Richardson at the deadline. The Kings let Caboclo become an unrestricted free agent at the end of the summer, and the fourth anniversary of Fraschilla's comments, the date Caboclo would have been ready to "arrive" based on his tongue-in-cheek timeline, passed on draft night with little more than a few jokes and some Reddit threads.
In covering Caboclo very closely over the last four seasons with both the Raptors and Raptors 905 of the G League, the "how many years away" jokes remained low-hanging fruit for just about everyone, from basketball Twitter to rival staff. They have not, however, been particularly fair to Caboclo, or to the Raptors. Nobody promised a timeline, and it was always a fairly low-percentage play. The Raptors saw what Caboclo could be in, say, the 80th-percentile outcome or better, and they deemed that possibility worthy of the No. 20 pick — one with a fairly low opportunity cost based on historical draft record, so long as you avoid the "who else was on the board" game — and three-plus years of investment.
Things did not get off to the most seamless of starts, as the Raptors were without a G League affiliate and Caboclo's immediate development plan a bit of a question mark. There were times on assignment with the Fort Wayne Mad Ants where, even flanked by fellow Brazilian assignee Lucas Nogueira, Caboclo became reclusive against the unfamiliarity, language barrier, and difficulty of his overall situation. At the end of the season, he offered an historic glimpse of what could be, a game that will live in Raptors infamy. The next year, the Raptors installed the 905. Caboclo saw consistent playing time and began to come out of his shell as a teammate, an English speaker, a person, and a basketball player.
Progress from there would be intangible and inconsistent. Caboclo wound up playing nearly as many minutes in two months with the Kings (100) as he did in nearly four years with the Raptors (113), failing to make the most of an opportunity to run with the backup power forward role in training camp in 2017 with a poor showing in the preseason. His body took major strides and his defense approached the level of All-Defense consideration in the G League this past season, but a lot of that defense came from physical tools that could make up for occasional mistakes or mis-reads. His offensive numbers, particularly his 3-point shooting, plateaued.

It's not hard to see why the Raptors decided Caboclo's next steps should come elsewhere. By his own admission, Caboclo had grown frustrated in Mississauga, even though he himself asked for a fourth-year assignment that required union approval. He felt at times he was promised opportunities that never came, with shared blame between his own performance and uneven responses to adversity and the embarrassment of depth the Raptors played with last season. Masai Ujiri spoke of Caboclo in parental tones after the trade, with the message being that Caboclo needed to leave the nest, so to speak, to take the next steps as a professional that would help him continue to realize his potential.
"I think I was getting a little too much frustrated there — it's okay, life is like that," Caboclo says, sounding like he picked up more Avril Lavigne than Drake during his time as an honorary Canadian. "I never said nothing, but when I got traded, I felt like it was a different beginning. You know, start fresh. I think it was good for me. After I left, I think I matured a lot. I learned a lot, as well, too, and kind of saw the game a way different way. I think what happened was supposed to happen."
And here's the thing: The potential that led to the Raptors swinging for the fences remains. Caboclo won't turn 23 until just before training camp. He's grown to something close to, if not beyond, 7-feet tall, and his wingspan is something in the neighborhood of 7'9 now if you trust unofficial measurements. He's also tacked on plenty of mass since his wiry rookie year, and he spent the bulk of the past two seasons transitioning to power forward from the three, even playing a fair amount of center.
Were a 22 year old with those measurements, a 32.5 percent mark on nearly 900 three-point attempts from the NBA line (across the NBA, Summer League, preseason, and G League), and a remarkable stretch of play in his biggest showcase window not beholden to an established name, a "two years away" pseudo-meme, and the sense that he'd had his NBA opportunity, you can argue he'd be a really intriguing prospect.
Those things happened, though, and Caboclo knows he has some way to go still. The trade and the subsequent summer — including the birth of his first child, a son, last month (he and Nogueira talk far more about fatherhood than basketball these days) — have helped Caboclo grow up more quickly than maybe he was within what became a comfort zone of sorts in Toronto. For the first time, Caboclo has to scratch and claw rather than work and wait, and it sounds like it's forced the kind of maturing Ujiri spoke about when the Raptors let him go.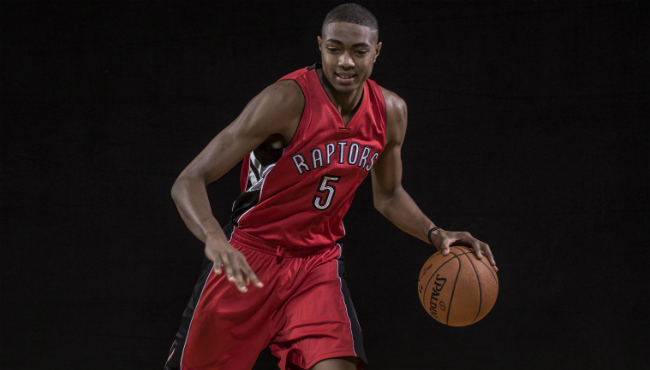 "Yeah, very big summer, I feel more grown up, and it does give me more motivation, like, now I've gotta play my life for me and my son now, not just for me," Caboclo says. "Right now, not, I just wanna make the team first, that's my first goal. And I'm just gonna play my best."
Maybe Houston is the right fit. Their penchant for outside-the-box thinking and Caboclo's physical growth could lead to an experiment where Caboclo is now suddenly an undersized stretch-five, where his ability to pick-and-pop and protect the rim become more valuable in a change-of-pace role than his lack of rebounding and inside scoring are a detriment. Maybe Caboclo comes back with an improved all-around game, including a tightened handle that will make him less turnover-prone and a more capable facilitator from the perimeter. Perhaps his desire to drive left more than his skill suggests he should will pay off as the repetitions grow.
Of course, it's just as possible that this is it, that the Raptors' gamble on upside turned out at a lower-percentile, higher-likelihood outcome that sees Caboclo round out as a solid professional basketball player but not quite an NBA talent. That's not a terrible outcome by any means for Caboclo, who has made millions already and would likely have overseas suitors beyond this year, nor is it an indictment of a high-risk draft pick in a slot that warranted it for a team at an uncertain crossroads at the time.
The Raptors decided that finding out what the next chapter looks like beyond "two years away from two years away" is something they'll only do passively, and the Rockets, among the league's bolder organizations in general, appear willing to pick up the discarded lottery ticket on the cheap. Free from a draft-night declaration that's never left his side, this might be the fresh start in a next step that Caboclo needs.