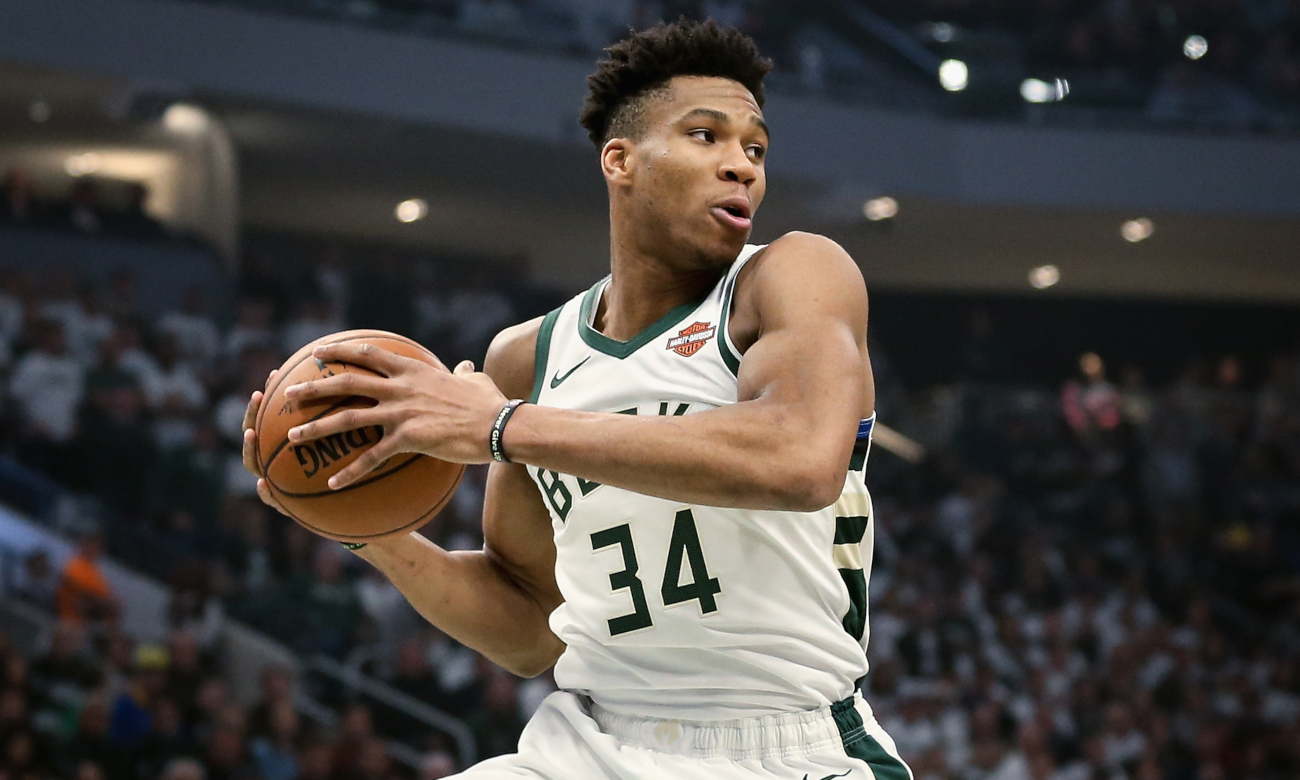 When the Boston Celtics blitzed the Milwaukee Bucks in Game 1, en route to to a 20-point victory in their Eastern Conference Semifinals matchup, they did so largely by adhering to Stan Van Gundy's infamous "build a f*cking wall!" defensive strategy. Anytime Giannis Antetokounmpo touched the rock, Al Horford and his cohorts lined up like Giannis was setting up for a free kick. Whether it was in transition or in the half-court, the Celtics identified Antetokounmpo's location and immediately minimized the amount of space he had to work with. It led to Antetokounmpo shooting 7-15 and scoring just 22 points, many of those coming when the game was already out of reach. At one point, he missed seven straight shots.
The Celtics defense was perfect in Game 1, especially in transition. They made minimal mistakes matching up even while keeping one eye on Giannis. That sort of excellence probably isn't sustainable, and it wasn't. But in the Bucks bounce back victory in Game 2, Giannis found a solution to Boston's on-going construction: get to the hoop before the wall gets built, which is easier to do in transition.
But in the halfcourt, a possession late in the 2nd quarter illustrates how Antetokounmpo can topple Boston's blueprint to corral him.
Nikola Mirotic gets into a dribble hand off to Eric Bledsoe, as Gordon Hayward and Marcus Morris switch the action. Bledsoe looks like he's going to try and drive on Morris, while Giannis slowly extends himself out farther to the left of his point guard. Horford, anticipating a Bledsoe drive, shades off Giannis ever so slightly as Bledsoe fakes a first step toward the hoop. That's when Bledsoe swings the ball to Antetokounmpo instead, who beelines to the hoop the minute he touches the rock. Horford can't recover in time, and even as Jaylen Brown and Morris collapse the paint to help, it's too late.

When he turns himself into a speeding bullet, Antetokounmpo is at his most dangerous. He's shooting 44 percent from the field when he takes a shot after two dribbles or less so far in this series, per NBA.com, compared to just 37 percent when he pounds the ball three times or more before shooting. When Antetokounmpo has the ball for six seconds or less before taking a shot, he's shooting 45 percent from the field. If he holds onto the rock for more than six seconds? His shooting percentage nosedives to 20 percent.
"I thought Giannis' mindset and the aggressiveness with which he played, the force with which he played, is what he needs to do and what we need to do," said Bucks head coach Mike Budenholzer. "He's gonna get to the free throw line a lot with the way he attacks, he's gonna finish or go there and sometimes both."
It will be up to Budenholzer to find more ways to get Antetokounmpo on the move. Transition buckets are an obvious answer, but those depend largely on the Bucks defense and the Celtics missing shots. In the halfcourt, taking Giannis off the ball and having someone else be the initiator forces Boston to play things straight for longer, allowing Giannis an opportunity to attack 1-on-1 with help arriving late, often too late to stop the Getting dribble penetration, or the threat of outside shooting, from guys like Bledsoe and Khris Middleton, can help draw in Horford or Aaron Baynes or whoever might be stationed on Antetokounmpo, but getting the Greek Freak involved in pick and rolls is another easy way to get his momentum headed toward the hoop.

"He's at his best when he's playing aggressive, getting downhill, getting to the paint, putting pressure on the defense, and in order for us to loosen up for that, we have to be willing to take and make shots, threes, play aggressive," Middleton said. "So it works hand in hand, we both have to be aggressive, we both have to try to score to help things out for him."
It won't always work. The Celtics are determined to clog the paint whenever Antetokounmpo touches the ball, and the Bucks will need outside shooting performances in the vein of what Middleton did in Game 2 to open driving lanes for Giannis. But by being decisive with the ball and constantly speeding toward the hoop before Boston's defense has a chance to set up, Antetokounmpo can tilt the odds in his favor.