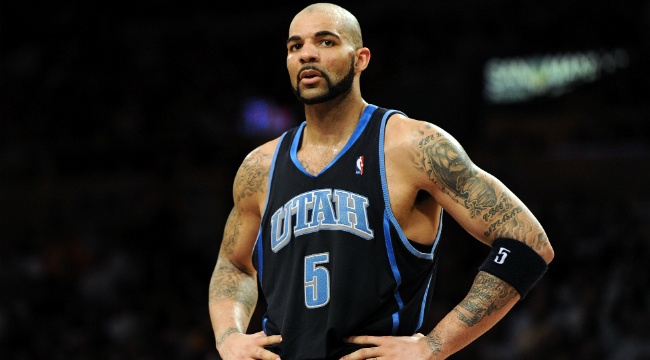 One of the NBA's most solid and reliable players from the last 15 years has declared that his career is over. Carlos Boozer, who came into the league in 2002-03 and made it to a pair of All-Star games, announced on ESPN that he has officially retired. The news came two and a half years after his final season in the NBA.
Boozer was drafted in the second round in the 2002 NBA Draft by the Cleveland Cavaliers after a successful collegiate career at Duke. He spent two years in Cleveland before a controversial move to the Utah Jazz, where he played for six season and established himself as one of the NBA's most solid power forwards.
From there, Boozer was sent to the Chicago Bulls in a sign-and-trade and played for four years before the team used its amnesty clause to get out of his contract. Now a free agent, Boozer played one year in Los Angeles before once again hitting free agency, spending a season on the sideline, and then playing for one year in China.

While he was always a really solid player, Boozer had a reputation for always being paid like a superstar despite never getting to that point — in his NBA career, he made nearly $143.5 million, making him the 38th-highest paid player in league history. Still, he churned out good numbers, averaging 16.2 points and 9.5 rebounds a night. This included a stretch of four years during his time with the Jazz where he averaged nearly 20 points and 11 rebounds per game.
He also was at the center of a number of really strange moments, like his aforementioned move to Utah in restricted free agency, the moment where he was called a derogatory name by former Cavs coach Paul Silas, and most notably, the time he spray painted his hair.
When hoops fans look back on Boozer, he'll never be remembered for being a superstar, nor will he be remembered for being unable to get the job done. Basically, Boozer's legacy is that of a consistently pretty good basketball player.