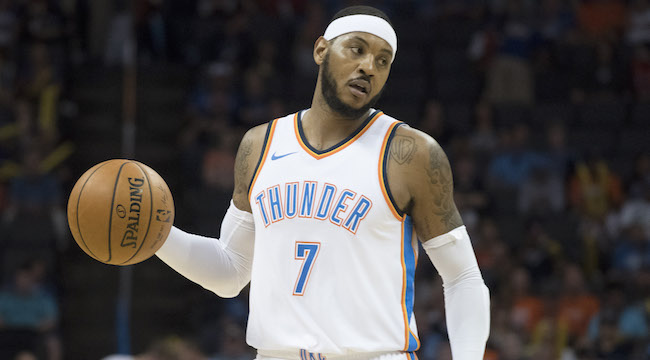 Reigning NBA MVP Russell Westbrook has become the face of Jordan Brand after agreeing to a massive 10-year contract extension earlier in the 2017 offseason. While no one is likely to approach the "Air Jordan" franchise itself, Westbrook's profile has skyrocketed after a season in which he averaged a triple-double and it makes a ton of sense that Jordan Brand would be willing to go all in on his likeness.
On Tuesday evening, though, word broke that Westbrook's newest teammate, Carmelo Anthony, could be taking something of a step back in that, for the first time in more than a decade, he may not be rolling out a new signature Jordan Brand shoe. Nick DePaula of ESPN brings word of the change and, while it is important to note that Anthony isn't leaving the Jordan Brand umbrella, the move would certainly constitute a major change.
Following Oklahoma City's game on Wednesday evening, Anthony was prompted about the report and, well, he denied its accuracy in pointed fashion.

The ESPN report indicates that Anthony is expected to don "a combination of shoes from the brand this upcoming year" and that will include his latest signature sneaker in the Melo M13. Still, it is entirely different to be a signature athlete of a brand like this and Anthony's transition out of New York and into Oklahoma City would be highlighted by the switch if the report proves ultimately accurate.
On one hand, Anthony and Westbrook being on the same team could do wonders for Jordan Brand, as the two are arguably the biggest non-Michael Jordan athletes representing the company. On the other, it will be strange to see Anthony in something other than his "own" shoe. The ESPN report doubles down on that by noting that only MJ, Kobe Bryant, LeBron James and Allen Iverson have produced more signature editions than Anthony has during his time with Jordan Brand.
Carmelo Anthony isn't likely to be the focal point on the floor in Oklahoma City this season and, now, it appears he could be taking something of a step back in the sneaker game, even if he isn't confirming it.