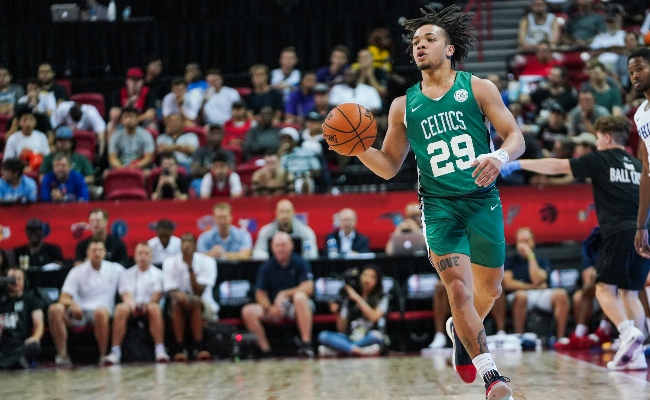 A lot has already been made about the Boston Celtics getting a steal in former Purdue guard Carsen Edwards. A two-time first-team All-Big Ten selection, Edwards was taken with the 33rd pick in the 2019 Draft by the Philadelphia 76ers, which sent that selection to the Celtics earlier in the evening. While he had a terrific showing at the Las Vegas Summer League, averaging 29.8 points per 36 minutes on a sweltering 64.3 True Shooting percentage and a 46.7 percent clip from three, I would argue that falling to the exact spot that he did was the best outcome for Edwards, the Celtics, and the NBA as a whole.
As a general rule, I am skeptical of using a first or high-second round draft pick on any guard who is shorter than 6'3 and doesn't distribute the ball at a high level or some type of crazy statistical outlier. Edwards is definitely not one of those guards. Through all three of his seasons with the Boilermakers, he never once topped a 20 percent AST% and only averaged 3.1 helpers per 40 minutes in 2018-19.
Among all drafted guards this year, he was third from the bottom in raw Assist-to-Turnover ratio at 0.9, ahead of only Darius Garland, who was hurt, and Luguentz Dort, who is a power forward in a 6'4 frame. He's just not any kind of real distributor, and it's not as though Purdue was starved for talent — the Boilermakers won at least 27 games in all three of Edwards' seasons, and Trevion Williams just played on the United States' gold medal winning U19 squad in Greece.
The long and short of it is that drafting Edwards to be a primary ballhandler would probably have been a mistake, because spending that high of a selection on a non-lead guard is almost never a good idea. If you look at Edwards more like the Landry Shamet of 2019 — an extremely valuable specialist — then his fit in the NBA becomes more apparent.
What was so encouraging to see in Vegas is that the Celtics seem to view him this way already and did everything they could to run him off movement and around their arsenal of screeners to develop the kind of open looks he needs to thrive. Look at how quickly they hammered home the particular shot selection they wanted from him.

Unlike Shamet, or Steph Curry, or J.J. Redick, or most other small relocation shooters, Edwards doesn't need space on the catch. His huge legs and great lower body strength let him catch and get into his shot with much less momentum than other shooters.
Here's a quick example of what I mean. The angle at which Edwards releases this shot makes it very hard for the defender to contest without fouling either his hands on the release or his legs on the way by. As a defender, you kind of just have to let him shoot shots like this. It makes him deadlier on quick actions than a shooter like Redick, who usually has to be shielded by a screener first. Edwards is like a short yardage running back: You can just put him on the goal line and let him punch into the end zone knowing that most of the time, he can't be stopped.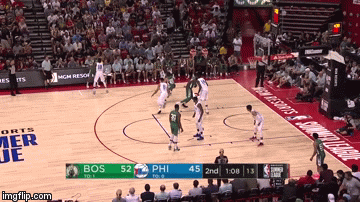 For a lot of shooters, this next GIF would be poor shot selection. But Edwards' wide base and strength allow him to threaten defenders with potential bailout fouls and his good touch lets him just flick the ball for a perfect splash.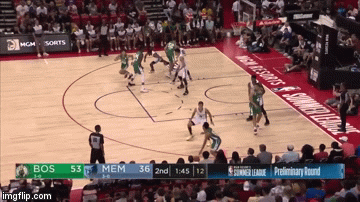 Here's an even better example. Edwards doesn't even require a screen, he just creates space with his broad stance and side step, almost daring the defender to foul him. Klay Thompson is the current shooter who operates most like this, with his strong, flat footed, almost split legged makes under duress.

Plays like this make Edwards perhaps a less versatile shooter than Shamet or Redick, but what they do make him is a much tougher cover in designated isolation possessions, especially next to another elite footwork shooter like Kemba Walker. I'd expect the two of them, plus Jayson Tatum, to close a lot of games in the seasons to come.
There is still an area that has me really hesitant to say that Edwards will be in the Rookie of the Year race or something like that. For how good he is from downtown, it is safe to project that he is not going to be a good scorer inside the arc. He hit a few tough layups in Vegas, but that's exactly the point: they were tough. Edwards has generally good touch inside the paint, but look at how much effort he has to expel just to put himself in position to even have a chance on this layup.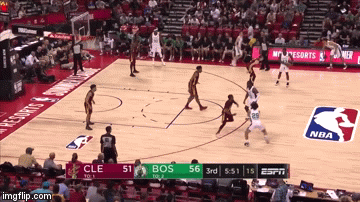 Edwards shot about 48 percent at the rim in his last season at Purdue, a truly atrocious number for such a prolific scorer, and these issues should only be exacerbated in the NBA, where everyone is bigger and stronger and faster and decisions about shot selection take place in even smaller windows. It is a little odd for a player with such great positional length — he has a near 6'6 wingspan — to struggle around the hoop like this, but I would posit his strong base and low center of gravity hurt him here, as they prevent him from fitting between small gaps in the defense and contorting himself like Shai Gilgeous-Alexander or Mike Conley do. A true power guard, there's a stiffness to Edwards' game that make him better when he's only dealing with one defender.
Still, the idea of Edwards as a 25 minute per game gunner off the bench is enticing, and his potential fit with Walker, Grant Williams, Romeo Langford (guard screening!), and the rest of the Celtics core goes a long way towards why I think they had such a good recovery this offseason post-Kyrie.