CHARLOTTE – Despite rain in the forecast all day, Cedi Osman remains intrigued with the idea of exploring the city on All-Star Saturday. Rather than go brewery hopping, eating barbecue, or playing video games at Abari in NoDa, Osman is researching ghost tours. Coming off a busy Friday evening that saw him participate in the Rising Stars game for Team World, the then-23-year-old relishes the quiet of the Players Lounge in the Uptown Le Méridien.
Osman briefly pauses to accept a gift bag from a party he missed the prior evening and takes a minute to record an Instagram video, but he doesn't appear jaded at all. Not yet, anyway. He's taking opportunities as they come, still a bit in awe of being around the game's best, but ready to take them on when asked. Osman isn't shy, so much as he's cautious, and there are times when the switch flips on the court and his aggressiveness showcases a varied and eclectic skillset that mirrors a Create-A-Player in NBA2K.
Much had been made of Osman being included in LeBron's offseason workouts heading into the 2018 season. James began his new chapter in Los Angeles with a practice at UCLA over the summer, which included himself, Kawhi Leonard, Kevin Durant, and a Turkish second-year player who could easily be carded when seeing the second It movie.
"That's the best three in the world and I had the chance to work out with them," Osman says. "I was really thankful for that opportunity."
It was exciting and a bit surprising for Osman. It was also a testament to the rapport Osman developed with James during their one season as teammates on the Cavaliers, and the trust James instilled in him on and off the court that gave fans something to be excited about even after the King was gone.
"I never felt like [LeBron was a tough teammate]," Osman says. "It is a lot of people watching you, you're playing with the best player in the world. It's normal. That's going to happen. If you're making shots when they're asking you, he gonna make you look good. He puts you in the right position, he finds you whenever you're wide open. You just have to be ready to shoot because you never know when he's going to pass to you because he sees everything. I was always ready for him to pass to me. I don't think that he was caring about me making shots, though, I think he cared only about me playing hard. That's what he liked about me. That's how I earned that shot."
His prove-it mindset was evident whenever he took the floor last season. Osman often tasked himself with matching up on an opponent's best player, and as a small forward, that sometimes meant going toe-to-toe with guys like Leonard and Durant. It's a lot to ask from a player who averaged 11 minutes a game during his rookie season and didn't see the floor often down the stretch of a fourth-straight NBA Finals appearance.
But it's in Osman's DNA to believe, in himself, in his teammates, or elsewhere. Even when he's faced with checking the best players in the world, Osman relishes the opportunity.
"I was never afraid," Osman says, "and I think this paid off."
***
Osman's road to the Cavs was as unconventional as wanting to take in a ghost tour on a rainy day during All-Star Weekend. He started playing basketball at age six and joined the Anadolu Efes youth team six years later, and outside of going out on loan to Pertevniyal for a brief time, worked to move through the club's ranks.
Still in his teens, Osman navigated the no nonsense rules of overseas basketball and came out better for it. He gained valuable experience in the FIBA Europe U16, U18, and U20 Championships, gaining some notoriety in taking home MVP honors and a gold medal in the U20 tournament. It was not long after that — and a Turkish Supercup win in 2015 — that Osman was selected with the first pick of the second round in the 2015 NBA Draft by the Minnesota Timberwolves. His rights were traded to Cleveland as part of the Tyus Jones deal, and he made his way to the States for the 2017-18 season.
Those years working his way through the ranks in Europe helped form his mindset and how he approaches life in the NBA. If anything, he considers his transition easier than those of star college players who have to adjust to the grind of a pro season and the realities that minutes aren't guaranteed. For Osman, especially in that rookie year, it kept him from getting down when he wasn't seeing the floor regularly or if he'd go from starting one night to a DNP-CD the next.
"There's always practice — after your games, the next day you will practice with your tape on like at five o'clock and everything," Osman says. "So, it's not easy. That's why I think for the college guys coming from college, I don't think they've realized for the international player what it's like to be here. Because I can assure you if they were in Europe right now, it's not that easy. They're gonna help you, whatever you need, but you're on your own. Coaches will go at you, here it's different but over there the coaches are coming at you like he's gonna yell at you if you say something to him. He's gonna bench you. You're not gonna play. They don't care who you are. You have to just be humble and play no matter what."
Teammate Ante Zizic knows what this is like and agrees with Osman's assessment.
"Let's say in Europe when you turn 18, you become a professional athlete, then you've got to find the right team," Zizic says. "In professional league, it's tough to find a spot for an 18-year-old kid because you play against older guys, professionals. So coach, he will not put you in the game because the result is really important. It's hard to find the right spot for you. Once you find the right spot and experience which you can get playing against other experienced players, it's something incredible."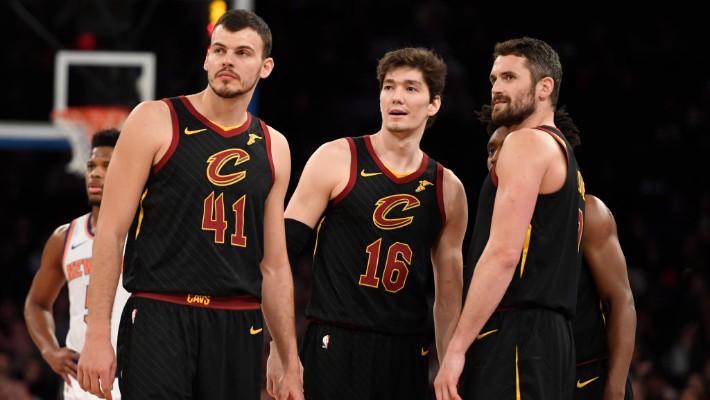 Zizic and Osman used to play against each other when Zizic moved from Croatia to Turkey and joined Darüşşafaka. They share common bonds and speak Croatian, which has allowed them to commiserate and develop a relationship in Cleveland. As Zizic says, "I'm always there for him, and I know he's always there for me."
The third-year center is about two years younger than Osman, sees gobs of potential in his teammate, and praises his ability to lead.
"He made a huge step from the last season," Zizic says. "He grew as a player. He got a bigger role in the team, but he deserves that. He's a hardworking kid. Always he's the first in the arena. He always wants to do more. I think he deserves that with his style of the game. Especially he showed some potential last year, and after the summer, the team chose him to give him a more important role."
Osman's journey and perspective allowed him the ability to navigate the drop-off from a Finals appearance to a 19-win season over the course of a year. While his shooting numbers took a hit, he saw his scoring increase to 13 points a game, and added 4.7 rebounds and 2.6 assists in 32 minutes a night. He was often asked to create when there was nothing there, and his finishing around the hoop left something to be desired at times.
That should improve in year three thanks to another summer of work, a new coach in John Beilein, and a more well-rounded roster, whether that's due to players getting healthy or the team's haul in the 2019 NBA Draft — the Cavs added Darius Garland, Kevin Porter Jr., and Dylan Windler in the first round.
There will be fewer shots to go around, and more work to be done in the margins, but that's where Osman thrives. He's a player who fills gaps. He'll make an extra pass, he'll take the open shot, he'll seek a chasedown block, or he'll deliver a thunderous dunk without pretense. If anything, he's the perfect complement to a guy like Garland; he has the ability to take attention off the rookie when needed as a release valve, then have the wherewithal to stay in the background when Garland — or Collin Sexton, or Kevin Love, or any of the other team's primary scorers — is cooking.
Whether that directly leads to wins is still a work in progress, but if anything the Cavs should be a bit more watchable this season, meaning more NBA fans will have a chance to see what The First Cedi has to offer.
***
Osman had special shoes made for his Rising Stars appearance in February. The Kobe AD Exodus had both the Macedonian and Turkish flags represented for his heritage and path to the pros, as well as prominent placement of his "First Cedi" nickname in the legendary Star Wars font, given to him by fans. The name stuck, and he's more than okay with it. If anything, it goes a bit deeper than Cedi vs. Jedi and some high flying celebrations.
When he's at home in Cleveland, he's big on Netflix, and he finds himself watching a lot of documentaries. But while others gravitate toward true crime, or stuff on politics or food, Cedi looks a bit more skyward.
"Mostly I like ones about aliens," Osman says, "kind of like because I believe in them."
As for if the alien belief has spread to the rest of the Cavs, Ante is unconvinced.
"No, no, I'm not interested in any kind of aliens, nothing similar," Zizic says. "Cedi, he's spending too much time on Netflix. Aliens, and a bunch of all that. No, but that's not for me."
Maybe there's another Cedi out there somewhere — on another planet perhaps — waiting to be found, but until then Osman will be content to be the First Cedi. And Cavs fans are hoping this year's team isn't as far, far away from the playoffs as they were a year ago.
If that's the case, it'll likely be because Osman's entire basketball career has required him to play his role, challenge himself, and get better in the process.
"It's not everything about scoring to me," Osman says. "I think that it is more important what you can do besides score. Can you play defense? Can you pass the ball? So I think that I'm not a great scorer, that's not like my best thing. But I can score. The important for me besides that is what I'm doing. Am I passing the ball? Am I rebounding? Am I playing defense? I like doing a lot of things. Not just one, a lot of things."