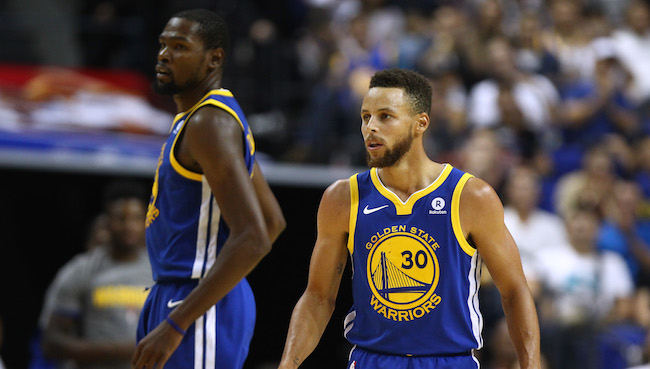 Kevin Durant once had a Nike ad campaign called "KD is not nice." The premise was that the then Thunder star was ruthless on the court, a far cry from his off-court persona that was so squeaky clean.
The idea was to push back on some criticism of Durant as soft or as if he wasn't a fiery competitor on the court, something that defines all of the greats. Flash forward five years and Durant has swung almost 180 degrees in the other direction, as there are those questioning if he needs to calm down with his apparent anger on the court.
Durant leads the NBA in ejections this season at four after having only two ejections in his career prior and has been hit with 10 technicals, good for second in the league, one behind teammate Draymond Green. Durant even said he's gone too far on occasion, noting his most recent ejection was warranted because he was being "an asshole" to the refs in the Warriors game against the Knicks. Durant's also seemed a bit more prickly off the court too, and Charles Barkley, who found himself in a bizarre beef with Durant last year, has noticed.

Barkley went on The Russillo Show podcast on ESPN with Ryen Russillo on Wednesday and was asked about what NBA players he'd rather play with, as Russillo prompted him with one star versus the other. While Barkley's top choice is, understandably, LeBron James, he was asked to choose between the Warriors' two top stars. Barkley hemmed and hawed over the decision, but ultimately said Steph because Durant seems "mad at the world" now, while Curry has a much easier going attitude.
"Wow, that's a great question," Barkley says. "You know, I probably rather play with Steph because Kevin's kind of…changed his entire personality the last couple of years. He's mad at the world. Like, he had to understand there'd be some backlash to him leaving Oklahoma City. And he used to be the nicest kid in the world, but now he's mad at the world. And you know all these ejections and technicals, I used to say to people, man this kid is really nice. And for some reason when people turned on him for leaving Oklahoma City he completely changed his personality.
"So, I'd probably rather play with Steph because Steph don't never have any drama. Steph was like, 'Kevin's coming, that's great. We gonna have better players, I'm glad to play with him even though I'm a two-time MVP.' Nothing. So I'd probably rather play with Steph for that reason."

It's an interesting answer, as it pertains very little to the on court aspect and much more to who Barkley would rather deal with in the locker room and on a day-to-day basis. This isn't the first time we've seen a once beloved superstar try to embrace the villain role to mixed reviews, as LeBron briefly tried a similar approach early in his tenure with Miami following backlash to The Decision. It's clear Barkley would like Durant to find his way back to being more like his old self, rather than this new version.
Barkley also goes on to pick playing with James Harden over Russell Westbrook, noting Harden's incredible change under Mike D'Antoni and Westbrook's apparent inability to pedal off a bit. The entire conversation is interesting, including Barkley explaining how he tried to get the Sixers not to draft him.
(Note: This post previously said Durant leads the NBA in technical fouls, when he is second in the league in techs)