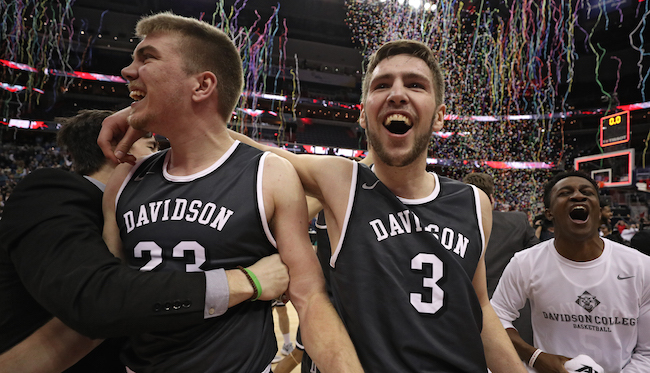 The best part of the NCAA Tournament every single year are the one or two teams that surprise everyone and make it to the second weekend. These squads, usually double-digit seeds from lower conferences who knock off at least one blue blood program, always captivate hoops fans with a run to the Sweet 16 and beyond.
This year, the prevailing narrative around college hoops has been that there are no truly elite teams. Whether or not that is true, it does mean that the door is open for some potential Cinderellas to emerge and make a run, much to the chagrin of teams with low numbers next to their names.
Which teams are in the best position to get the job done this year? We looked at the double-digit seeds and tried to find out.

Davidson (12-seed, South)
None of the teams that we're classifying as a potential sleeper have a tougher path than Davidson, but with how good the Wildcats are at slowing things down and hitting shots, they can have a chance against any team. Davidson marched through the Atlantic 10 to win its conference tournament and secure a bid, and hardly look like a team that will be an easy out.
The Wildcats are 43rd in KenPom with the 18th-best team in adjusted offensive efficiency. The thing that makes Davidson so good is its ability to hit shots from all over the floor — the team is in the top-30 of free throw percentage (79.7 percent, fourth nationally), two-point field goal percentage (56.8 percent, ninth), and three-point field goal percentage (39.1 percent, 27th). Senior forward Peyton Aldridge is a star, averaging 21.8 points and 7.8 rebounds per game, while freshman guard Kellan Grady is a future superstar, going for 18.1 points a night in his first year in college.
The downside is Davidson drew Kentucky in the 5-12 game, and should it win, it likely has a date with Deandre Ayton and the Arizona Wildcats in round two. Davidson could be bounced immediately, but if its shots are falling, it has the potential to slay a few giants.
New Mexico State (12-seed, Midwest)
Having to score on the Aggies is not fun at all. New Mexico State is 14th nationally in adjusted defensive efficiency and sixth in defensive effective field goal percentage. Scoring on them from inside and outside the arc is just brutal — opponents are connecting on threes against them at a 30.8 percent clip and twos a mere 45 percent of the time.
Its 1-2 senior punch of Zach Lofton and Jemerrio Jones can win them games, which is much to the chagrin of its first round matchup, Clemson. Lofton is a 6'4 guard who is averaging 19.8 points per game, while Jones is a physical-but-undersized big man, pulling down 13.2 rebounds a night despite standing at 6'5. Jones actually leads the nation in defensive rebounding percentage, pulling down an insane 37.1 percent of available defensive rebounds when he is on the floor.
New Mexico State can (and will) punch Clemson in the mouth in round one. If it can move on to round two, a date with Auburn or the College of Charleston is looming.

Butler (10-seed, East)
Well, look at who just might be underseeded. Butler is the only top-25 team in KenPom that is a double-digit seed. The Bulldogs went 20-13 on the year and 9-9 in a brutal Big East, but LaVall Jordan's squad is capable of knocking off just about anyone — just ask Villanova, who lost to Butler earlier this season, 101-93.
Butler is ranked in the top-50 of adjusted offensive and defensive efficiency, coming in 32nd in the former and 48th in the latter. It is an effective, well-rounded basketball team that can win in a variety of ways, especially when star forward Kelan Martin is able to get hot. Martin is a smart, sound basketball player, averaging 20.8 points and 6.2 rebounds a game.
The Bulldogs are not going to turn the ball over (27th nationally in turnover percentage), and their effective field goal percentage of 53.8 percent is 65th nationally. If it can stop Arkansas' high-powered offensive attack in the first round and knock Purdue's efficient offense off of its game, Butler might be able to make a run to the second weekend.
Loyola-Chicago (11-seed, South)
You're going to see a whole lot of people picking the Ramblers to pull an upset or two. Loyola-Chicago is really, really good, coming in 41st in KenPom. The squad comes in at 28-5 and hasn't lost since Jan. 31. Its three losses in conference play are by a total of 11 points, and Loyola-Chicago won the Missouri Valley Conference by 16 points in its championship game.
The Ramblers beat teams by slowing games down to a halt, coming in 312th nationally in adjusted tempo. Their games include, on average, 65.3 possessions, which is brutal, but the thing that makes Loyola-Chicago so special is how they execute with the ball. The team is eighth nationally in effective field goal percentage, 13th in three-point field goal percentage, and 14th in two-point field goal percentage.
Basically, Loyola-Chicago is good at holding onto the ball and making something happen when they have to put a shot up. Add in that its defense is 24th in adjusted defensive efficiency and that's a dangerous combination. Miami will have to be on the lookout in the 6-11 game, and should Tennessee beat Wright State in the 3-14 matchup, the Volunteers will be in for a fight.
South Dakota State (12-seed, West)
The Jackrabbits are fun because they have one of the best players you've never heard of in 6'9 senior forward Mike Daum. The ball is put in his hands a lot — Daum is ninth nationally in percentage of possessions used and third nationally in percentage of shots taken. He's a double-double threat, going for 23.8 points and 10.4 rebounds per game, while freshman guard David Jenkins Jr. can fill it up to the tune of 16.1 points a night.
South Dakota State got a relatively favorable draw, picking up an Ohio State team in the 5-12 game that limped to the finish line. While the Jackrabbits have lost once since Dec. 19, the Buckeyes ended the year with three losses in their final five games, including getting bounced in its first Big Ten game. A matchup in round two with an underrated Gonzaga squad would be tough, but the uptempo and efficient Jackrabbits should be up for the challenge.