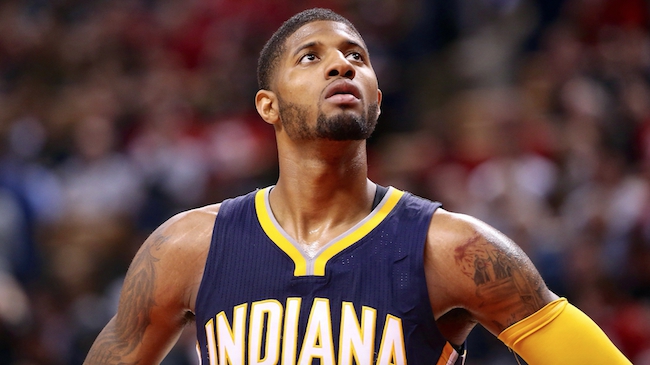 The Blazers need more firepower. That much was made clear by barely reaching the playoffs as an eight-seed and then getting swept at the hands of the Golden State Warriors in the first round. The backcourt of Damian Lillard and C.J. McCollum can only do so much and, even when they put up incredible scoring performances, it isn't enough to beat the best.
Lillard and McCollum need help in the form of someone else that can take some pressure off of them to carry the scoring load. The Blazers don't have any open cap space to make an addition this offseason after handing out big money last offseason to keep their group together and add Evan Turner, so the only real option is to make a trade.
McCollum is hoping that the Blazers set their sights on the best player expected to be available via trade this offseason, Paul George.

This is certainly a bold request from McCollum, but there seem to be two key issues at play. First are the logistics of what the Blazers even have to offer the Pacers in a trade package. Portland's roster, beyond McCollum and Lillard, who they won't want to trade, isn't exactly a bountiful harvest of intriguing players. They'd have to hope some combination of draft picks and players like Allen Crabbe, Mo Harkless, Noah Vonleh, and Al-Farouq Aminu intrigue the Pacers.
Then, there's the issue of – if they did manage to pull that off – how would it even work on the court. Lillard, McCollum, and George all like the ball in their hands, and with all trying to occupy space on the perimeter it would be a weird imbalance of perimeter and interior play, even with Jusuf Nurkic inside.
That said, it's interesting to see McCollum advocating for a guy that would likely take away some of his touches because he thinks he'd help the team win. George to the Blazers is highly unlikely, but why not aim for the stars?