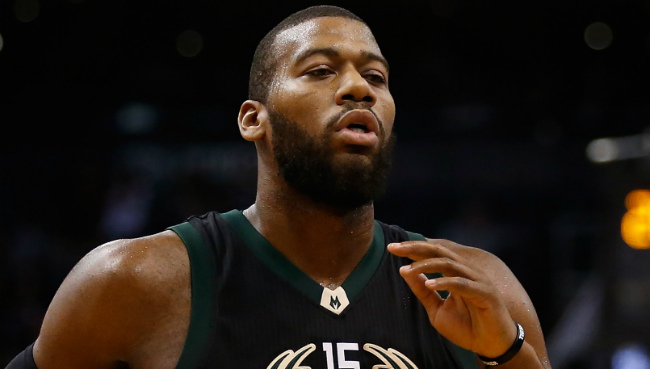 The Cleveland Cavaliers are trying to figure out how to right the ship. The team is sitting at 5-7 on the season, and only the Chicago Bulls and Atlanta Hawks have a worse winning percentage in the Eastern Conference through this point of the year. While the goal is to be ready for the postseason, the early returns on the 2017-18 Cavaliers have been subpar.
So the team is trying to figure out what it needs to do. The main priority is to fix their defense, as Cleveland's defensive efficiency is the worst in the league, but they really just need to get better in general.
One such fix might be some frontcourt reinforcements, and according to Joe Vardon of cleveland.com, that could come in the form of Greg Monroe. Vardon was asked about Cleveland's potential interest in Monroe or Jahlil Okafor, and said that the team would like to kick the tires on adding the veteran center.

The Cavs don't currently view Jahlil Okafor as a fit. As for Greg Monroe, the interest in him would be higher, sources indicated to me. Monroe is 6-11 and 265 pounds, but he isn't really a shot blocker (which Cleveland lacks). He's a scorer (though, this season, he's averaging just 6.8 points per game). The Cavs, though flawed, have a crowded rotation already, so pursuing Monroe in any way would probably follow or coincide with other roster changes.
Cleveland's centers are currently Tristan Thompson and Ante Zizic, with Kevin Love getting minutes at the five. Monroe would certainly give the team another body at the position, and compared to Thompson, he'd be a more offensively-minded center.
The issue, of course, is that the Cavaliers don't need more offensive firepower, and Monroe isn't exactly known for his ability on the defensive end of the floor. Plus there is the matter of how he could get to Cleveland, as he has an expiring contract worth nearly $18 million. It would likely require a buyout, which Monroe sounds like he would be up for, according to azcentral.com.
"I just told them I understand the plan they have in place and how they want to approach the season," Monroe said. "I told them, 'If you want me to play I'll always play. I'll never be one not to want to play. If not we'll just work together and find the best option for everyone.' But I'm more than happy to play here."
Monroe hasn't been as prolific this year as he has in the past — prior to joining the Suns in the trade that sent Eric Bledsoe to Milwaukee, Monroe averaged 6.8 points and 5.0 rebounds in five games for the Bucks. He has also been dealing with a calf injury that has kept him sidelined since Oct. 29.