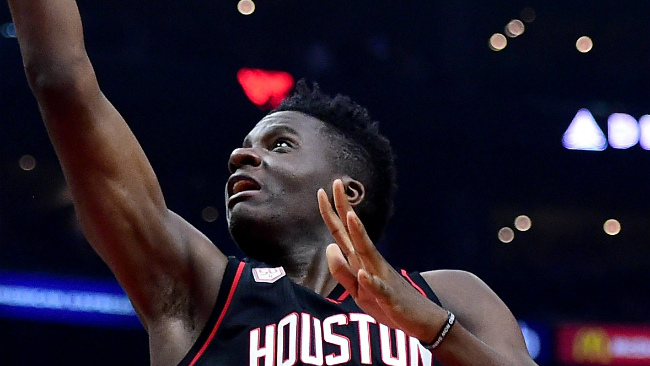 A game between the Houston Rockets and the Cleveland Cavaliers is going to be billed as a showdown between James Harden and LeBron James. While that matchup was spectacular — LeBron had 33 points and Harden had a 35-point triple-double in a 117-113 Houston win — the man of the evening might have been Rockets center Clint Capela.
The Swiss big man had a very solid night, going for 19 points on 7-for-9 shooting with 13 rebounds in 31 minutes. It was a really efficient performance for a guy who is quietly having a great year, and down the stretch, we saw exactly what Capela is capable of doing when he's on.
First up, Capela was in the right place at the right time after a scramble for the ball. Harden came up with it and threw a lob to his center, who yammed all over Jeff Green.

Capela was again in a fortunate place after a Harden airball. Harden tried to put the game away with a stepback jumper, but he missed everything. The ball fell into Capela's hands, and he got an easy two points to give the Rockets the 117-113 lead that they eventually won by.
The cherry on top came on the defensive end of the floor, where Capela is considered one of the league's brightest young big men. He noticed LeBron was going up for a layup that would have been uncontested, so he came from out of nowhere to swat the best player in the world's shot in emphatic fashion.
Houston is known for being an offensive juggernaut that relies heavily on Capela's ability to make plays and clean up mistakes on the defensive end of the floor. That, along with the ability to finish around the rim, was on display during the final seconds of the Rockets' win over Cleveland.