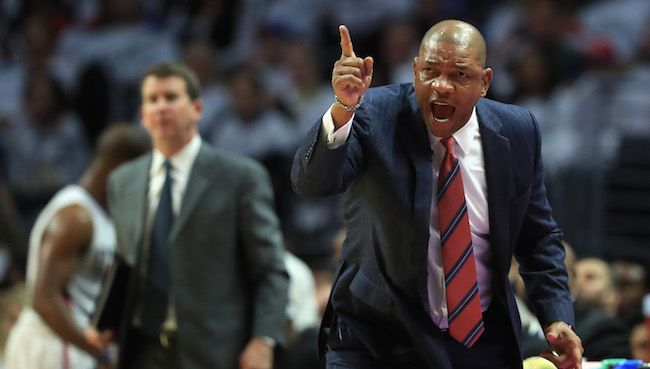 Doc Rivers was relieved of his duties as president and general manager of the Clippers earlier this summer and will now focus solely on his role as head coach. Rivers isn't the first coach/GM to lose his front office title this summer, as he joined Hawks coach Mike Budenholzer in that regard.
Now, Stan Van Gundy and Tom Thibodeau remain as the last to hold both titles, as the era of a combination of powers being given to one man seems to be coming to an end. It's difficult to hold both jobs and commit the proper amount of time to them, and Doc Rivers, the coach, remains one of the best in the league even if Doc Rivers, the GM, didn't work out very well.
The Clippers have apparently found their replacement for Rivers as general manager, as ESPN's Adrian Wojnarowski reports they have offered the position to Michael Winger from the Thunder's front office, and a deal is expected to be in place soon.
Winger would report to Lawrence Frank, who was moved into the president role as Rivers stepped down, and after having one man occupying three roles, they would return to a more traditional look with a team approach to decision-making. At 37 years old, Winger is a young executive but one with plenty of experience. He spent seven years working under Sam Presti in Oklahoma City after five years in Cleveland under Danny Ferry and is recognized as one of the brightest when it comes to understanding and handling the new CBA.
For a team that has Blake Griffin and DeAndre Jordan on long-term deals and will have to get creative to build a roster around their star big men, having someone with a strong CBA acumen at general manager can't hurt.