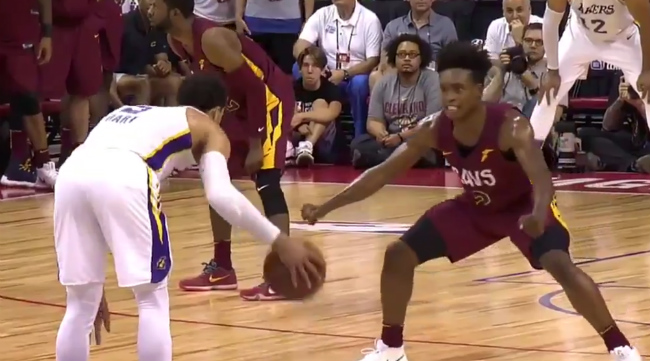 Collin Sexton's competitive spirit isn't considered legendary yet, but it is quite possibly his single best trait at this point in his basketball career. Sexton is an absolute pitbull, someone who relishes the opportunity to attack opponents on offense and raise as much hell as he possibly can on defense.
It's been a trait that has been on display during the Cleveland Cavaliers' Summer League slate, as Sexton has made up for the fact that he is hardly a finished product on the floor by giving it his all whenever he takes the floor. On Monday night, Lakers guard and Summer League standout Josh Hart learned this firsthand.
Hart had the ball towards the end of regulation and had the opportunity to win the game. To do that, he had to beat Sexton, who apparently drank 300 Red Bulls before the possession and briefly morphed into someone preparing for war.

It is possible, if not probable, that Hart missed this shot because it was a tough look, a pull-up three at the end of a game. However, it is far more fun to imagine that he missed it because Young Bull went Super Saiyan and he was terrified.
Both guys had big games — Hart went for 37 points and nine rebounds, while Sexton had 27 points. In the end, while Sexton won that possession, Hart won the game, as the Lakers picked up a 112-109 win in double overtime to move on to the finals of Summer League.