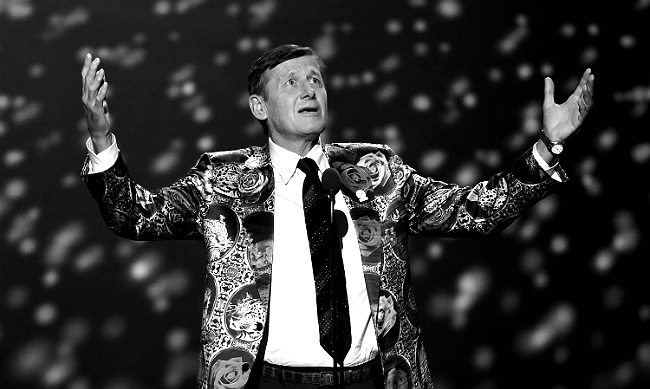 Craig Sager passed away on Thursday after a long battle with cancer, just days after being inducted into the Sports Broadcasting Hall of Fame. Sager was 65 years old.
Turner Sports released a statement shortly after:
"Craig Sager was a beloved member of the Turner family for more than three decades and he has been a true inspiration to all of us," Turner president David Levy said. "There will never be another Craig Sager. His incredible talent, tireless work ethic and commitment to his craft took him all over the world covering sports."
Over the course of his long and incredibly arduous battle with leukemia, Sager's relentless positivity and obvious affection for those around him was inspirational to many, and the warmth and generosity he showed over the course of his life and career before his illness were reflected back at him i his and his family's time of need. We do reap what we sow, and Sager sowed seeds of kindness everywhere he went.
Craig is survived by his wife and children, and one imagines we'll be seeing a lot of moving words, images, and videos over the balance of the season. In style and in grace, there may never be another like him.
NBA Commissioner Adam Silver released a statement on Thursday afternoon:
"I — along with the entire NBA family — am deeply saddened by the passing of Craig Sager," Silver said. "Craig was as vital to the NBA as the players and coaches. A true original and an essential voice on Turner Sports' NBA coverage for 26 seasons, Craig chronicled some of the most memorable moments in league history and was a ubiquitous presence with his splashy suits and equally colorful personality. Craig earned widespread respect for his insightful reporting and inspired so many most recently with his courage. Our hearts go out to his wife, Stacy; his children, Kacy, Craig Jr., Krista, Riley and Ryan; and his friends and colleagues."
NBA teams will be having a moment of silence for Sager on Thursday night.