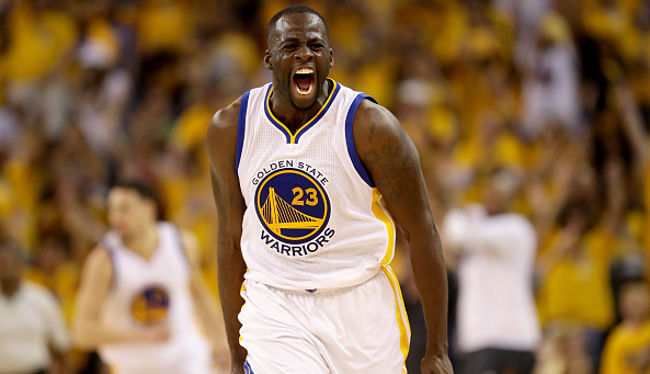 The Blazers and Warriors played a thrilling Game 1 that ended as most expected with Golden State coming out on top 121-109. While the Warriors pulled away in the second half, the game went to halftime tied after an amazing scoring exhibition from the Blazers backcourt.
Damian Lillard and C.J. McCollum combined for 48 of the team's 56 points in the first half, and for the game the two combined for 75 points. It was an incredible effort from both players, as they picked up their level of play to match the intensity of the Warriors. As those two went off, there was constant chatter between the two Portland stars and Golden State's Draymond Green, who made some ridiculous defensive plays in the game.
After the game, Lillard and McCollum were asked about the trash talk with Green, and both indicated that it was something they liked and were motivated by. Not in the sense that Green was offending them, but that it brought an added intensity to the game even though there was mutual respect between both sides. Via CSN Bay Area:
"Having a guy like that on the floor, I think it raises the level of the game," Lillard said of Green. "Because I don't even talk trash, and he was saying so much out there that I had a whole lot to say tonight. I think that's just good for the game. I think the league has softened up a lot, and it's not like that. So you've got to have a rough guy like him out there. I think it's necessary. I think their team depends on him to be that dog out there and to be that person."

"It's a game we all love,"McCollum said. "We come out here and represent our teams, representing our hometowns where everybody's from. And where I'm from, if you talk trash, then I'm going to talk trash to you. It's not disrespectful. We're not talking about nobody's mamas or nothing bad."
It's a stark contrast to how other opponents have spoken about Green in the past, like LeBron James, as some seem to be taken aback by the constant chatter from the Warriors center and find it grating and unnecessary. The Blazers' top guys seem to embrace the opportunity to go up against the league's best team and talk with one of the NBA's great talkers, which is going to be important for them to stay competitive in this series.
As for what gets said between the two if they're keeping it respectful, according to Green, McCollum told him to do more calf raises after Green's missed dunk in the fourth quarter. All of them agreed that it made the game more fun to be a part of, and that's good because that was certainly the case for us watching at home as they all raised their level of play in the opener.
(h/t CSN Bay Area)