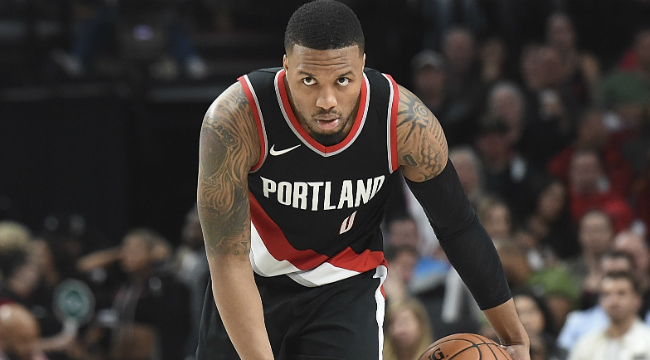 Portland point guard Damian Lillard was among those selected as an 2018 NBA All-Star reserve by the coaches, rewarding the 27-year-old for a strong start to the season in which he's averaging 25.3 points and 6.6 assists per game.
Among those that didn't make it into the All-Star game in the Western Conference were Clippers guard Lou Williams and Thunder forward Paul George, both of whom have interesting cases to be made but were left out. Those snubs can be chalked up to the numbers game in the Western Conference, where there's more star power than in the East, and that makes it more difficult to make the 12-man roster.
Lillard was excited to make the team, especially after feeling he had been snubbed for the last two years. Prior to the reserves vote being announced, Lillard had spoken to ESPN's Chris Haynes about the All-Star process and why he'd grown to expect being left out even if he felt he was deserving. A year ago, Lillard was among those that launched into a Twitter tirade about being left off the team, an honor taken by Andre Drummond and Lou Williams this year, and that interview prior to the selections being made didn't sit especially well with some.

Among those frustrated by Lillard's comments about being a snub was the reigning MVP, as Russell Westbrook was upset at his teammate's absence from the roster and ripped how four Golden State players made the team as well as referencing those that won't stop talking about being a snub, which seemed to be directed at Lillard (via ESPN).
"I don't know who else made the team but got four people from one team, you've got guys complaining about getting snubbed until they get in, you've got guys just talking about it all the time," Westbrook said. "But the guys that deserve it — should be in — are not. I just don't understand. Doesn't make any sense."
On Wednesday, Lillard addressed those comments and noted his disappointment in Westbrook seemingly taking a shot at him, per ESPN's Nick Friedell.
"I respect Russ a lot, so it was kind of disappointing to see him say that," Lillard said prior to Wednesday's game against the Minnesota Timberwolves. "Because he's played against me, he's played against our team, he knows what I've accomplished. Not just this year, but over my career. So it was a little bit disappointing, but I know that I earned my spot this year. And that's pretty much what it is: I earned my spot."
It's about as good of a statement as Lillard could make in that situation. He didn't rip Westbrook or escalate the situation, but defended himself and addressed the issue head on. As mentioned earlier, Lillard has put up All-Star caliber numbers and, as he notes, earned his spot. The problem out West is that you have a lot of guys that put up All-Star type numbers and someone is bound to be left out. With the NBA vacating the old East vs. West matchup in favor of captains drafting players, many are hoping they get rid of conference designations for selections as well, allowing the 24 best players from around the NBA to make it, no matter an imbalance of conference representation.