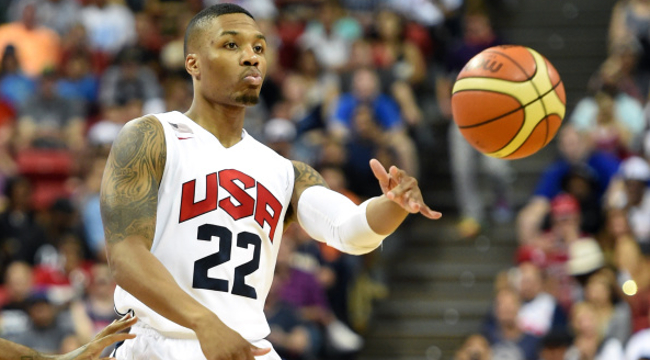 Damian Lillard has had a somewhat rocky relationship with USA Basketball over the years. He was unceremoniously cut from the World Cup squad that took gold in Barcelona in 2014 and punched their ticket to the Olympic Games in Rio this summer. So when he was invited to participate in the Team USA mini-camp in Las Vegas last summer, he declined, saying that he "doesn't feel like a part" of USA Basketball anymore. The implication was that he wasn't given a fair shot to make the team, presumably regarding the nepotism surrounding a certain other point guard's relationship with the Men's National Team's head coach.
And when the preliminary roster for the Rio 2016 games was announced last month, his name was left off entirely. Perhaps it was that omission that caused Lillard to have a change of heart, because according USA Basketball chairman Jerry Colangelo, Lillard reached to him recently and asked to be brought back into the fold. Via USAB.com's official press release:
"I recently received a call from Damian, and during our conversation he expressed his desire to be considered for the U.S. Olympic Team and to remain involved with the USA National Team in the future as well," said Jerry Colangelo, who has served as the managing director of the USA Men's National Team since 2005. "Both Mike (Krzyzewski) and I feel like Damian is playing at a very high level and that he should be added to our list of Olympic finalists. Damian has been a member of the USA National Team since 2014, and he participated in National Team training camps in 2013 and 2014, so he does have equity in USA Basketball, which is always important to me."
It certainly isn't a given that Lillard will make the final Olympic roster, especially considering the crop of point guards he has to contend with, all of whom have as much or more National Team experience as he does. Nonetheless, it's good to see the two parties mending fences, as Lillard could potentially evolve into a central figure in USA Basketball for many years to come.
(Via USAB.com)