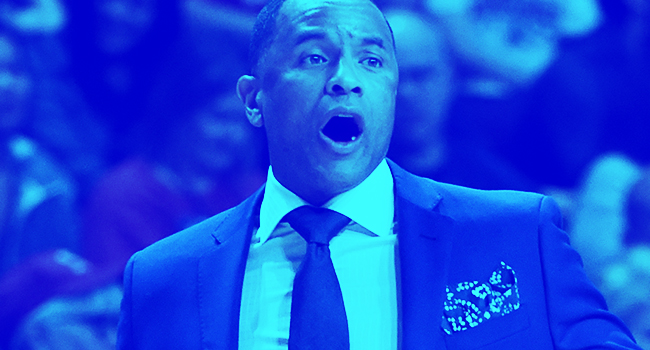 On May 9, Red Bull Media House and the National Film Board of Canada will release True North, a nine-part documentary series that takes a in-depth look at basketball in Canada and the growth of the sport in Toronto.
Players interviewed for the series include Steve Nash, Cory Joseph, DeMar DeRozan, Jamal Murray and Damon Stoudamire, the first draft pick by the Toronto Raptors when the team entered the league as an expansion franchise in 1995. Stoudamire won Rookie of the Year and helped introduce the sport of basketball to an entirely new fanbase in Toronto.
Today, Stoudamire is the head coach of the men's basketball team at the University of the Pacific after stints at several other universities, including his alma mater, Arizona. We caught up with him recently to talk about the growth of basketball in Toronto, falling in love with coaching, his experiences with Gregg Popovich and Steve Kerr, and more.
Dime: What do you remember about the excitement level for basketball in Toronto when you joined the Raptors?
Damon Stoudamire: I think half of the people knew about basketball, and the other half was trying to figure it out. The enthusiasm for the Raptors and especially in that inaugural season, you couldn't ask for more. I felt a lot of energy as I went around the city. There was a lot of buzz. It was brand new. People were trying to figure it all out.
And while you were in Toronto, would you hear a lot about local players who were coming up through the school systems?
I did. I had a friend who worked for me in Toronto, and in his spare time, he would play basketball at a lot of the local gyms. The first guy I ever heard about was Jamaal Magloire, he was the first high schooler I heard of who was going from Canada to play college basketball in the United States.
Back then, it seemed like every single player going from Canada to the United States was a big deal. Now it feels like it's happening all the time.
You can find players in Canada in all shapes and sizes and flavors. If you are looking for players, you can go up there and find them, it's not few and far in between anymore. The basketball has gotten so good that players fall through the cracks, and you can find the diamond in the rough. At the youth level, there are certain aspects of the game that we, here in the United States, can take from Canada. Whenever I watch Canadian teams play at events around the country, they always play together. I think they've caught up in the area of the fundamentals of the game. That's how they've bridged the gap.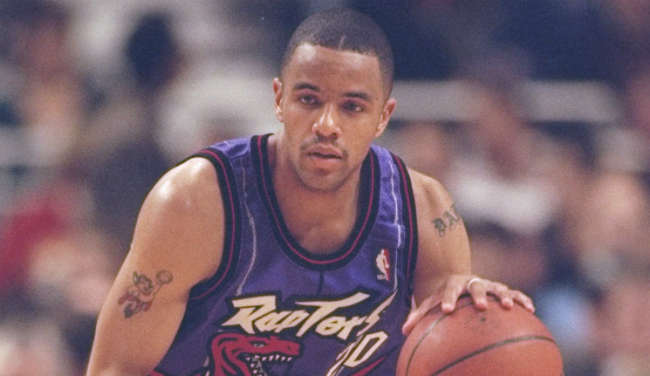 As a college basketball coach, and having been around the college game, is Canada, and Toronto specifically, talked about a lot more now in terms of recruiting?
Definitely. There's a buzz out there. There's a buzz, man. Guys are coming out of the city and the surrounding suburbs in Toronto. Toronto has given Canada a platform for basketball. When you see guys like Andrew Wiggins, Anthony Bennett and Tristan Thompson going high in the NBA Draft, it opens the eyes of people who are in recruiting.
How much of this basketball boom do you attribute to yourself and what you did with the Raptors during the expansion years?
We brought an awareness of basketball to the city. I think the things I did during my time with the Raptors gave everyone in the city who loved basketball someone to identify with, then Vince Carter came through and took it to the next level. Now, with Kyle Lowry and DeMar DeRozan, they've taken it to another level as a team. I was a part of it, but the people that came after me definitely took it to another level.
Do people still ask you questions about Canada, like does it snow there everyday, do I have to pay more taxes, all the things that people used to talk about a lot when the Raptors first joined the NBA.?
I used to laugh at all that stuff. I was like, man, when you're talking about the type of money you're going to be making, you're gonna get taxed no matter where you play. There's definitely more awareness and I think the one attractive thing Toronto has always had is that it's a great city to live in. You can't beat it. Everything you want is right there. People still ask questions, but they don't ask about that stuff anymore.
I wanted to ask about your coaching career as well. Did you know you wanted to be a coach after you were done playing?
I never wanted to be a coach. It kind of just fell into my lap, and it just flew from there. When I was done playing, I wanted to stay in basketball. I have a home in Houston, Texas, so I used to work out at Rice University, and knew the athletic director there, and they asked if I was interested in coaching, and it went from there. I had a stint with the Memphis Grizzlies too, and it's funny, because that's when I really got into coaching.
I was trying to take a mentorship role with Mike Conley Jr. and Kyle Lowry at the time, because they were two young guys trying to figure things out in the NBA. I always tried to be a buffer between them, to get them to understand you couldn't let the basketball stuff drive a wedge in your friendship. That's when I really got into coaching, because it was about trying to keep two young guys' heads together, because they both could play, but the reality was only one of them would play at a time.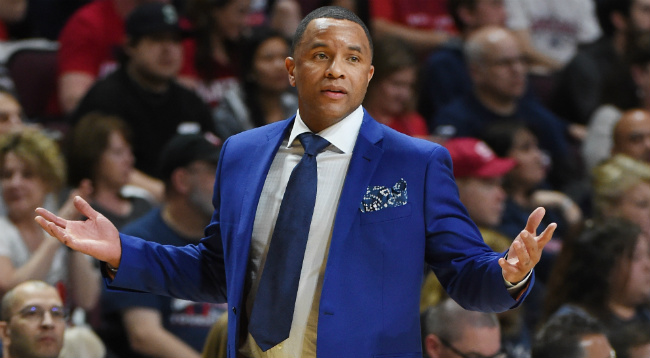 So you've really fallen in love with coaching.
I love it. The beauty of it is I get to help the kids, and I always tell people, when you're coaching, you have to be content, and I'm content with my life. I was fortunate to make some pretty good money while I was playing, and now I can sit back and watch these kids live out their dreams. I always try to make them see the bigger picture, because at the end of the day, the moment you start thinking it's about you, you're not going to be successful. I try to teach these guys about growing up, making decisions for themselves, and accepting the good with the bad, always.
Do you still have an urge to want to get on the floor sometimes when you're sitting on the bench?
The urge is always there. You never lose that. My body is still moving on the sidelines and I'm reacting to things on the court. That's in my DNA. That's who I am. I still jump out there on the floor with the guys once in awhile with the guys. The juices will never leave unless I gain 50 pounds. The juice is not leaving, that's just part of who I am. I jump out there every blue moon. I'm not a fool, the last thing I want to do is get injured.
You got a chance to play for Gregg Popovich towards the end of your career, what did you learn from him?
It was a great experience. One of the guys you wish you got to play for a little longer. Just a great feel coach. He has a great feel, knows his players, trusts his players, talks things through with his players. The biggest thing was he held everyone accountable. If you're holding your best players accountable and getting in his face, there's a trickle down effect. He never compromised who he was as a coach, that's what's made him who he is.
And you were teammates with Steve Kerr in Portland. Does it surprise you that he's become one of the best coaches in the league?
Steve was always a voice of reason. He was an even-keel guy. He was a guy on championship teams, I always respected him because he was as professional as they came. To be in this business, you need a balance, he always had a balance about him. It doesn't surprise me, the way he's able to be ego-less, as he coaches his team. He's been around stars as a player. Michael Jordan, SCottie Pippen, Tim Duncan. Managing egos is something that he's learned from the best at doing between Phil Jackson and Gregg Popovich.
What he's doing right now, it doesn't surprise me at all. As a former player and as a coach, I always laugh at people who say it's easy to coach Michael Jordan, it's easy to coach Stephen Curry and Kevin Durant. Okay, then why don't you go do it then, let's see how easy that is. We don't know what Steve Kerr deals with on a day to day in terms of managing egos, but whatever he has to deal with, he's doing a great job, you can tell by the way they play for him.
There were a lot of egos and personalities on those Trail Blazers teams too.
Honestly, the personalities were overrated. It's amazing how perception turns into reality sometimes. We definitely had some characters in Portland, but they weren't bad guys.
Do you feel like people took a lot of the bad things that happened off the court and ran with it?
They did. And I always say this, other than winning a championship in 1977 and going to the NBA Finals with Clyde Drexler, if you take that away, they haven't had the same success since we left. I'm just calling it like it is. They haven't had the same success since we left. We went to two Western Conference Finals. You can try to throw darts at it, at the end of the day, we had a lot of success.
I just saw five of my former teammates in Portland recently, we were all in one place. It was Scottie Pippen, Dale Davis, Rasheed Wallace, Bonzi Wells and Greg Anthony. It ain't even a matter of talking. We were just around each other. We don't get together that much no more. It wasn't no reminiscing. I was just happy to see the guys doing well.